Nature and Travel
|
Iceland Monitor
|
Sat 25 May 2019
|
8.20 GMT
|
Modified 27 May 2019 12.27
Chinese Puffins on Hrísey Island
One hundred-fifty Chinese puffins have arrived in Hrísey island, North Iceland. They are not expected to fly away again, because all of them are decoys, made of plastic. The puffins were placed on the island as part of a project by Whale Watching Hauganes, Arctic Adventures in Dalvík and locals on Hrísey island, intending to attract real puffins to the island, hoping they will make it their home, Morgunblaðið reports.
More than 40 species of birds nest on Hrísey island, and participants in the project hope to attract puffins, followed by puffin-loving tourists, to the island.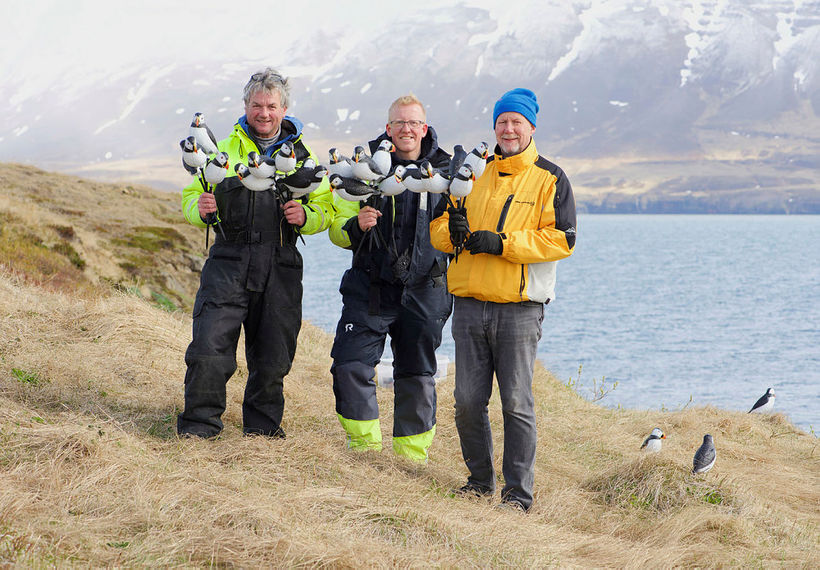 Árni Halldórsson, Freyr Antonsson og Bjarni Ómar Guðmundsson, holding the Chinese puffins. mbl.is/Sigurður Ægisson
Last year, Aðalsteinn Hjelm, marketing director for Whale Watching Hauganes, sent a stuffed puffin to China and ordered the plastic birds. They arrived in Iceland on time and were brought to the island on May 8, where they were placed at three different locations, recommended by ornithologists.
The Icelandic puffin is a migratory bird, which stays out on the ocean in wintertime. Early in the spring, usually by the end of April, it comes back to land. The bird is monogamous and usually mates for life. The female lays its egg, usually sometime between May 20 and the beginning of June, in burrows that puffins oftentimes dig in a promontory beyond cliffs, facing the ocean. The burrows are often 150-cm (59-in) long and 50-cm (20-in) deep, typically curved. Their entrance is round and on average 15-cm (60-in) wide. It takes the egg 36-45 days to hatch.
The puffling stays in the burrow for several weeks, cared for by both parents. At the age of 34-83 days, it is able to fly.
Result from the experiment in Hrísey is not expected until several years from now. Similar projects in the United States and Norway have been successful, giving reason for optimism. In addition to bringing the Chinese birds to the island, there are plans to make some puffin burrows on the island and play the call puffins make. This method has proven to attract puffins abroad.