Nature and Travel
|
Iceland Monitor
|
Tue 7 Jun 2016
|
10.34 GMT
|
Modified 8 Jun 2016 13.59
Iceland flight disruption could go on all summer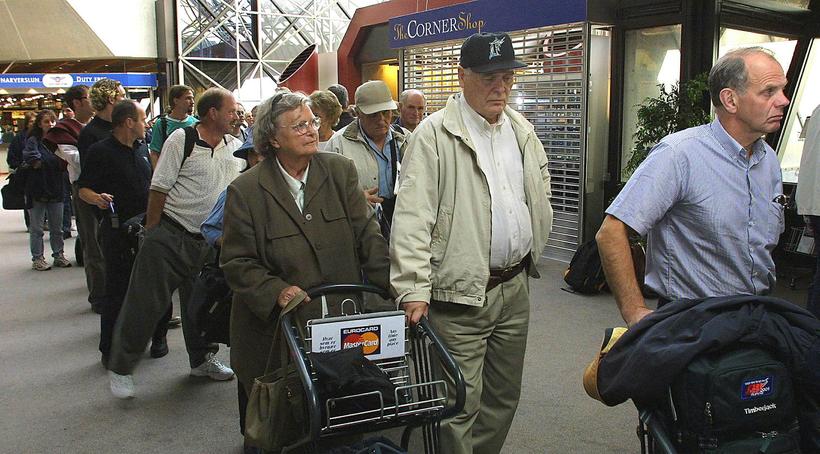 Many thousands of passengers have been affected by delays at Keflavík International Airport. Photo: Iceland Monitor/Þorkell Þorkelsson
Hundreds of thousands of passengers have been affected by delays caused by industrial action by Icelandic air traffic controllers in recent weeks – and there is no end in sight to the travel misery.
Both Icelandair and WOW air have now gone on record expressing serious concern about their operations, the comfort of their passengers and their international reputation.
Air traffic controllers are currently on a work-to-rule strike over pay and conditions. They work their full working day, but no overtime is allowed. This means that if somebody falls ill, for instance, there is no cover and Iceland's main international airport all but shuts down.
This has already happened on several occasions since the action began on 6 April – delaying flight arrivals and disrupting onward departures.
Both airlines rely heavily on a business model of flying passengers between Europe and North America via Iceland – and delays and flight disruption are particularly problematic where connecting passengers are concerned.
"Something must be done," says Icelandic spokesperson Guðjón Arngrímsson. "Air traffic controllers cannot take passengers and airlines – who have nothing to do with their pay and conditions – hostage in this way."
"There don't even seem to be any efforts made to strike a deal, no negotiations under way. So this could foreseeably go on all summer if nothing is done," he warns.
"The overall experience for passengers is very negative and this affects the reputation of our airline," says WOW air spokesperson Svanhvít Friðriksdóttir. "It doesn't just affect our operations, but also the plans of passengers with onward connections with other airlines."
According to Arngrímsson, 400 Icelandair flights have been directly affected by the current situation and up to 800 more as a result of the knock-on effect.
In total, some 200,000 Icelandair passengers have suffered delays of 1-2 hours, throwing their onward travel plans into chaos and further increasing congestion at Keflavík International Airport.
Friðriksdóttir estimates that around 20,000 WOW air passengers have been similarly affected.
Speaking to Icelandic daily Morgunblaðið, CEO of SA – Business Iceland (the association negotiating on behalf of airport operator Isavia) Þorsteinn Víglundsson places the blame squarely on the shoulders of the air traffic controllers.
"Talks have stalled and things have been that way for some time," Víglundsson says. "Air traffic controllers have been offered pay rises in line with the general collective wage agreement [providing for pay rises for various sectors, agreed upon in January 2016]."
"But they are adamant in their demands – it is safe to say they want double the pay rise received by other groups of workers," he explains.