News
|
mbl
|
Fri 2 Aug 2019
|
11.52 GMT
Weekend's Largest Festival Underway
Preparations are underway in Vestmannaeyjar islands for Þjóðhátíð, which has long been Iceland's largest Merchants' Weekend festival. The festivities began last night with a dance, and large crowds of people have already arrived in town, mbl.is reports.
Attendance is expected to be similar to what it was last year, and Jónas Guðbjörn Jónsson, spokesperson for the Þjóðhátíð organizing committee, tells Morgunblaðið that most ferry rides are sold out for the weekend – both on the new Herjólfur ferry and the old Herjólfur, which was taken back into use, just for the weekend.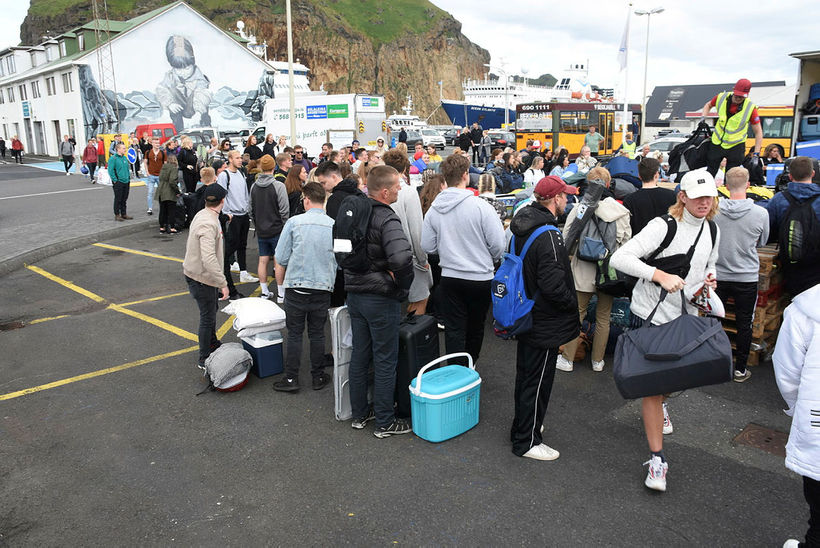 Þjóðhátíð guests arriving in Vestmannaeyjar islands yesterday morning. Photo/Óskar Pétur Friðriksson
The locals traditionally set up large, white tents in Herjólfsdalur valley, in which they celebrate with their families. Most of the tents were set up yesterday. Baldur Þór Bragason was busy preparing his family's tent yesterday – work that included moving furniture to the valley.
"Once I have transported all the furniture, my wife comes and decorates the tent with lights and flags and such," he states. "This is not just a tent, but benches, a table, trunk, and chest of drawers, and more – cabinet shelves, and God knows what," he adds and laughs. "This is so much fun. It's not just about attending Þjóðhátíð to party, as many people think. This is a family festival, too."
This is the second year that families must reserve a spot for their tent – a welcome change of arrangement, eliminating the race and battle for a spot that used to be the case.
Police, too, are getting ready for Þjóðhátíð. Fifteen additional police officers will be sent to the islands this weekend, in addition to the ten who are there already. They will be assisted by two special force police officers. Moreover, four sniffer dogs will be on site.
"We try to be prepared for anything and to offer all the service we can," states Vestmannaeyjar Police Chief Páley Borgþórsdóttir. "In addition to the 27 police officers, we have a response team in the valley – ambulances and doctors on call night and day."
There will be 130 attendants working in the valley for the Þjóðhátíð organizing committee, many of whom have worked there year after year.