Nature and Travel
|
Iceland Monitor
|
Mon 18 Feb 2019
|
10.49 GMT
|
Modified at 13.01
Border collie survives six days trapped in an avalanche in West Iceland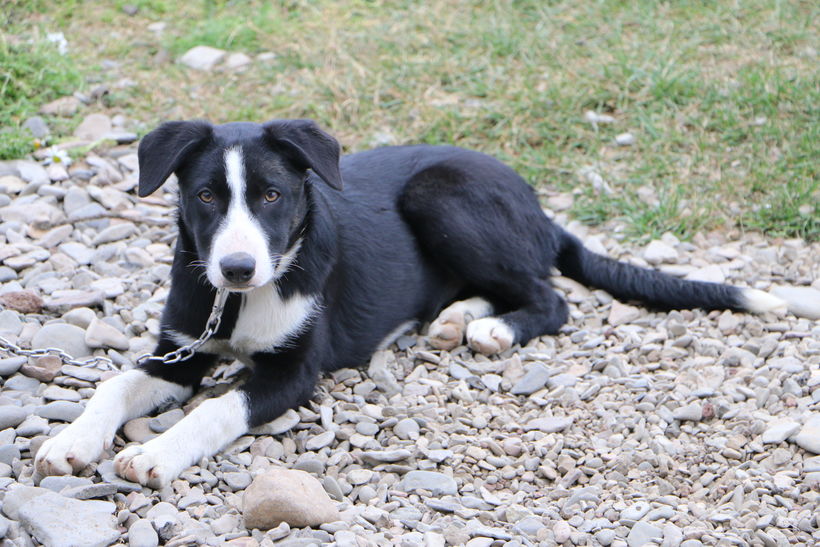 Þota, who will turn one years old in April, survived six days underneath a thick layer of snow. Ljósmynd/Aðsend
Was it luck or simply a miracle? Dog Þota was caught in an avalanche in Hnappadalur, Snæfellsnes. Her owners searched for her for days but finally Þota returned to her farm after being buried underneath the avalanche for six days. This was reported by Morgunblaðið on the weekend.
"We had given up all hope, says farmer Sigrún Ólafsdóttir who owns both sheep and horses with her husband Skúli Skúlason at the Hallkelsstaðarhlíð farm. They own five dogs, four of them Border Colies like Þota and one Icelandic sheepdog.
Þota disappeared on a Saturday morning after her usual morning run, when the dogs were let free to run around the farm. When þota, who is one years old didn't return the farmers started to look for her.
"We thought at first that she might have gone to check on the horses or the sheep or something. We put an ad on social media and alerted our neighbours and searched all over the place.
A drone was dispatched to look for the dog, a four by four buggy and the other dogs were brought to search for her. The family actually thought they heard Þota at night making noises above the farm but no search was successful.
On Friday morning, six days after she disappeared the family were tending to their daily chores, their son arrived at the farm and to his surprise, Þota was crawling towards him, thin, exhausted and very hungry.
"He called us straight away and told us she was back. We couldn't believe it," says Sigrún. Needless to say the family were overjoyed.
Morguninn sem Þota skilaði sér heim hafði snjór nýfallið og var því auðvelt að rekja spor hennar og komast til botns í því hvar hún hefði haldið til þá sex sólarhringa sem liðnir voru frá því að hún hvarf. Sporin leiddu að lítilli holu fyrir neðan kartöflugarð við Hlíðarvatn. Þar hafði safnast mikill snjór í hengju sem fallið hafði á Þotu.
It turns out that on the morning of Þota's disappearance there was a fresh layer of snow so the farmers could easily retrace her steps to find out what on earth had happened. Her steps ended in a small hole beneath a potato field where a small avalanche had fallen, obviously on top of the dog. "She had dug herself up from an incredibly long distance. It's quite remarkable that she hadn't dug the wrong way, towards the mountain where there was even more snow."
They say that the snow on top of Þota had been so heavy that it's almost unbelievable that a small dog could have survived.
"I suppose it's a testimony to her strengh and her will to live," said Sigrún speaking to Morgunblaðið. She adds that Þota is recovering well and eating to get her strength back. The family have now renamed her Snjóþota. Þota in Icelandic meets jet, and snjóþota means a toboggan, or snow-jet, which is quite a fitting name.