Nature and Travel
|
mbl
|
Wed 4 Jan 2017
|
21.20 GMT
|
Modified 5 Jan 2017 14.41
Best rivers for salmon fishing in Iceland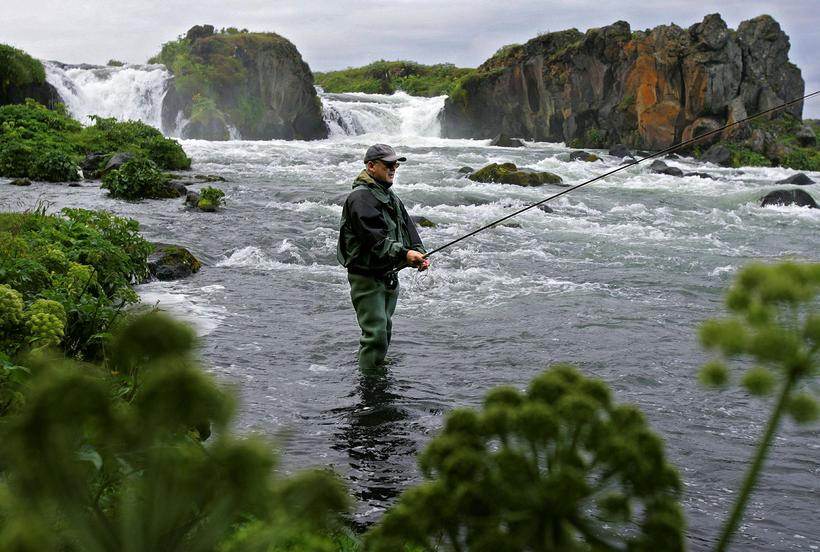 Laxá í Aðaldal is often referred to as the queen of Icelandic rivers for salmon fishing. Photo: Iceland Monitor/ Golli / Kjartan Þorbjörnsson
Sóley Björk Guðmundsdóttir


Iceland is renowned for its nature and a great way to enjoy it is to go fishing. Salmon fishing is very popular in Iceland and there are a few absolutely stunning rivers for that. The fishing comes with a price, as salmon fishing usually does, but at least the surroundings are gorgeous.
Salmon river is called laxá in Icelandic. There are many rivers that bear the name Laxá and are identified by their location.
Laxá í Aðaldal
Laxá í Aðaldal is sometimes referred to as the queen of Icelandic fishing rivers. It is located in North East Iceland, not far from the town Húsavík. The valley it runs through is called Aðaldalur (hence the name of the river) which is known for a picturesque scene. An old lava field runs through the valley which is also covered in a birch forest. This adds to the experience of fishing in the area.
The river offers a lot more than the looks. For years some of the biggest salmons caught in Iceland come from this river. It is not packed with, this is not a river where each throw lands a fish, but what it has is a chance to catch a giant one. The biggest fish caught this summer was 120 cm long.
Jökla
Jökla is a nickname for Jökulsá á brú, and sometimes a few smaller rivers that run into it as they are a part of the fishing area. Jökla is a glacier river in East Iceland that runs from Vatnajökull, Iceland's biggest glacier. Fishing salmon is not a long standing tradition in the river. A few years back a damn was built in the river, turning the muddy glacier river into a clearer river perfect for fishing salmon. Jökla is large and long and the smaller rivers make the fishing very diverse and the difficulty level of the different areas varies greatly, which makes it perfect for a group with a different experience and knowledge of fishing.
The scenery of the river is impressive. As most glacier rivers in Iceland Jökla runs partly through a gorge the river has dug over the years. There you can find steinboginn, where this great river runs under a pile of great rocks for a while. For a long time the salmon could not pass further than steinboginn unless the water level in the river was very high, but recently there was a special ladder built over the rocks to ease the salmons passing over the rocks. The ladder was very successful and the fishing area in the river was lengthened by dozens of kilometres.
Laxá í Kjós
Láxá í Kjós has been a popular river for fishing for decades and is one of the best known rivers for salmon fishing in Iceland. The river is about 20 km long with around 100 fishing spots, all of them diverse as the river runs fast through cliffs in some areas and mellow and slow through grassy planes in others.
Laxá í Kjós runs into Hvalfjörður fjord, just north of Reykjavik. Hvalfjörður fjord is known for a beautiful scenery and rich history. The number one ring road of Iceland used to run around it but today runs through a tunnel skipping the fjord all together, so just about the only people around are some tourists, and a few locals. This makes the Hvalfjörður a peaceful and quiet, perfect to enjoy fishing.
Norðurá
Norðurá is a very long river that originates in Holtavörðuheiði, a mountain road that connects North and South Iceland and runs through Borgarfjörður alongside the number one ring road for many kilometres. Once again the scenery is stunning, rough in the higher part by the mountain and runs through an old lava field covered by moss and some birch trees down in Borgarfjörður. The area is so highly revered in Iceland that there is a great number of summer homes in the area, none by the river though.
There are three waterfalls in Norðurá, Laxfoss, Glanni and Króksfoss, the first two are renowned for their beauty and a popular visit for those travelling around the area. All of them used to be a hindrance for salmon swimming up the river but with little adjustments to them salmon can now swim freely far up the river.
Norðurá is known for delivering a steady high number of salmons caught every year, in fact it is always one of the highest in Iceland. It is sought after to fish in by celebrities such as Gordon Ramsay.
Vatnsdalsá
Vatnsdalsá is one of the most renowned rivers in Iceland for fishing salmon. It is one of the first rivers in Iceland where the rule of catch and release was implemented, the goal being that the river would be sustainable.
Like Laxá í Aðaldal there are a lot of large salmon caught in Vatnsdalsá. The last day of the season this year saw two so called giants, one 101 cm long and the other 107. One of the largest salmons landed this summer was caught by musician Eric Clapton who visits Iceland regularly to fish in the river. Clapton's fish was 108 cm long and it took him 2 ½ hours to land it.
Vatnsdalsá is in North West Iceland, an area that has a higher number of great rivers for salmon fishing than any other area in Iceland, like Víðidalsá and Miðfjarðará. It is named after the valley it runs through, Vatnsdalur, which is known for being green and grassy and having more small hills than any other place in Iceland.
Hofsá and Sel
á
Hofsá and Selá both run into Vopnafjörður fjord, East Iceland, and are usually talked of in the same breath. They are both esteemed rivers and so sought after to fish in them that buying permits can be difficult. Like other rivers in the northern part of Iceland there is a good chance to catch large salmons in both rivers, which is what makes them so popular.
Of the two Selá is more acclaimed. It is a relatively big river on Icelandic standard, it runs fast and is a bit challenging in a way that makes it an interesting river for fishing. Golf champion Jack Nicklaus and former US president George W. H. Bush are among those who have fished in the river.
The season usually starts in the middle of June and ends around the middle of September, though this can vary by rivers and takes aims of when the salmon is in the river and the sustainability of the river. The hours when fishing is allowed over the day are strict, and change over the summer due to changing daylight.
There are many rivers where salmon fishing is possible in Iceland. There are more great rivers than listed here, but these are the common favourites and most sought after to fish in.