Nature and Travel
|
Iceland Monitor
|
Sat 14 May 2016
|
17.00 GMT
Clothing advice for an Icelandic summer: How to fit in in 101 Reykjavik and not look like a tourist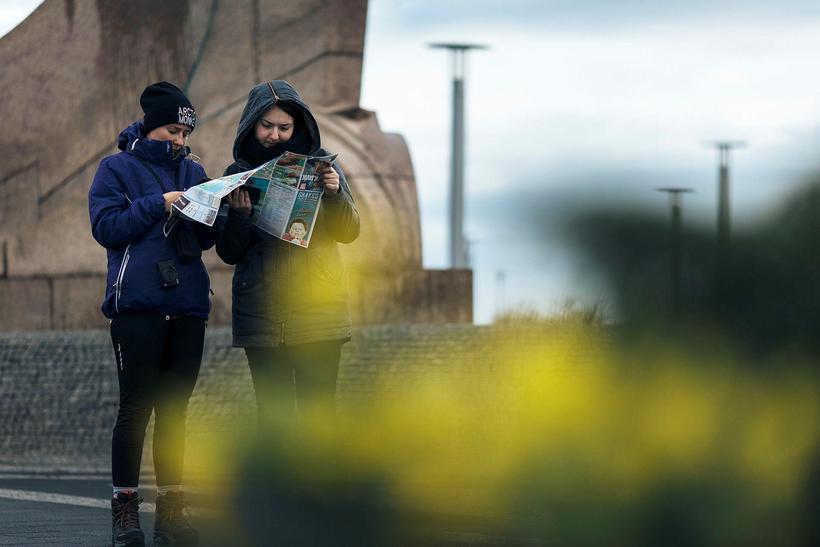 Lost tourists at the famous statue of Viking discoverer Leifur Eiríksson in the city centre. Iceland Monitor/ Styrmir Kári
Icelanders can spot a tourist a mile away. Why? Well, they're the only one wearing hiking gear downtown (parka and hiking boots), wearing far too many clothes, carrying a rucksack or brandishing a map.
To explain 101 Reykjavik, it's the post-code used for the city centre, a number that has become a euphemism for hipsters.
Now, we're not saying that a parka and walking boots aren't practical for Iceland, or for Reykjavik for that matter as the weather is ever-changing from sun to rain to wind and everything in between, in the space of a single day.
However, those who want to fit in with the local vibe so that you don't stick out like a sore thumb at a hipster bar here are a few lighthearted pointers from the Iceland Monitor fashion police:
1. Layer
If you're leaving your parka at your hotel, think layers. Wear a T-shirt underneath for that beer in a sheltered outdoor café where it can get swelteringly hot. On top of that, a warm cardigan or hoodie is always a good idea.
2. Leather and fur is in, unless you're vegan
Reykjavik's cool cats area usually spotted wearing biker jackets or a vintage fur coat, even during summer. Fake fur coats are also popular. Failing that, especially if it's raining, a smart trench coat should do the trick.
3. Hats are a good idea
You never know when the weather will turn, so profit from the fact that hats are in fashion. A gangsta style woolen hat or sports cap will do nicely if you're into that, or bring a cowboy hat or fedora. Just make sure they don't blow off when the wind picks up.
4. Leave the umbrella behind
It rains, a lot, in Iceland. However, you will hardly spot Icelanders carrying an umbrella. Why? Well, it's simply totally inefficient here. The wind tends to blow sideways which means either that you get horizontal rain or your umbrella will get ruined.
5. Always carry a scarf
We suggest always putting a scarf into your bag, for freak incidents of summer hail or storms, or for when you realise that even if the sun is shining it's actually bloody freezing outside.
6. Smart footwear
Ok, so you're a tourist, so you will most likely be trudging around all day. Hiking boots are, well, heavy in the city so instead consider the options of a trendy sneaker, biker boots or, for rainy days, a pair of Wellington boots, preferably from Hunter.