Eat and Drink
|
Sunnudagsblað
|
Mon 27 Nov 2017
|
19.10 GMT
First cat café set to open in Reykjavik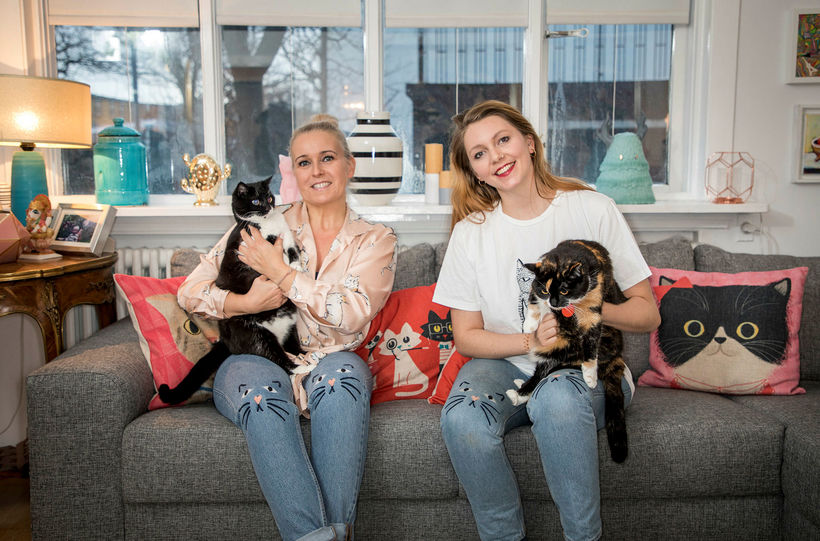 Ragnheiður Birgisdóttir on the left and Gígja Sara Björnsson on the right, the women behind the new cat café. Haraldur Jónasson / Hari
The first cat café is set to open before Christmas in the Reykjavik city centre aptly called Kattakaffihúsið, reports Morgunblaðið. "We adore cats so now that pets are allowed in restaurants we decided to jump at the opportunity and go forward with an idea that we've had brewing for a while," says Gígja Björnsson, who owns the café with Ragnheiður Birgisdóttir.
New governmental regulations now allow restaurant owners in Iceland to decide for themselves whether or not animals are allowed there as long as health guidelines are respected.
The cat café will open on Bergstaðastræti 10a, in the same street as famous bar Kaffibarinn.
Cat cafés are popular all around the world after the first opened twenty years ago in Taiwan.
"The cats at our café are all looking to be adopted to new homes. We are collaborating with the Villikettir association which helps feral cats to find homes. It's often really hard to find homes for older cats. Kittens are always popular but senior cats less. We look at this as a nice way for people to get to know the cats. "
Gígja's mother, Helga Björnsson is one of Iceland's most renowned fashion designers, having designed haute couture for Louis Féraud in Paris for decades. She will be decorating the café with cat drawings and funishings and customers will also be able to purchase cushions and other home furnishings .
"It's a small space so we won't keep too many cats at the same time there, for them to feel as good as possible. They'll have plenty of shelves, hiding places, scratching posts and toys to play with. Our customers however will be served vegan and vegetarian fare. Simple, healthy dishes. Breakfast, sandwiches, cakes. It's supposed be a cosy haven where people can listen to cats purring and enjoy a slice of cake" says Gígja.
Guests should note that you cannot bring your own cat to the Kattakaffihúsið and there's a double door to prevent the homeless ones from straying again.
For updates on when the café opens you can check their Facebook page out HERE.