Culture and Living
|
Iceland Monitor
|
Tue 3 Jan 2017
|
20.50 GMT
|
Modified 4 Jan 2017 1.19
High fashion from Icelandic fish leather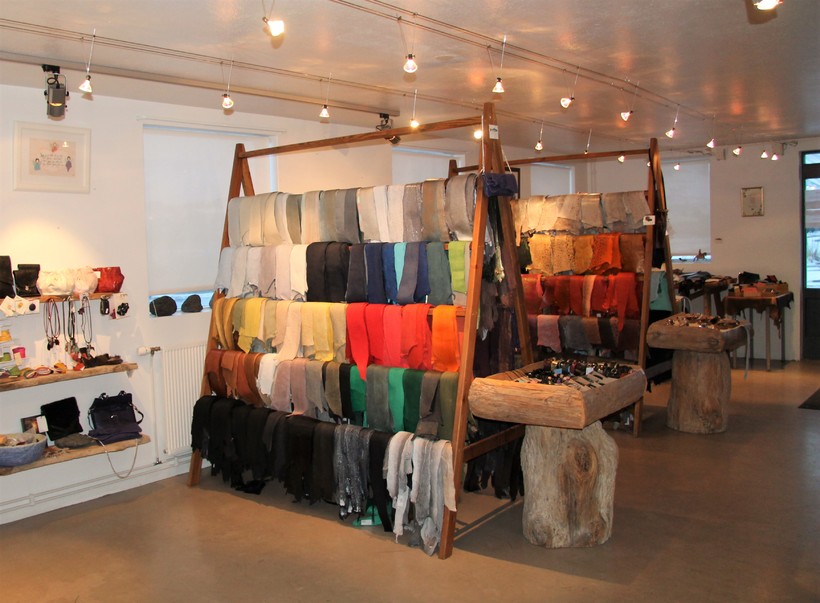 Atlantic Leather has a visitor centre at Sauðárkrókur Photo: Iceland Monitor/ Sóley Björk Guðmundsdóttir
There is one tannery in Europe that makes fish leather. It is called Atlantic Leather and it's located in the small town Sauðárkrókur, North Iceland. Fish skin is a by-product of all of the fish caught, consumed or sold out of the country. It is basically trash, or was before Atlantic Leather started using it to make leather out of it around 20 years ago. Now it is a material sought after by many of the tops in high fashion, such as Dior, Jimmy Choo, Prada, Alexander Wang and more. Even Nike has created a line using fish leather from Atlantic Leather.
Fish leather to represent Skagafjörður
Fish leather is popular amongst craftspeople of the area as well as local designers, the result can be a unique souvenir. Sigríður Káradóttir CEO of Atlantic Leather is very happy about this. "The tannery is in Skagafjörður, I think the locals should present it here. In many other countries each county has its own thing, an identity of sorts, this could be ours."
No two fish alike
Atlantic Leather uses four different types of fish: salmon, perch, wolffish and cod, each with its own characteristics. Adding to the diversity of the product is the extremely broad array of colours available on the leather.
There are no two fish leather exactly alike, which can be a good thing or a bad thing according to Káradóttir. "Designers using the material must think of this, the leather comes from fish that used to swim around in the ocean, these were living creatures. We sometimes have to remind people that the leather is not a long line of fabric available every size and shape."
Icelandic horse hides a unique product
Atlantic Leather has a visitor centre called Gestastofa sútarans, just by the tannery in Sauðárkrókur. The array of products Atlantic Leather make are for sale there, as well as shoes, jewellery and more made from fish leather by craftspeople and designers.
The tannery produces more than just the fish leather, at the visitor centre you can find hides and leathers from many local animals, such as sheep, cow, goat, horse and seal, though the supply of the last is limited. "Sailors sometimes bring seals in if they get caught in the net, that's how we get it so there is very little of it," says Káradóttir.
One of their most popular products is long haired sheep skin. The Icelandic sheep has long hair due to harsh climate, which makes them very fluffy. It is common to put them in chairs, or even line baby carriages with them. Gestastofan is the only place in Iceland where it is possible to buy lamb hides that are 100% Icelandic, the sheep raised and tanned in Iceland.
Even more unique than the fish leather is the Icelandic horse hide. It is common in Iceland to eat horse meat so the hide is a by-product as well. The hide is a winter coat with long hair which makes it very fluffy and the vide array of colours of the Icelandic horse make for a stunning hide.
All hides and leathers by-products of other industries
Atlantic Leather has been recognized for sustainability, which is important both to the company and many of the designers using their product. All of the material used by Atlantic Leather is a by-product from other industries such as the food industry. Fish leather is 8 times stronger than lamb or veal leather of similar thickness, which makes it likely to last very long. In addition to that the chemicals used in the tannery are as sustainable and environmentally friendly they can get, making the hides great for children to cuddle up to according to Káradóttir.