Politics and Society
|
Iceland Monitor
|
Thu 5 Sep 2019
|
10.09 GMT
|
Modified at 13.14
Colors Speak Loudly during Pence's Visit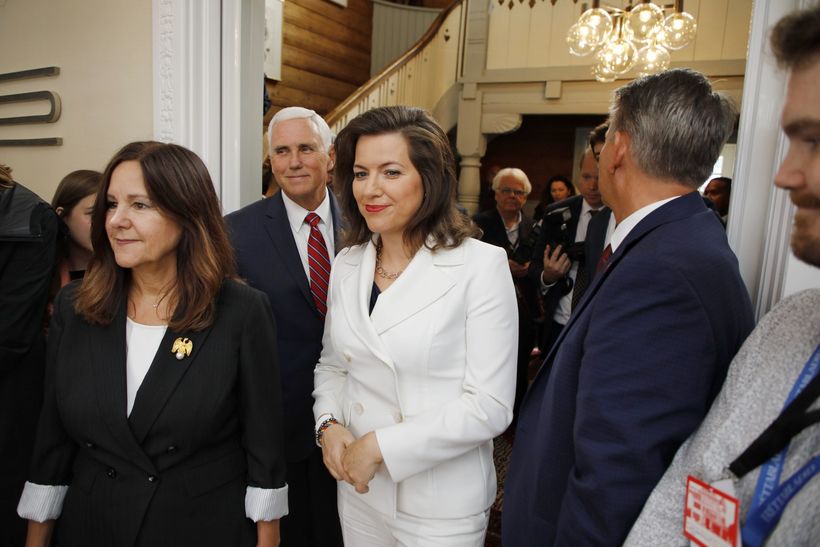 Iceland's First Lady Eliza Reid, with US Vice President Mike Pence and his wife Karen Pence. mbl.isHari
Colors said more than many words yesterday when US Vice President Mike Pence visited Höfði house, Reykjavík. It didn't escape anyone's attention that President Guðni Th. Jóhannesson and First Lady Eliza Reid both wore rainbow colored bracelets when they received the vice president and his wife. Fréttablaðið reports that the colorful bracelets are ones sold by the charity Kraftur, which supports young people with cancer. In addition, Eliza wore another bracelet in rainbow colors.

The Icelandic presidential couple has repeatedly expressed support for gay rights, for example by attending the opening of Reykjavík Pride recently, whereas Pence is widely known for his anti-gay views and his conservative view of women.
In the vicinity of Höfði house, the company Advania and Efling union suddenly "felt the need to celebrate diversity," as Advania's director put it, by flying the rainbow flag.
And that is not all. Mbl.is suggests that Eliza Reid's pants suit may have been loaded with symbolism. It was, namely, white – the color which has become a symbol of female solidarity.
Anothermag.com published an article in January, detailing how women have worn white as a symbol of political resistance, in reference to Britain's Suffragettes at the turn of the 20th century, who wore white during public rallies and outings.
When New York Democrat Alexandria Ocasio-Cortez was sworn into office in January, she wore a white pants suit in honor of the women who came before her and the women yet to come, as she explained on her Instagram account.
"In more recent political and pop cultural history, women have chosen to wear white as a symbol of empowerment during significant moments. The colour has long been associated with new beginnings, and women in positions of power have worn it to evoke strength and solidarity with the suffrage cause," the article reads.
Examples of women who have worn white at important ceremonies are Shirley Chisholm, the first black woman to be elected to the US Congress, who wore white on her first day in Congress; Geraldine Ferraro, when she accepted her nomination for vice president of the US – the first woman to be nominated for that post; and Hilary Clinton, during her presidential campaign, as well as at US President Donald Trump's inauguration ceremony.
And Eliza Reid was not the only woman yesterday to dress in white. So did Birna Einarsdóttir, director of Íslandsbanki, while attending a roundtable discussion on US-Iceland trade and investment with Pence.
Related news: