Politics and Society
|
Iceland Monitor
|
Wed 26 Apr 2017
|
19.53 GMT
Biggest landowner in Iceland a British billionaire
Jim Ratcliffe has over the last year bought a lot of land in Iceland and is now one of the biggest single landowners in the country. In an interview with RÚV [starts at 3:15] he says his goal with the purchase is to help preserve the North Atlantic salmon.
Ratcliffe got to know Iceland through fishing. Enchanted with the untouched nature in north east Iceland and the beautiful rivers full of salmon, he made his way back to Iceland many times. "It's one of these places, it's a magnificent landscape and it's not really been spoilt by any sense, by any over population by people. It's a very natural environment."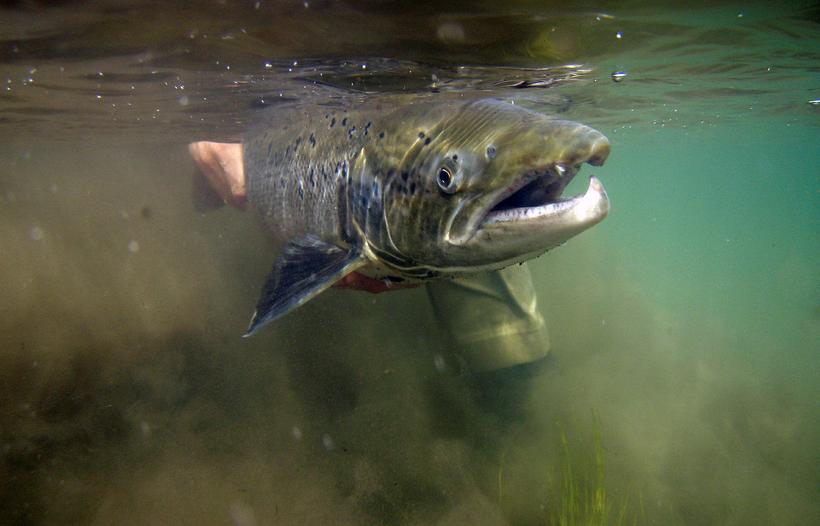 There is a "catch and release" rule in the major rivers in Vopnafjörður, you can't kill the salmon you catch. Photo: Iceland Monitor/Einar Falur Ingólfsson
Owns and partly owns 12 farms
He owns three farms in Vopnafjörður and 33% in fishing association Strengur which holds angling rights in some of the most prestigious salmon fishing rivers in Iceland. Together with the farms Strengur owns, Ratcliffe owns or partially owns 11 farms in Vopnafjörður. In addition to that Ratcliffe bought 72% of Grímsstaðir á Fjöllum last year, a former farm and very large land in North West Iceland that stretches into the highlands. Grímstaðir made headlines in Iceland a few years back when the Icelandic Government prevented Chinese businessman Huang Nubo to buy it.
The farms Ratcliffe has bought are most still in use. "What we are doing is encouraging the farmers to keep on farming, what we call in English a peppercorn rent, in other words free rent and they keep on farming, we're not doing anything with the land anyway."
Owning the farms gives voice in river associations
"The concept there is that if we have a presence by owning some of the farms through Strengir we have a voice with the river associations. The idea is we do all we can to conserve the future of the salmon by managing the rivers well. With a voice at the river association we have the ability to influence how the rivers are managed."
Ratcliffe got to know the battle of preserving the North Atlantic salmon in his fishing trips to Vopnafjörður, through the two men that run Strengir. "I've become persuaded that what they're trying to do in terms of conserving the future of the North Atlantic salmon is a good thing, so I stepped in. They are the guys on the ground that are doing the real work and I just provided some help in a way of financials to help them pursue that."
A fair chance in fresh water
Salmon was once present in many European rivers but has been wiped out. Where it still remains it has been declining, largely because of over fishing out at sea or the river have not been well managed or they've been polluted, according to Ratcliffe.
"The salmon is an iconic species on the planet earth. Everybody knowns and admires what a salmon has to go through to survive. So I think it's a worthy project. There has been too much netting, drift netting and over fishing. All we can do is trying to ensure the salmon has a fair chance when it hits land. Obviously it spends half its time at sea and half its time in fresh water, so at least it gets a fair chance when it's in fresh water."