News
|
mbl
|
Tue 28 May 2019
|
10.39 GMT
|
Modified at 10.55
Björgólfur Thor Björgólfsson Invested in WOW Air
Björgólfur Thor Björgólfsson, Iceland's wealthiest man, participated it WOW Air's bond issue, which was completed September 18 of last year, by contributing EUR 3 million through his company Reliquum, Morgunblaðið reports. This is revealed in a book coming out today about the rise and fall of WOW Air by Stefán Einar Stefánsson, financial news editor of Morgunblaðið.
Björgólfur was the first Icelander to be included on Forbes Magazine's list of the world's richest people in 2005. In 2007, the magazine ranked him 249th on that list. This year, Forbes estimates his net worth at $2.1 billion and ranks him 1116th in the world in terms of wealth.
The author of the new book, WOW: ris og fall flugfélagsins [translates as WOW: the Airline's Rise and Fall], lists the participants in the bond issue and states that evidence suggests more than half of the EUR 50.15 million the airline collected in the bond issue was obtained by having investors convert WOW's short-term debts owed to them, some of which were past due, into long-term debts in the form of bonds. Consequently, capital collected in the bond issue was only to a limited extent to be used as new working capital.
Such was the case with Arion Bank, Björgólfur Thor's Reliquum, the aircraft leasing companies Avalon and AirLease Corporation (ALC), the aircraft manufacturer Airbus, REA ehf. (the parent company of Airport Associates), Öryggismiðstöðin, and S9 ehf. (belonging to Margrét Ásgeirsdóttir, the ex-wife of Skúli Mogensen, WOW's founder).
Therefore, more than half the capital collected in the bond issue came from individuals and companies close to WOW Air and Skúli Mogensen, either personally or in terms of business interests.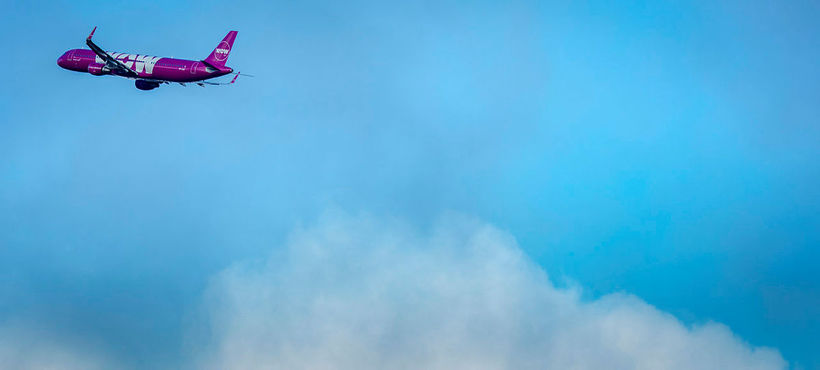 This is the first time detailed information is provided about participants in the bond issue. mbl.is/Árni Sæberg
Skúli Mogensen himself purchased bonds for EUR 5.5 million, Avalon for EUR 5 million, ALC and Airbus for EUR 2.5 million each, Arion Bank for EUR 4.3 million, S9 ehf. For EUR 1.5 million, REA ehf. for EUR 1 million, and Öryggismiðstöðin for EUR 500,000.
There have long been rumors that Björgólfur Thor was connected to the airline, but this is the first time that has been confirmed. He and Skúli are old friends who used to run night clubs in Reykjavík in the nineties.
Other participants in the bond issue were Icelandic financial firms and foreign investors and funds, the single largest purchaser being the US investment firm Eaton Vance, contributing a total of EUR 10 million from three of its hedge funds, amounting to 20 percent of the total bond issue. A total of 20 European investments funds invested in bonds for a combined EUR 11.4 million.