News
|
Iceland Monitor
|
Mon 9 Jan 2017
|
20.54 GMT
|
Modified at 21.10
Another death at Iceland's Reynisfjara beach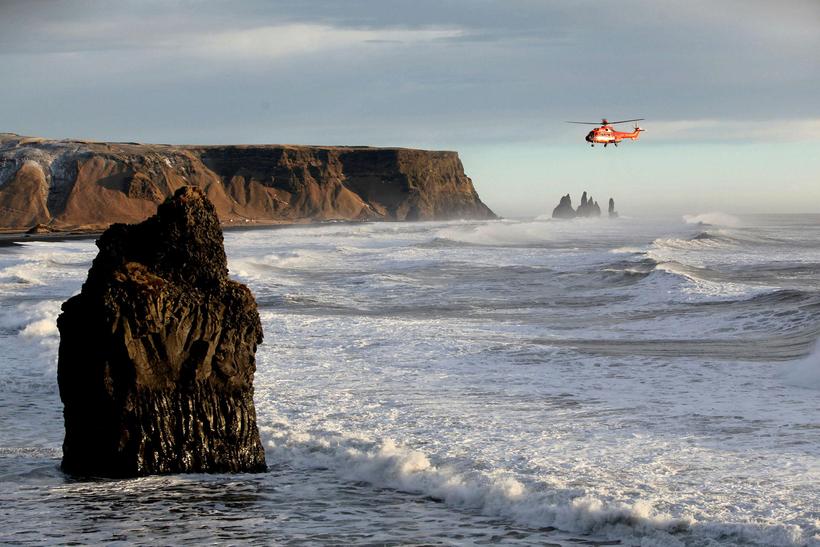 The National Coastguard helicopter searching for the woman today at Reynisfjara . Iceland Monitor/ Jónas Erlendsson
The woman who fell into the ocean at Kirkjufjara, a part of the Reynisfjara beach close to Dyrhólaey died in today's tragedy according to a statement from the South Iceland police department.
The woman, a German tourist travelling with her husband and two children, was swept into the ocean at around 1 pm today. She was found east of Dyrhólaey and declared deceased upon arrival at the Reykjavik University Hospital. Her name has not yet been released.
The accident is being investgated by the South Iceland police who state that the waves were particularly strong on this dangerous volcanic beach. Rescue team members are currently guarding the beach to tell tourists to stay far away from the tide.
Last year, a Chinese man died as he was swept out to sea at Reynisfjara beach and in 2007, an American woman drowned there also.
Reynisfjara is one of Iceland's most popular tourist attractions because of it's unusual expanse of black sand. The waves can be very unpredictable and the undertow at Reynisfjara is extremely strong. Signs were put up at the beach last year but many tourists do not notice or disregard the signs.