News
|
Iceland Monitor
|
Sat 16 Apr 2016
|
20.00 GMT
|
Modified 29 Apr 2016 11.35
"The cold is better than war"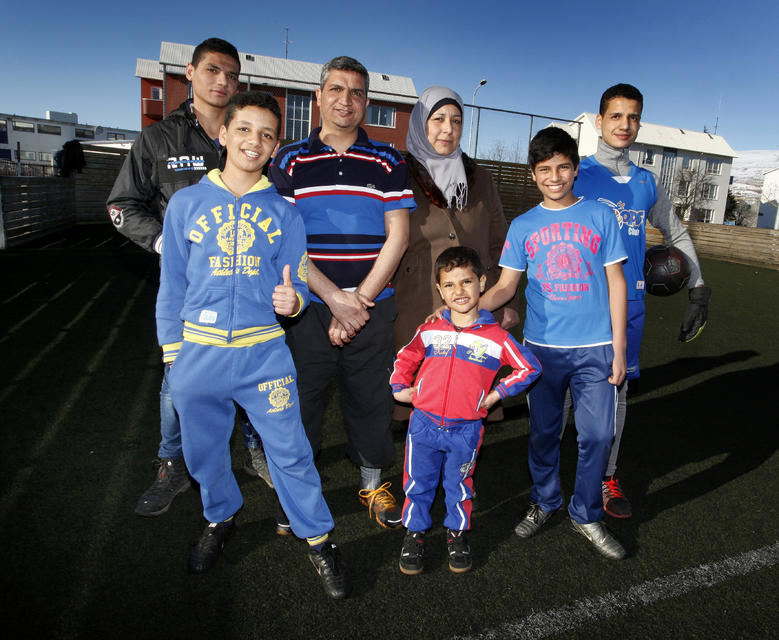 The Naser family from Syria during football practice at Oddeyrarskóli in Akureyri. f Iceland Monitor/Skapti
A family of seven have a new home in Akureyri, North Iceland. It's a home where smiles, gratitude and optimism prevail. It's been four months since couple Joumaa and Joumana arrived in Iceland accompanied by their five sons as refugees from Syria.
The couple arried with a group of 28 refugees from a camp in Lebanon and their new life is positively blooming.
Three of their sons have started secondary school, one is in college and the youngest at playschool. "We couldn't have imagined such a wonderful welcome, right from the very first day. The people here are wonderful and the whole community has received us so well," says Joumaa in an interview with the weekend edition of Morgunblaðið.
But living in north Iceland is certainly different from their former home. "The weather is definitely different from what we are used to. It's a bit cold, but we'll get used to it. The cold is better than war. The language is difficult but we are studying hard. What's most important is how well we were received and that the kids are at school. Everyone is willing to help out here, that was unfortunately not the case in Lebanon."