News
|
Iceland Monitor
|
Sat 22 Aug 2015
|
8.00 GMT
|
Modified 28 Apr 2016 16.23
Tourist horrified at only seeing dead whales in Iceland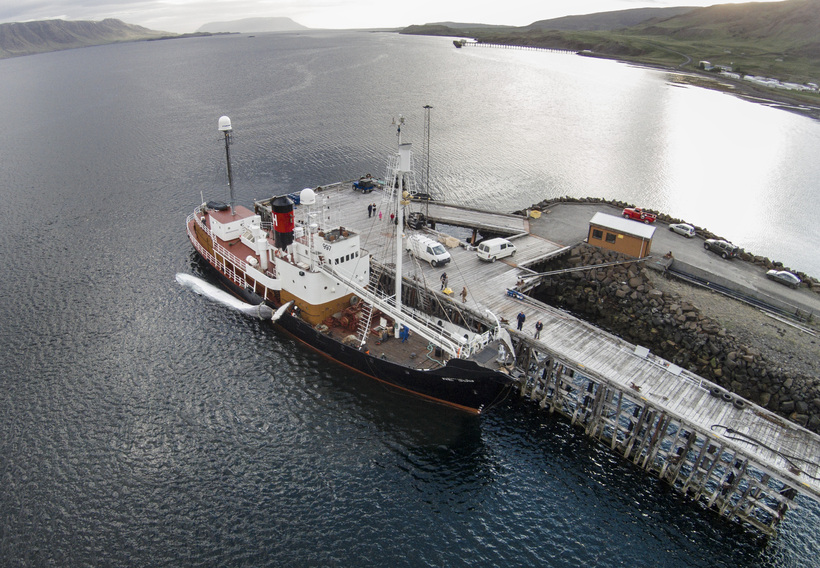 A fin whale caught this autumn being dragged into shore at the whaling station in Hvalfjörður. Mbl.is Golli / Kjartan Þorbjörnsson
The Daily Mail reports a "horror tourist whale watching trip when seeing only endangered fin whales dragged to shore. " According to the Daily Mail, US tourist Timothy Baker was aghast after seeing no whales on a whale watching trip and finally seeing a whale when whaling vessel Hvalur 8 sailed past towing a dead whale.
The Daily Mail interviewed Mr.Baker who said, 'You can't have dead whales being the only thing seen by people who spend money on whale-watching.' Baker photographed the dead whale and sent the photos to animal rights societies. The Daily Mail reports 28 mink whales having been caught this season and 91 fin whales, but the Icelandic Ministry of Fisheries reports a total of 88 fin whales caught this season.

Gísli Víkingsson, whale specialist at the Marine Research institute explained to Iceland Monitor earlier this year that Red Lists of animals in danger of extinction such as The IUCN list of threatened species look at the fin whale as one population of whales on a global scale. "Their list is governed by the situation of the fin whale population in the southern hemisphere which is in very bad shape. It was a very big population before the time of whaling. However, the population of fin whale in the central North Atlantic is around 20,000 which is the same number as before whaling started."
See the Daily Mail story HERE.