Nature and Travel
|
Iceland Monitor
|
Sun 30 Jun 2019
|
8.10 GMT
|
Modified at 12.52
'Said They'd Make Us Famous in Hollywood'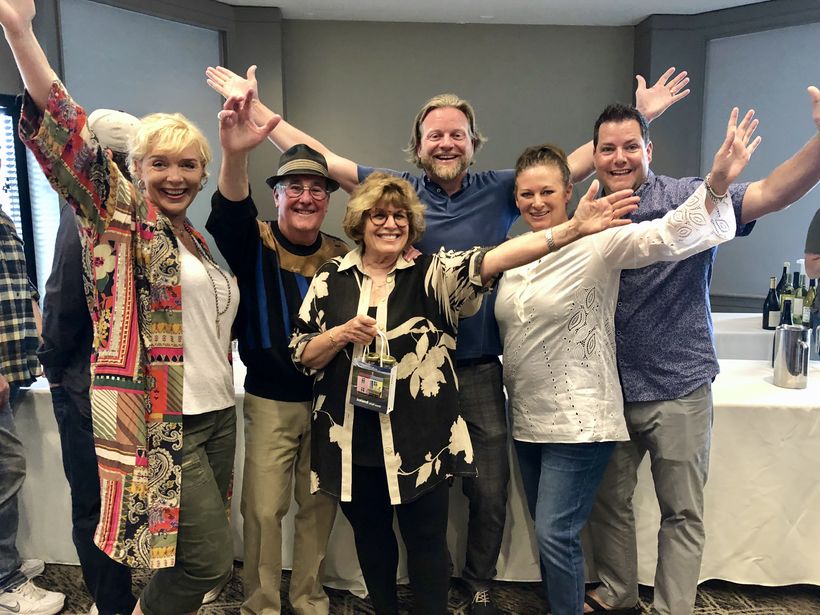 Ýmir (center) and Hrefna (far left), in the company of friends and the founders of California Wine Masters. Photo/Contributed
"We got a great reception," Ýmir Björgvin Arthúrsson, co-owner of Magical Iceland – Food and Wine Tours, tells mbl.is about his trip to Los Angeles, where he and his wife, Hrefna, attended an event, hosted by California Wine Masters . "People were constantly asking to meet us, and everyone we met was excited about Iceland, and it was clear that our friends in Los Angeles were proud to introduce their friends from Iceland."
Ýmir explains the nature of their business: "In 2010, my wife, Hrefna [Ósk Benediktsdóttir], and I founded a booking service, which quickly developed into offering gourmet trips to tourists. For the past six years, we've emphasized trips for well-to-do tourists and foreign businesses, and Icelandic businesses are increasingly booking our Food and Wine trips for their foreign, and even Icelandic, guests." He reports that their guests are 100 percent satisfied with the service – which makes the couple very proud.
"We've received five-star ratings only on TripAdvisor and we've been servicing a group of guests with very high expectations, who spend money and enjoy luxury. Most of our guests are from the US," Ýmir reports. "In May of last year, four lively women and a man from California attended two of our most popular tours."
"After having enjoyed our Gourmet Golden Circle and Reykjavík Food and Wine Tour, they said they'd make us famous in Hollywood," Ýmir states. "No sooner had they landed back in LA, than we received a phone call from Barbara, the founder of California Wine Masters. That got the ball rolling."
The couple was invited to participate in annual festivities, hosted by California Wine Masters. The charity wine event, held at the Warner Bros Studios in Burbank, CA, featured 50 international chefs and 75 of California's wineries. Wine Masters supports the Cystic Fibrosis Foundation and has raised USD 32 million for their mission.
Ýmir explains that the event is attended by food, wine and travel enthusiasts. Wine farmers arrive from the vicinity to introduce their wines, along with many of the best chefs in the US. "Hundreds of booths offer refreshments to ticket-holders. There are also a few hundred travel packages on offer, on which you can place a bid.
"Our company put together a luxury eight-day, seven-night all-inclusive package. Our partners donated their work to charity and also got great publicity. Our package received the most attention and in the end, it got the highest bid of all, which, of course, is a great promotion for the country … Clearly, the promotion was great for Iceland, our company and our partners," Ýmir concludes.