Nature and Travel
|
Iceland Monitor
|
Wed 5 Jun 2019
|
9.13 GMT
Silfra Could Receive up to 76,000 a Year
Silfra fissure at Þingvellir National Park appears not to have reached capacity yet, in terms of number of guests, a new report suggests.
An analysis done by Efla engineering firm suggests that the number of guests who come there for snorkeling or scuba-diving could be slightly increased, reaching 76,000 a year, Morgunblaðið reports. The analysis was presented by Efla recently.
Einar Á. Sæmundsen, park director, states Efla's report shows that the number of companies servicing tourists in Silfra can't continue going up, even though capacity hasn't been reached. There are currently seven companies offering snorkeling and scuba-diving in the fissure.
"The report clearly shows that Silfra is fast reaching capacity. It's up to the national park go determine the number of guests in Silfra, and the report serves as one of the tools we can employ to determine and direct traffic to Silfra for the future," Einar tells Morgunblaðið.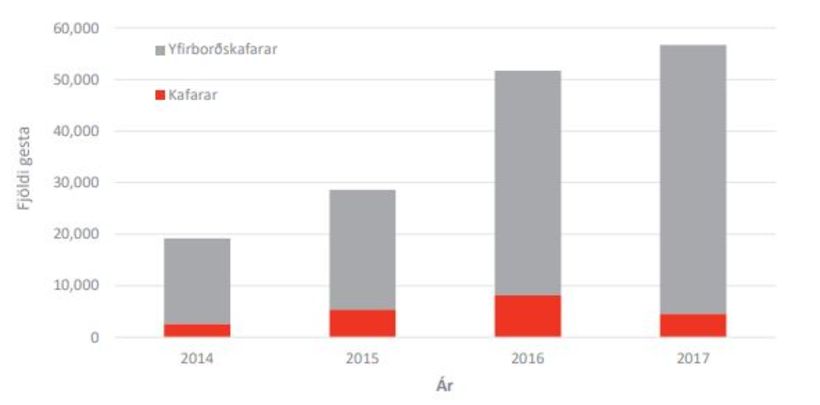 The graph shows the rapid increase in the numbers of scuba-divers (red bar) and snorkelers (gray bar). Graf/Efla verkfræðistofa
The number of guests who come to Silfra to scuba-dive or snorkel has rapidly increased in recent years, from roughly 19,000 in 2014 to 62,000 in 2018. This year's numbers suggest a 5-10 percent increase in 2019.
Several serious accidents have occurred in the fissure, including five fatal accidents since 2010. The report states that no apparent connection appears to be between the increased number of visitors and the rate of accidents.
Efla suggests that efforts be made to prevent long lines of people from forming by the fissure, and recommends reducing the operation's visual effect on the national park, for example by moving the facility away from the fissure. Furthermore, the report's authors point out that rules must be made regarding under what weather conditions the fissure should be closed. Finally, they stress the importance of ensuring access for emergency teams, in case of an accident.