Nature and Travel
|
Iceland Monitor
|
Sat 8 Jul 2017
|
9.25 GMT
New hotel opens at Lake Mývatn in North Iceland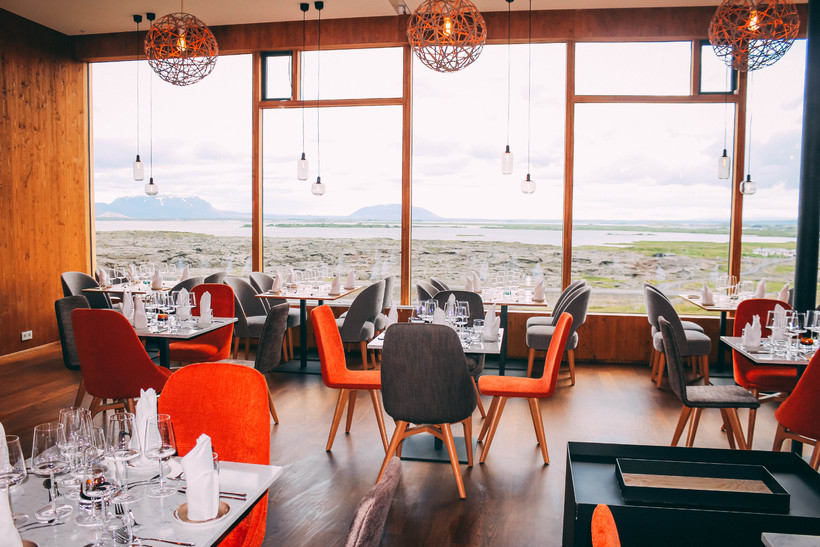 Fosshótel Mývatn also features a restaurant seating 120 people and an on-site bar with views of the lake. Photo/Fosshótel
The iconic natural beauty of Iceland's Lake Mývatn is now the site of a new hotel, Fosshótel Mývatn. The Mývatn region is home to a spectacular lake with a unique ecology, gurgling mud springs, steaming fumaroles and otherworldly lava formations. The region is located around 100 km drive from Akureyri, the capital of North Iceland, and is also home to the geothermal Mývatn nature baths.
The new hotel, which opens on July 1st, forms part of the Íslandshótel chain which encompasses 17 hotels around Iceland, including Iceland's largest hotel, Fosshótel in Borgartún.
Fosshótel Mývatn was designed by award-winning Nordic architects Basalt Architects with an emphasis on ecologically sound and sustainable architecture. The architects in conjunction with landscape consultants on the project decided to keep the hotel at a low rise level of three floors in order to merge more with the surroundings.
The building is made with glued laminated timber which has a low negative impact on the environment. The timber units of the building, produced in Austria, are clad with larch, a wood that becomes grey and weathered as time passes. All the windows are in a grey colour and lighting surrounding the building is low to help it blend into the environment and the roof features grass thatching.
The new hotel offers 92 rooms in a spectacular location north of Lake Mývatn. The room categories offered are standard rooms, lake view rooms, family rooms and suites. All suites include a balcony and an outdoor hot tub where you can soak whilst enjoying the natural beauty of the surroundings.
Fosshótel Mývatn also features a wonderful restaurant seating 120 people and an on-site bar with views of the lake.