Nature and Travel
|
Morgunblaðið
|
Thu 1 Jun 2017
|
20.02 GMT
Tiny Icelandic lamb gains a new family and becomes an internet star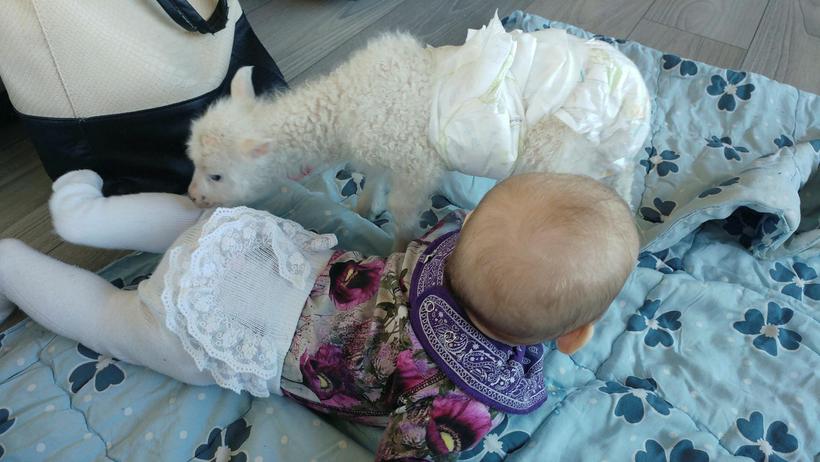 Lúlli the lamb loves cuddling up with Hekla, four months old. Both wear diapers. Photos/ Guðrún Hálfdánardóttir
Lúlli the Icelandic lamb was born prematurely and his chances of survival were slim. However, after being fostered by the family at Sandar farm in Miðfjörður, a small fjord in North West Iceland, Lúlli is thriving.
Lúlli, who now has his own Facebook page lives with the family inside the farm, wears a diaper and even clothes on occasion. He sleeps a lot, like other premature babies and is regularly cuddled by family members. He has two new friends, a four-month-old baby and another lamb, called Ukulele who lives in Þistilfjörður.
Farmer Guðrún Hálfdánardóttir at Sandar explains to mbl.is that she always tries to raise lambs that are under the weather or born prematurely. "He was so weak at birth that we didn't think he would survive. I took him inside and warmed him up by putting him on my chest. I've joked that I breastfed him," she says laughing and adds that the little fellow is very affectionate and good-natured.

"Except when he cries at night, that's not very popular. But nowadays he sleeps outside of the bedrooms so that he doesn't wake up the grandchildren who are staying here for a while." She adds that he "cries" a lot if he's put outdoors. "He just wants to stay inside with us. His favourite place is on the blanket with my little granddaughter Hekla who is four months old. He just wants to cuddle with her to sleep, like a little baby."

Lúlli is only a month old now and has tried quite a few human things in his life. He's tried using a dummy which he liked a lot, he wears diapers so that he doesn't make a mess inside the house, and he's particularly fond of paper which he likes to nibble on. Hálfdanardóttir says that she aims to care for him until the end of the summer by which time he should hopefully be strong enough to join the rest of sheep.
"I make sure that the children are careful with him. He's not a toy, but a living being, and still fragile." Lambs that are taken into the farm for fostercare in Iceland are traditionally called "heimaalningar" or home-raised. These are lambs that have lost their mother or have needed special care from birth, and are bottle fed by the farmers.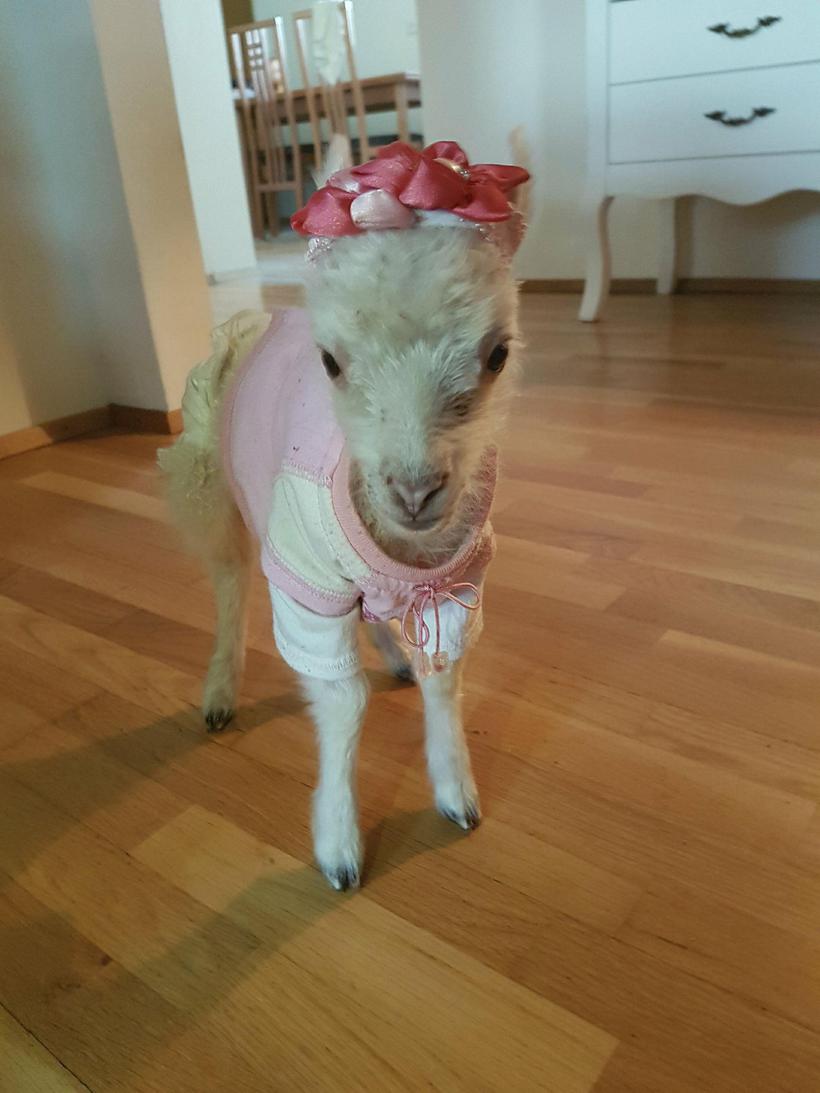 Another lamb who had to be ahndreared by a farmer in Þistilfjörður has now become Lúlli's girlfriend. Her name is Ukulele.