Nature and Travel
|
mbl
|
Sat 14 Jan 2017
|
16.55 GMT
River rafting in Iceland, some of the best in Europe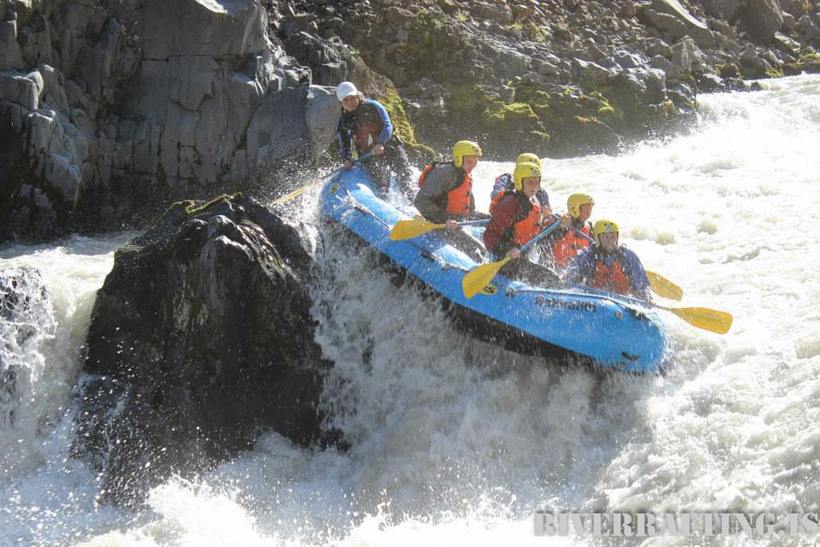 There are three rivers you can raft down in Iceland, two of them are family friendly. The third everything but. Photo: Bakkaflöt
Sóley Björk Guðmundsdóttir


There is no way to get to know Iceland quite like river rafting. Going down a river (on water that used to be an Icelandic glacier), on a small boat, looking up at a gorge the river has dug over the years and seeing the layers of Iceland. It is nothing short of an amazing experience.
There are three rivers that you can river raft down in Iceland. Hvítá river in South Iceland, and Austari jökulsá and Vestari jökulsá which run side by side in Skagafjörður, North Iceland. All of them are large glacier rivers and nobody in their right mind would sail down them without a skilled guide.
Though the rivers are large and sometimes scary there is never a feeling of not being safe. You can't even enter the boat before being thoroughly taught about safety, what to do and how to react. There is a guide in each boat, and the guides are so much in tune with everything that the river might just as well run in their veins.
The family friendly experience
Hvítá and Vestari jökulsá (English: White River and West Glacier River) are in many ways similar. There are some rapids that give the ride a little kick, but nothing to scary. Rafting down either of them is a perfect family activity, if the kids are big and strong enough to hold an oar that is to say.
In both of them there is plenty of time to enjoy the moment and the scenery, which is absolutely beautiful. Both of the rivers partly run through a gorge the water has dug over the years. There are other places to look at gorges in Iceland, but the view from a boat on the bottom of it is something else.
In addition to the fun and the beauty, seeing the layers of Iceland is an interesting geology lesson, if you are into that kind of stuff.
If you want to kick it up a notch you can let the guides know, then they are likely to throw you off the boat every once in a while and let you take a dive from a cliff down into the river. This is especially great you are a part of a group that wants different experience out of the ride.
For the adrenaline junkie
Austari Jökulsá (English: The East Glacier River ) is the grown up stuff, it has an age limit of 18 and is perfect for adrenaline junkies. It is categorized as grade 4+ river (out of 5) and has been rated one of Europe's best rafting rivers over the years. No rafting experience is required, just treat the guide like a god and obey his every saying.
Rafting down Austari Jökulsá takes longer than in the other two rivers. The ride is great fun and plenty of adrenalin, there is no relaxing here. The rapids are in abundance in the river, which runs through a deep gorge it has dug over the years.
You pretty much row constantly so a good physical condition is a plus for this ride. Not to mention if you fall from the boat, which can be great fun but swimming in a glacier river can tire you up pretty quickly. The adrenaline surely kicks in to help and while you are in the river you don't really feel tired. Personally I would not plan a night of dancing after a day in Austari Jökulsá, but the ride was worth every sore muscle.
The extreme
The biggest rafting experience you can get in Iceland is a three day trip down Austari Jökulsá. The ride starts close by Hofsjökull glacier, the origin of Austari Jökulsá. It is located so far up in the highlands of Iceland that few other than local tourists on big 4x4 venture up there.
The nights are spent at remote mountain cabins. No five star hotels here, though you will find some natural geothermal pools on the trip instead of Jacuzzis. The days will naturally be spent on the river, with stops for lunch on the way. While travelling down the river you can watch both the river and its surroundings change. There quite enough rapids in the higher parts of the river, but there are areas that are more calm and easy going as well, giving you a break from the workout.
There are three companies that offer rafting trips in Iceland. Arctic Rafting, Bakkaflöt and Viking Rafting, all with skilled guides and years of experience in the field.