Nature and Travel
|
Iceland Monitor
|
Mon 17 Oct 2016
|
17.06 GMT
Moonlight, rainbows and Northern Lights
Photographer Einar Guðmann took these incredible photographs of Goðafoss waterfall in North Iceland under the moonlight and shares tips on capturing the Northern Lights on camera.
Goðafoss waterfall means the waterfall of the gods and is one of the most beautiful waterfalls in Iceland. In the year 1000 it is said that lawspeaker Þorgeir Ljósvetningagoði threw statues of the pagan Norse gods into the waterfall when Christianity became Iceland's official religion.
"The darkness has arrived here in Iceland, but the winter has not. The conditions for northern lights have been good and the calm weather has been refreshing. I guess some of my friends in south-Iceland don´t agree since it has been heavy raining there and partly cloudy. Me and Gyda were at Godafoss recently under the moonlight. The moonlight is really bright when we have calm and clear conditions like we have had for the past few days. The moonlight makes the colors pop out and really light up the beautiful rocks."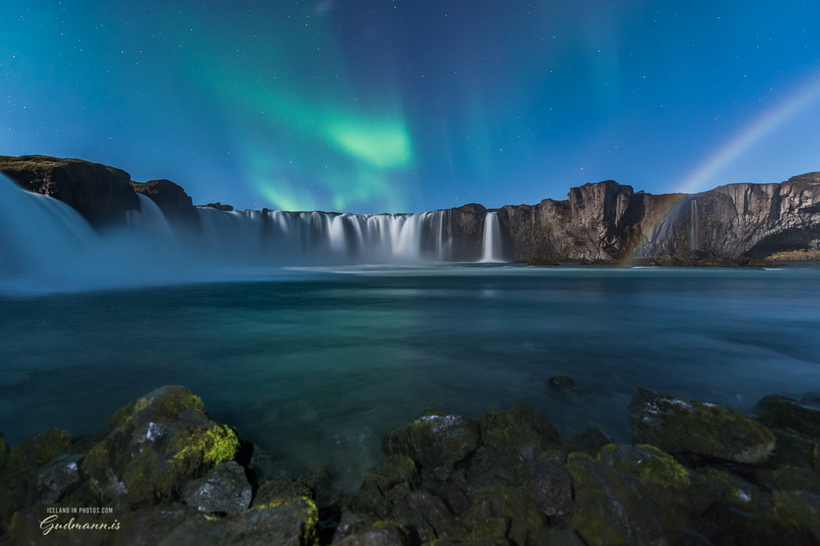 Einar Guðmann and Gyda Henningsdóttir are Icelandic photographers living in Akureyri focusing on nature and wildlife photography.
Their Icelandinphotos.com blog is the reflection of their experience whist travelling with cameras in Iceland.
"Photographing the northern lights is not really complicated," says Guðmann. "Bright lenses and cameras capable of high-iso are great. Depending on the activity and movements of the lights I am more or less using 8 -15 seconds at 1600-3200 iso. If the lights move fast shooting at only 2-3 seconds gives you more details – this is when bright lenses help. If you expose for more than 15 seconds in high-activity the sky will probably be completely green. Most of the time I use apperture 2,8 to 4 when using my 14-24 lens."
For more Northern Lights photograph tips check out their blog post HERE.