Nature and Travel
|
mbl
|
Sat 9 Jul 2016
|
17.00 GMT
"In ten years' time, Reykjavik will have plenty of empty hotels"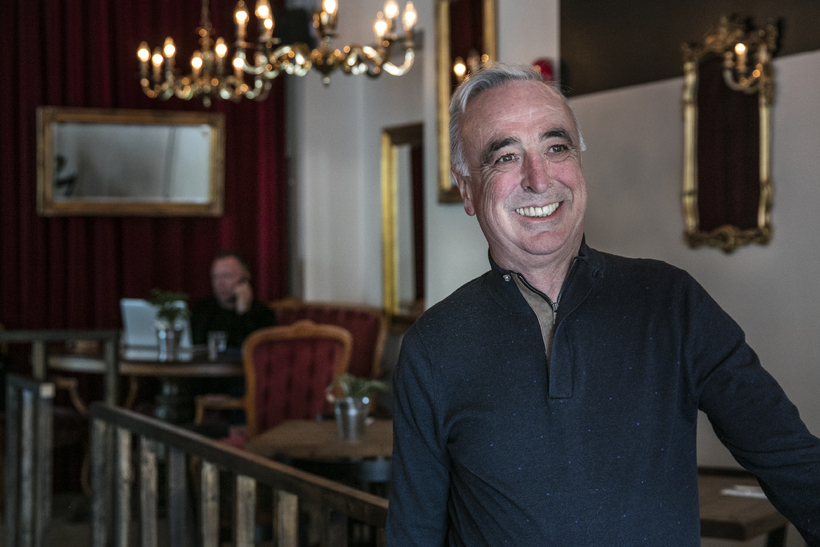 Hotel owner Klaus Ortlieb says he fell in love with Reykjavik as a teenager, the people and the colours of the city. Iceland Monitor/ Árni Sæberg
Anna Margrét Björnsson


German hotelier Klaus Ortlieb boasts more than thirty years in the business. His extensive background spans everything from the elegance of Claridge's in London to the hip Cooper Square, Hotel on Rivington, The Mercer, Gotham hotels and many more New York to the glamorous Hotel Modern in New Orleans.
Ortlieb has catered to supermodels, film stars, famous poltiicians, rock stars and fashion designers throughout the years.
It is therefore a little surprising that Ortlieb chose to open Hlemmur Square in Reykjavik, a hotel- slash- hostel located in a former natural history museum in an area once known as the sleazier area of central Reykjavik. So how on earth did he end up in Reykjavik and get the idea to open up a hotel here?
"Well, first of all, I'm from Germany and I flew to the United States quite a bit in my youth, there were no direct flights to the States from Germany. They all stopped over in Reykjavik," explains the effusive Ortlieb. "So I spent quite some time in my youth here, always just a day or two, and I fell in love with the colours of the city and with the beauty of the people. For me the Icelanders were such a proud nation, they expressed themselves but at the same time always remained polite. At the time noone knew anything about Iceland, It was a small fishing nation and nobody really pictured it. Years later, a friend of mine who is an architect in New York was going out with an Icelandic lady, had the idea of opening a hotel by the harbourside, and asked me to help him out. It's an area which is now all built up, but it was a space available at the time, on the marina where the old fishing ships are. This was in 2006, and then the economic crash occurred. I then got a call from a friend who said, "There's an opportunity in Iceland, do you want to help me." I said yes. I came out to Reykjavik, saw this building and I loved it. And the most important thing to me about it was the neighbourhood."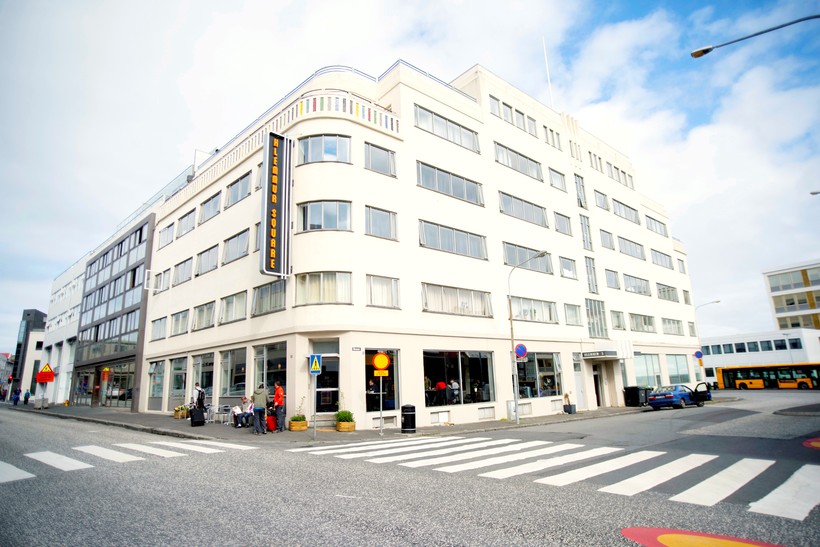 Hlemmur Square hotel, on Hlemmur square. "I was always looking for a neighbourhood in Reykjavik that had something great, more interesting, not in Laugavegur where everything looks the same, I wanted something different." Photo: Hlemmur Square
The upcoming Hlemmur neighbourhood
Ortlieb explains that he has never opened a hotel in an already gentrified area. "I was always looking for a neighbourhood in Reykjavik that had something great, more interesting, not in Laugavegur where everything looks the same, I wanted something different." He acknowledges that since the opening of his hotel, Hlemmur Square, the area has become quite different. "I knew that would happen. I know that people sometimes hate that I gentrify areas. I once opened a hotel in the lower east side of New York. Just before the opening there was a murder there, someone got killed. Three years on, the rent in the area had gone up threefold. Usually a hotel does gentrify the neighbourhood."
However, Hlemmur Square was new for Ortlieb in the sense that he had never opened a hostel before. "For me a hostel was an institute full of backpackers. So I thought, well, if I do a hostel, it has to be something interesting. Having travelled a lot myself, I always wanted to stay in interesting places where there are younger people, and not just people my age. This was the first time this concept of a luxury hotel and hostel was done and has since been copied by people trying to take credit for the concept."
Creating a home away from home
He describes Hlemmur Square as a great opportunity. "I could have parents staying upstairs, in the luxury hotel part, and their kids staying at the hostel, running around with the younger people, but then they could all meet up at the restaurant. So that's what we decided to do. And that's how I ended up here."
He explains that for him, when setting up a new hotel, it's important to create a home away from home. "Not just another square box. I want to create a whole building within itself. At Hlemmur Square, the fifth floor suites have terraces. I remember standing up there and looking up the street at all the different colours of the Reykjavik houses, the roofs and the walls. Those were the colours that I wanted at my hotel. Because those colours have always been Reykjavik to me. A slightly harsher, more Nordic colour, because of the Icelandic light." Ortlieb therefore put the colours of the old city centre into the colours of the rooms of his hotel. Oranges, purple, grey, green, red.
"I also felt that the old and the new had to be somehow combined. Unfortunately Icealnders are getting rid of a lot of the old buildings to build something new which is a great shame. I like to mix the old with the new. In any city I live in, I find old things, sometimes even by the side of the road, and take them back. So you could say that I'm totally hands-on with the design of every hotel I've been involved with."
Not a hipster venue
When Hlemmur Square opened, the area was still a bit seedy. "I remember when I opened the place I had never seen so many people influenced by alcohol or drugs. I got beaten up here," he says and laughs it off with a shrug. "I thought, oh well, it's a Nordic country. Hlemmur as a drug pedling place doesn't exist any more, it's all gone. There used to be this wonderful man, who well, obviously needed help, but he was wonderful, every morning at eight'o'clock he would come for his glass of white wine, with a big smile. I did try to offer him breakfast instead. But he has disappeared, I don't know where he's gone, I don't know where these people got relocated to but they do need assistance and care. There are a lot of mentally ill people here in the streets who should be better looked after. "
But Ortlieb insists that Hlemmur Square is not a hipster venue. It offers a bar and restaurant, Pylsa/Pulsa which belies his German origins and specialises in gourmet sausages. "It's a place where everyone should feel comfortable and at home. I say, come in have a drink, feel welcome, I don't care how you dress, it doesn't bother me." He does however, tell me that the second floor of the building is still owned by the council. "We want to buy it but these are apartments used as social housing and the negotiations with the council are very slow moving, instead of the beautiful change it would make for the building and the area. I do think that there is somewhat of a lack of social services in Iceland which is bad."
Wants to give something back to the people
Interesting times, is the phrase Ortlieb uses to descibe the time when Hlemmur Square opened. "Reykjavik was on the move in becoming a huge tourist destination. It's all changed now. Now someone else is trying to do a similar kind of thing to Hlemmur Square, a hotel and hostel in the other part of the city. No , I don't mean Kex Hostel. Kex have done a fantastic job, they have a unique concept and they have a very different clientele to us. I wish them a lot of success. But I didn't want to have a Kex, to have craziness until late at night, at the end , we want to go to sleep, the money is not made at the bar, the money is made up here. For me the hotel and hostel guests are the most important, everyone else I just want to come and join in with the environment."
Every Thursday night, Hlemmur Square hosts a free concert and every week there are different things going on. "At Christmas we did something from the children. You know, I'm not the rock and roll place, I just want to give something back to the people. There are a lot of people who have made this their home, there's a couple who come here every day for a drink, there's an old college professor who comes for his one beer every night at the same time."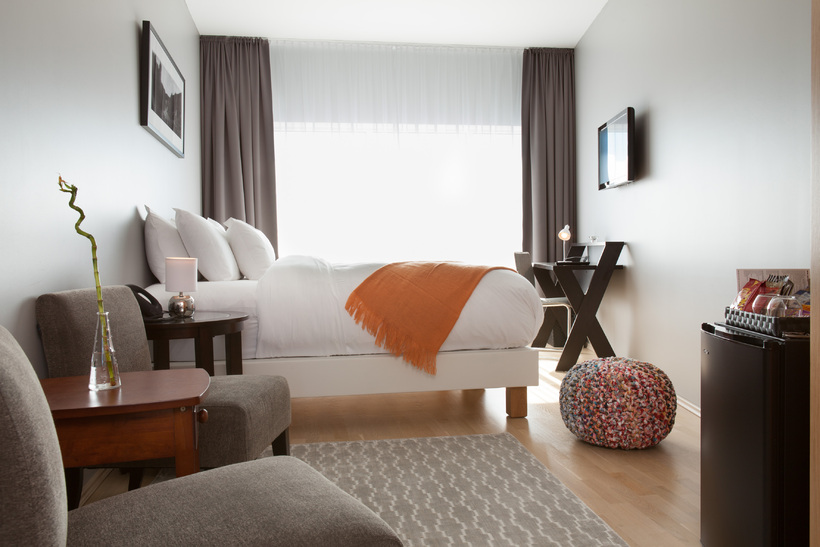 One of the inviting, luxurious rooms at Hlemmur Square, a hotel which Ortlieb wants people to fell is "a home away from home." Photo: Hlemmur Square
Next Iceland hotel will be in the West Fjords
This autumn, the infamous bus central at Hlemmur will be replaced by a food market. "I's exciting. I wish they would tear the old building down and build something new but they are not going to do that. I hope that the two young gentlemen who manage the concept will make something fantastic out of it. I think it will be a great addition to the neighbourhood, which is already thriving, with more shops opening up and younger people moving to the area."
But does he see another upcoming area of the city? "In Reykjavik, no I doubt it, it's such a small downtown, I wouldn't go up to the west part of the city, and you can't go any further out, its too far away. So apart from the area by Grandi and the harbour or up here I don't see it. For me the next thing is to do something in the West Fjords. There are some incredible untouched areas up there. Areas with warm water where you can actually go swimming in the ocean, places which nobody in the world knows about. So I'm thinking of doing some sort of country hotel. " He explains that a lot of people want to come to Reykjavik to party and then they go off to the countryside to see the nature. " I think there is a lack of good accommodation in the country side, untouched, natural, something that will also accommodate Icelanders. A fun place which is all about the nature."
A hotel has to be inspired by the city it's in
A West Fjords hotel is not the only idea in Ortlieb's mind, which is constantly on the lookout for new adventures. I'm also looking at opening a hotel in the Eastern European countries, perhaps Hungary. And I want to open up a hotel in Berlin. I found a great place at the edge of Kreuzberg. It can be a scary neighbourhood but it's a fun one. There are still incredible old factories in Berlin, that's what I would like to find."
He explains that all his projects are different and that each hotel has its own character. "You have to create a hotel that becomes a part of the city. I couldn't do a Hlemmur Square in Berlin for example. Or in New York. A hotel always has to be something that's inspired by each city."
"I always like to be around creative people you know, " he adds. "I am bored with suits. I like to hang around with people in art, cinema, music, theater, I never spent my time with lawyers and bankers. I don't want those boring people. I want fun! In every hotel I've done I like to partner up with creatives. In Reykjavik I've partnered up with the Reykjavik International Film Festival and the Stockfish film festival to name a few."
Afraid that Icelanders will raise a Disneyland near Reykjavik
What does he think of the current surge in tourism in Iceland and the numerous hotels and tourist shops rising all over the city centre?
"I think that Reykjavík and Iceland are being short sighted of what is happening. The upturn in tourism which has come to Iceland is incredible. Over the last three years it's been constantly on the rise. There's a moment where it's going to stop. Where it's going to decline. Iceland is not going to be the number one destination to which everyone wants to go to forever. So for me, yes, it's a bit short sighted to allow all these buildings to rise. Everyone wants to make a buck now. So they all build these things but you know, I see empty hotels standing here in ten years time. I'm very much afraid of that. Iceland should take a step back and should remain what it is. You have to remember why it is that people come here in the first place."
"People are coming to Iceland because of the nature, because of the small, original things. I'm afraid that at one point someone is going to put a huge rollercoaster outside of Reykjavik and make a Disneyland. That's the direction they are going in. They are not doing much to sustain what attracted people to this place in the first place. I care very much about this place, about Reykjavik and Iceland, it has become a part of my life and this is truly my opinion."
Likes to discover the strange, little things about Reykjavik
Ortlieb shares his time between homes in New York, London and Reykjavik. I have a flat in Reykjavik, just near Hlemmur, in a new apartment building." But how does he manage to be on the constant move between many homes, and many cities? "Well, I don't have a family. Noone ever wanted me, I'm still single," he says and chuckles. "Thank God. I can do whatever i want. I've always been a man on the move. I never was one to sit still and settle down. I need diversity, it's my personailty, and that goes into everything I undertake."
I ask him what his favourite Reykjavik things are and what he'd reccommend. "I love the coffee shops, they're great. My favourite is Reykjavik Roasters. I love the little spice store around the corner. There's a nice fairly new restaurant down the right hand side called Resto which I like. Every time I come here there are new little places. I like to find the strange things, a little flea market on the side of the road, or to go on a horseback ride in the woods. I like the harbour in the winter time, when it's not so touristy. Actually, I don't like anything too touristy, although tourism is my livelihood."
But after a career as a hotelier spanning thirty years, I wonder what his all time favourite in the world is. "Claridges," he answers without hesitation. "That hotel has an incredible feeling about it. It's so elegant and still it feels like a home. It feels like the world outside somehow doesn't exist."