Eat and Drink
|
Iceland Monitor
|
Sat 26 Jan 2019
|
11.33 GMT
Interview with Músó the cat at Reykjavik's only cat café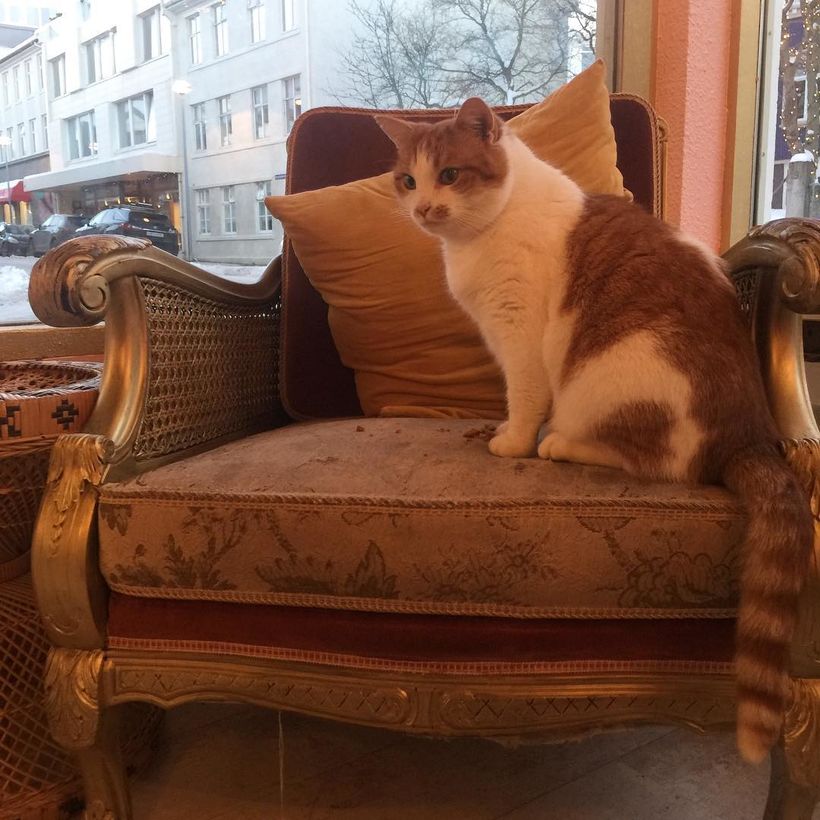 Músó the cat is happy living in Kattakaffihúsið but is looking for a forever home. Photo/ Kattakaffihúsið
Cat cafés are popular all around the world since the first one opened in Taiwan many years ago. Last year Kattakaffihúsið opened in Bergstaðastræti in central Reykjav
The café is an airy, bright space with large windows and decorated in gorgeous pastel hues and illustrations by fashion designer Helga Björnsson, who is the mother of one of the owners.
It serves vegetarian and vegan food and cakes, all of them delicious, and a variety of tea and coffee. It's a super popular spot for children who love to spend hours at the café petting cats or reading books. The cats at Kattakaffihúsið are all up for adoption for a forever home so the residents of the café change every few weeks.
You can also buy wonderful merchandise at the cat café including cushions and T-shirts all designed by Helga Björnsson.
Músó the cat, a resident of the café was interviewed by Iceland Monitor.
Why don't you have more cats?
Good question! We know that many cat cafés are filled to the brim with cats, however our concept is a bit different. We don't want to have more than five cats, for the cats own well being. Although we are careful to only allow cats who are sociable, and comfortable with both other cats and humans, it can be very stressful for our feline friends to have too many cats around and ourcafé is a very small space. We want them to feel as comfortable as possible while they live with us.

What are the rules in the cafe?
We ask you kindly not to pick them up, not to feed them, not to chase them if they don't want to be chased and not to wake them up. We know that all of these things are very tempting but we are very concerned for their safety and well being and comfort, so there have to be rules.

​Where do the cats sleep at night?
Our cats live in the café until they find their forever home. This means that like in most homes, the cats have about 9 hours worth of "down time". Don't worry, they have plenty of delicious food, toys and comfy places, they also have each other.
​Where are all the cats?
They are in the sitting area. Probably sleeping.

​What kind of food do you have?
We are a 100% vegetarian café and most of our food is vegan. We have a menu here on this website.

​Do I have to make a reservation or pay an enterance fee?
No. In most ways we are just like a very normal café, but we have cats!

​What if I have allergies?
Please take the required medication before coming over. Many people with milder allergies find they respond well in our café but we hope you will take the necessary precautions.
Find the cat café at Bergstaðastræti 10A in 101 Reykjavik.