Eat and Drink
|
Iceland Monitor
|
Sun 23 Apr 2017
|
15.07 GMT
Icelandic or foreign cheese. What's the difference?
Eirný Sigurðardóttir is the owner of Búrið cheese and delicacy shop in Grandi, Reykjavik harbour area. She's an expert on cheese, and particularly Icelandic cheese. She holds a lunch seminar on Icelandic cheese culture most Mondays (check here for further information). The seminar takes 1,5-2 hours, depending on how chatty people are.
Cheese making died down for centuries (a part from skyr)
"It's not only about the history of cheese in Iceland, it's the history of dairy. The development here is very different from that of our neighbouring countries," says Sigurðardóttir.
According to her cheese was a common thing when the land was first settled, but not for long. Cold weather and volcanos had a part in Icelandic cheese history, as absurd as that may seem. In a cold phase all firewood had to be used for heating houses and nothing was left for making salt from the ocean, vital in making cheese. In addition to that, cold phases and volcanic eruptions are neither particularly good for cows.
Aside from making skyr, Iceland's only traditional cheese (acid set cheese which is eaten more like yoghurt), making cheese in Iceland pretty much died down.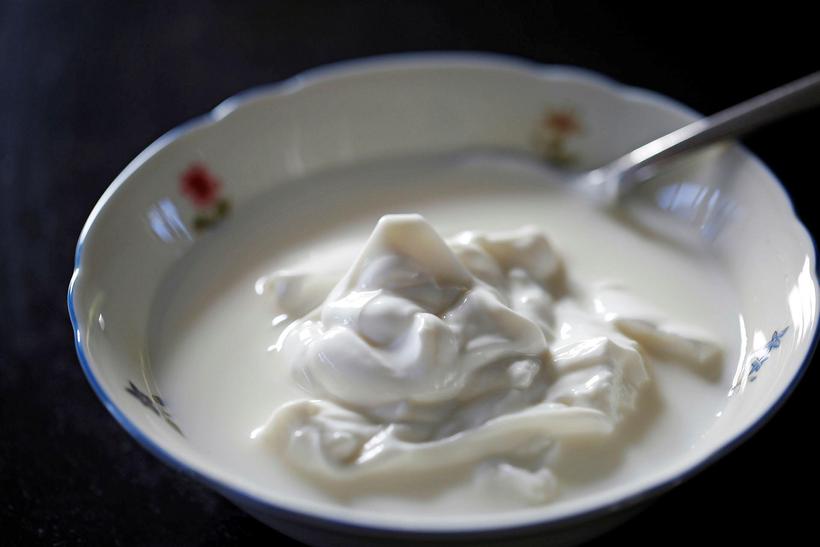 Skyr is traditionally eaten with cream, sugar and blueberries if they were in season. Photo: Iceland Monitor/Eggert Jóhannesson
Icelanders fourth biggest cheese eaters in the world
Things started to change drastically just in the 1960's. Farmers were encourage to keep cows, and got special grants for that. This resulted in way to much milk. And what better way to use it than to make cheese?
Osta og smjörsalan was a state run company that made cheese and butter. It was one of the first Icelandic companies to have a proper marketing division. Their task wasn't an easy one, getting a nation with no relationship to cheese, to start to eat it. They teamed up with well-known housewives and published a number of recipe books. Cheese on everything. Cheesecakes, cheese in dips and last but not least, cheese on fish.
Cheese made its way to Icelandic parties, with creamy, ripened cheeses in style of brie and camembert, supported by changing wine culture in Iceland. The development continued and today Icelanders eat 28 kg of cheese a year per person and are fourth in line of the biggest cheese eaters in the world, beaten only by France, Greece and Turkey.
Today's Icelandic food culture is heavily entwined with cheese, and as there are restrictions in import and tariffs on foreign cheeses, most of the cheese consumed is Icelandic.