Eat and Drink
|
mbl
|
Tue 17 Jan 2017
|
16.53 GMT
Gluten free in Reykjavik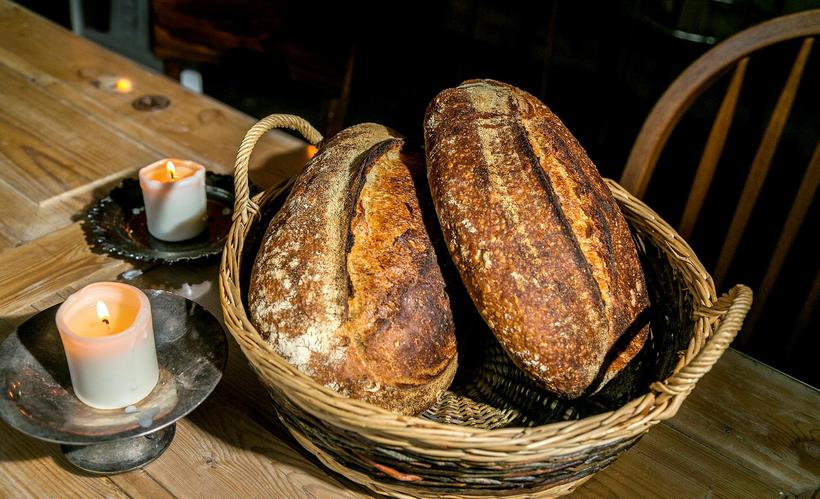 Gluten free bread is available in most supermarkets in Reykjavik Photo: Iceland Monitor/ Ómar Óskarsson
Sóley Björk Guðmundsdóttir


The gluten free vibe hasn't risen as high in Reykjavik as in many other western countries. In addition to that gluten intolerance and coeliac disease are not nearly as common in Iceland as in the neighbouring countries. This makes a gluten free diet a bit trickier in Reykjavik than in many other capital cities. Here are some tips from a (gluten free) local on what you have to know if on a gluten free diet and travelling in Reykjavik.
Supermarkets
The variety of gluten free products in supermarkets in Reykjavik is fine. Big brands such as Krónan, Bónus, Hagkaup and Nettó all have gluten free bread, crackers, oats, cookies and stuff like that. These supermarket brands also exists outside of Reykjavik but you can't count on finding this products in all of these brands around Iceland, the supply varies greatly from town to town.
Roadside shops
Road shops in Reykjavik and along the number one ring road don't have much to offer. The most common snack on the road in Iceland are sandwiches and hot dogs. Neither a good bet as the bread won't be gluten free and Icelandic hot dogs often contain wheat. Don't despair though, these shops usually sell nuts, crisps, and fruit along with yoghurt and skyr.
Restaurants
Staff in restaurants is almost always very helpful, the problem is lack of knowledge (I can't count the times I have been served barley in a restaurant). Chefs won't necessarily know what gluten intolerance/coeliac disease is some assume that you are on a diet and therefore not take as much care and not think about cross contamination, which can easily ruin a vacation. The only way to fight this is with a good flow of information and questions, and explain the severity if you have coeliac disease. The best way to go is to inform the restaurant of the situation when you book a table, the chef will appreciate a time to prepare. Double checking when you arrive, and double check again with the waiter when the food arrives is the safest bet. It may seem extreme, but I'm speaking from experience here.
Tapas barinn has to be at the top of the list of gluten free friendly restaurants. It is extremely accommodating, and even serve gluten free beer (some bars sell gluten free beer but very few restaurants). This is one of the very few restaurants that is takes care to serve a whole dish even though it's gluten free. That is to say, if they have to take a gluten containing part of the dish out, they will give you something else instead. This annoyingly is not common in Iceland.
Nepalese kitchen is one of the best Asian restaurants in Iceland, with food to die for. There are few restaurants where people with food allergies can be as safe as here, the head chef really knows his stuff. If you plan ahead, he will make you a gluten free naan bread if you order it a day in advance. It's also one of the cheaper options on the board.
Sjávargrillið is a restaurant specializing in seafood. And if you are visiting Iceland, eating at a proper seafood restaurant at least once is kind of a must, fish being a local pride. The best thing about this place is that the chefs have no problem improvising even though half the dish contains gluten. They just find a way to make it great and they seem to be very knowledgeable about gluten intolerance. This restaurant is not extremely expensive, it's not cheap either, but the price during lunch is very affordable.
Hendur í höfn is not really a restaurant per se, it's a café that offers gluten free cakes, soups and sandwiches. The food is great, it's not too expensive and it's 100% safe as the chef/owner has years of experience dealing with food allergies. The problem is that it's not really in Reykjavik. It's in Þorlákshöfn 50 km south of Reykjavik, but it's not a long detour from the Golden Circle or just any destination south of Reykjavik.
Ósushi is one of few take away sushi places that are safe, as most of them use wheat in the seasoning of the rice. There are three Ósushi restaurants in the greater Reykjavik area, they are rather cheap. At this place you sit by a sort of conveyer belt where bites of sushi on small plates roll past you, and you pick what you like. There are only a few bites that are gluten free as the Japanese mayonese at these restaurants contains gluten (the same story for most other sushi restaurants in Reykjavik). Most of the vegetarian sushi and sushi that has cream cheese in it is gluten free, but the staff is very accomodating in making rolls especially for you, skipping all gluten.
These are my absolute favourite restaurants, tried and tested many times. Other restaurants I can recommend are: Torfan, Kolabrautin, Steikhúsið, Kopar, Fiskimarkaðurinn, Grillmarkaðurinn, Apótekið and Fiskifélagið. I won't lie to you, they are all expensive, but the food is very good.
Gluten free beer
Oh yes, there are a few places you can get gluten free beer. There is only one state-owned brand of stores that sells alcohol in Iceland, it's called Vínbúðin. Stores in bigger towns around Iceland offer at least 1 type of gluten free beer. The larger stores in Reykjavik have up to 5 different types available.
Microbar, Skúli Craft Bar and Mikkeller & Friends are all craft bars where you are likely to find great gluten free beers. The selection varies, sometimes there is one type available, sometimes more, and sometimes there are gluten free beers on tap. These are the bars to visit if you are looking for delicious gluten free craft beers, usually imported from Denmark.
There are other bars such as Kaffibarinn, Boston and Public House that often have gluten free beers available, generally a more mellow beer, a crowd pleaser, though the selection changes.
Gluten free beer is a relatively new thing in Iceland and the bars run out of it from time to time. In that case, these bars are all close together so you can easily walk to the next one.