Eat and Drink
|
Morgunblaðið
|
Fri 21 Oct 2016
|
10.08 GMT
|
Modified 28 Oct 2016 13.45
Iceland's most popular tourist pit stop?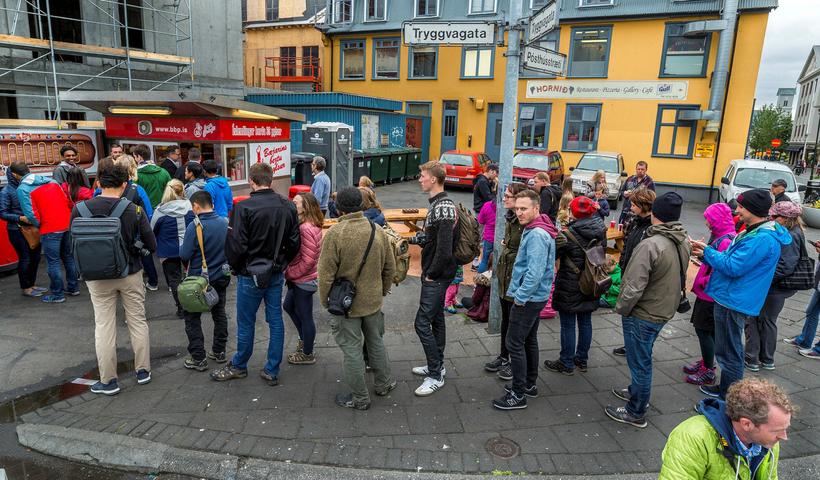 A trip to the Bæjarins bestu hot dog stand is a "must-do" for tourists visiting Iceland. mbl.is/Árni Sæberg
Enjoying the famous hot dog with all the relish included at Bæjarins beztu hot dog stand in the city centre seems to be a total "must" for tourists visiting the country.
Bæjarins beztu translates as "the city's best" and is a hot dog stand that has been in existence since 1937 in the downtown harbour area. A decade ago The Guardian named Bæjarins bestu the best hot dog stand in Europe and among the celebrities to have eaten there are former US President Bill Clinton and James Hetfield of Metallica.
Bæjarins beztu offer sausages from Iceland's largest meat production company, Sláturfélag Suðurlands (SS). According to managing director Steinþór Skúlason there's been a surge in hot dog sales in line with the rapidly increasing tourism to the country. "We're certainly benefitting from the surge in tourism. We've even changed the hot dog wrap, it's now in both Icelandic and English."
A Bæjarins beztu hot dog is best enjoyed just like the Icelanders like it: "ein með öllu" as Icelanders put it which means "one with everything." Everything consists of ketchup, remoulade (a yellow mayonnaise based relish), sweet mustard, fried onion and raw onion.
The second most popular food to try in Iceland is skyr, a dairy product, according to an article in today's edition of Morgunblaðið.