Politics and Society
|
mbl
|
Tue 21 Aug 2018
|
18.45 GMT
|
Modified at 19.20
Whale hunting company confirms that they have hunted 11 pregnant whales this summer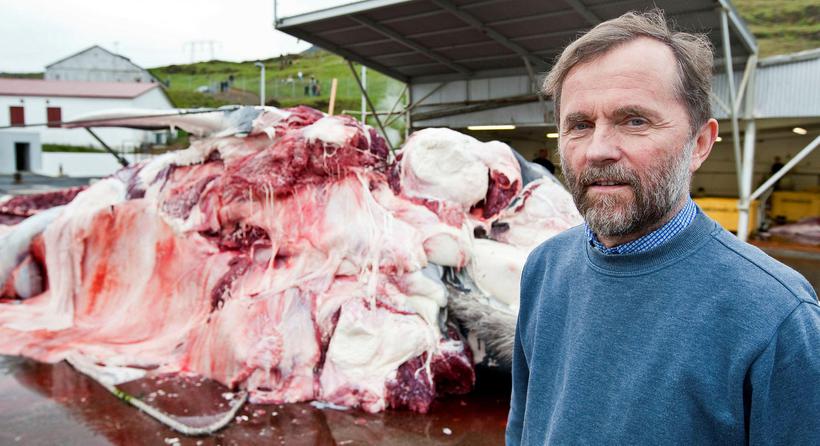 Kristján Loftsson says that pregnant female fin whales have been hunted since the 1940's. mbl.is/Ómar
Whale hunters working for Hvalur hf. have hunted eleven pregnant fin whales this summer. This was confirmed by director of the company, Kristján Loftsson. He says it's impossible to know whether a whale is pregnant or not and that there is nothing unusual about this.
"This is just how it is in the natural world, we can't control it. Eleven fetuses have been landed here this summer," said Loftsson asked about the company's hunting of a pregnant fin whale landed yesterday. Photographs of the event were circulated in media by animal rights group Hard to Port.
"This happens during whale hunting and elsewhere in the animal kingdom during hunting all over the world. It's something that's appeared on annual reports since 1948. This is not the first time that this happens," he added.
He also points out that pregnant whales must be good news for the whale stock. "If we hunted here during a whole summer season and we got no fetuses then there would be something wrong."
Whale specialist Edda Elísabet Magnúsdóttir at the biology department of the University of Iceland said , "By allowing the hunting of whales you are always allowing the hunting of pregnant whales. When they are hunting it's impossible to tell which sex the animal is or whether it's pregnant. The females have a gestation period for a year so it's fairly likely that a hunted female is in some stage of pregnancy."
According to section 2 of whale hunting laws it's forbidden to hunt whale calves, or female whales that are accompanied by calves. However it is not forbidden to hunt pregnant whales because there is no way of knowing beforehand whether they are pregnant or not.
Magnúsdóttir points out that for instance in the case of reindeer hunting it's clearly visible whether they are male or female and what age they are. "But the only way to tell if a fin whale female is pregnant is to do a blood test on them before you kill them."
Kristján Þór Júlíusson, Minister of Fisheries and Agriculture does not believe that Iceland should change it's whaling policies: to sustainably hunt whale. However, the Minister for the Environment, Guðmundur Ingi Guðbrandsson has said that he's not convinced Iceland's hunting of whales is sustainable, but has no juristiction over the Ministry of Fisheries.