Politics and Society
|
mbl
|
Wed 26 Jul 2017
|
17.59 GMT
|
Modified 27 Jul 2017 12.02
Public outrage as Nigerian asylum seekers are to be deported
"Im a dead man if I go back to Nigeria, but this isn't about me, it's about my daughter. I want her to have a chance of a better life," says Sunday Iserian, a Nigerian asylum seeker speaking to mbl.is. After nearly two years of waiting in Iceland, their application has been rejected by the Icelandic Directorate of Immigration.
Iserian is 32 years old and lives in Iceland with his wife, Joy Lucky and their eight year old daughter Mary. They have been subjected to violence, poverty and threats, and Joy Lucky was a victim of sexual slavery while pregnant with Mary.
The news of the the rejection of their application has met with some furor in Iceland and a petition is now online for them to be able to stay in the country.
Speaking to mbl.is, Joy describes being approched by a vicar at her local church back in Nigeria who promised to get her a job as a nanny in Europe. Once she accepted the offer, which she had good faith in, she was taken to a building where her hair, and her pubic hair, was cut off and her body washed according to black magic rituals to scare her into compliance. She was transported to Libya where she met Sunday and fell in love. Once they fled across the Mediterranean to Italy the couple lost track of each other and Joy discovered that she was pregnant. She only found Sunday again three years later.
Upon arrival in Italy, Joy was transported to a building in Naples where she was told that she was not going to work as a nanny, but as a prostitute. She was told she owed 50 thousand Euros for her transport to Italy and had to repay that debt by selling her body on the streets of Naples. When the men who held her captive realised that she was pregnant they tried to force her to have an abortion. She refused, and was stabbed through her hand with a knife. (She shows the knife wound to the journalist of mbl.is).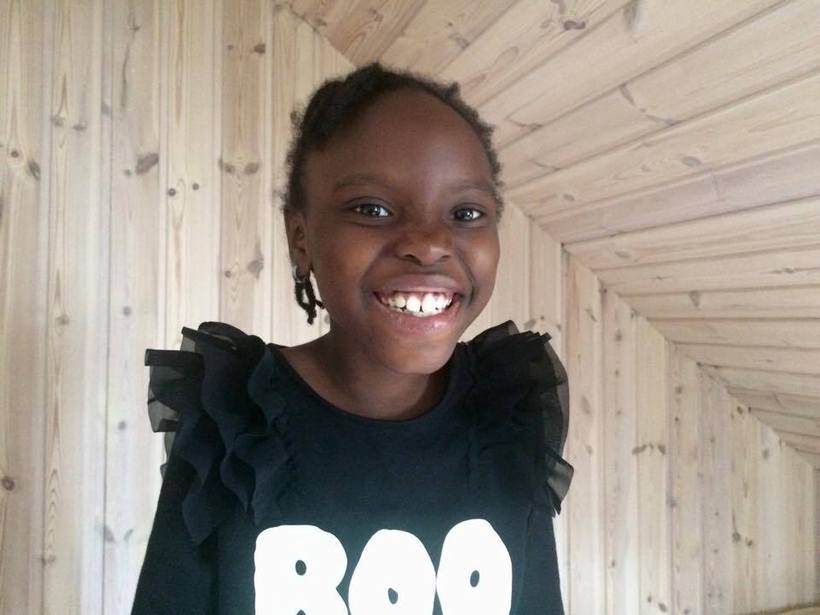 Mary is eight years old and goes to school in Iceland and already speaks good Icelandic. Photo/Ragnheiður Freyja
"After that I decided to try to escape," says Joy. After four months of being forced to work as a prostitute she fled and received help from an Italian charity aiding victims of human traficking. She was urged to report to the police and was helped to a local hospital where she gave birth to Mary. "After I fled I started to receive threats. I was told if I didn't repay my debt they would kill me and my family." Joy says that these people attacked her mother and sister. Her mother died in the attack and her sister lost her eyesight.
Sunday, on the other hand fled to Italy for other reasons. He says that he was a victim of politcal persection and was afraid for his life. He worked as a driver for the leader of the PDP democratic party, who was murdered when Sunday was driving. "They shot him to death and then burned the car. I escaped to a nearby farm and then hid with my uncle." Following this incident the Nigerian government put out a warrant for Sunday's arrest as he was suspected of killing the man. Sunday shows the journalist a story from the Sunday Observer where he's wanted by police following the murder. After spending a few days at his uncle's house, members of the Boko Haram attacked the home and killed his uncle and his uncle's son. Sunday fled to a nearby church where he received money to get him away from Nigeria to Libya and onwards to Italy.
Sunday and Joy met up again in Italy in 2011. They lived in great poverty, sleeping at trains stations and having to beg for food.
"I wanted a better life so I managed to get online and found good countries to live in via Google," says Sunday who spent the next couple of years saving up enough money to move to Iceland. Once in Iceland, they applied for asylum and received housing. Mary got into a school and Sunday got a job. In an interview with mbl.is, his employer, who runs a construction company in Hafnarfjörður, says that Sunday has given 110 % to his job, has never been late and never missed a day off work. "I didn't just want to sit at home and do nothing," Sunday explains. "I was told of new laws where asylum seekers can seek work and so I just applied for a job." Sunday takes the bus to work every day from Reykjanes to Hafnarfjörður.
Joy points out that Sunday has paid taxes in Iceland since he started work and thinks it's unfair that they are now being deported. "I don't want to live on the system here," says Sunday. I want to work and pay back to society here. I want to continue doing that, I want to be a part of this society. If the authorities don't want us to live in an apartment for asylum seekers I will work even more and pay rent. Until now all our money goes to our lawyer and for living expenses. Their daughter Mary already speaks Icelandic. "Our daughter deserves to be in school here and to have a good life."
The couple applied for asylum for humanitarian reasons. However, the Icelandic Directorate of Immigration reached a verdict in April that the couple should be sent back to Italy due to the Dublin regulation. The verdict was taken up by the Immigration and Asylum appeals board in Iceland who said that the family couldn't be sent back to Italy as their position was too delicate but a second verdict by the Icelandic directorate of immigration ruled that they should be sent back to Nigeria instead. The appeals board came to the same conclusion.
Sunday and Joy say that they haven't been able to sleep or eat for weeks for fear of being deported. Joy says she still receives death threats and shows the journalist numerous text messages and video messages which she has received, the last being sent only a few days ago. One of the videos shows a man saying to Joy that he will kill her, like he killed her mother. She says that the men found her on Facebook and found out that she was returning to Nigeria. She adds that she fears that Mary will be circumcised upon going back to Nigeria. "I don't like that and I don't want my daughter to have to go through that."
Joy complains of health trouble after suffering a lot of physical and mental violence in her months as a prostitute. She has however received no assitance for this in Iceland, although the ruling of the Icelandic Directorate of immigration says that she was undoubtedly the victim of human trafficing. She has attended Icelandic courses in Iceland and goes to church regularly. "Why did they let us stay here for almost two years, with my daughter at school and my husband working, when they're just going to kick us out? It's not right." Sunday speaks to her softly in Nigerian and then says to the journalist, "We are very grateful for the help we've received. We're just frightened. If they are going to deport me, all I ask is that my daughter can stay in Iceland and have a good life. It's the only thing I ask for."
Friends of the family in Iceland have launched a petition to let the family stay, pointing out the 74th clause in the Icelandic immigration laws on a resident permit for humanitarian reasons. "Iceland is a country which stands up for women's rights and the protection of children. We can't stand by and let this happen. We plead for the Minister of Justice to intervene and to reconsider this decision."
The decision reached by the appeals board, however, says that they think Sunday's story is lacking in credibility and that nothing points to him being persecuted by the Nigerian government. The appeals board believes that Joy was a victim of human trafficing but seeing as it's been almost a decade since she was forced into prostution, she's unlikely to be receiving threats from the people responsible.
The couple are now awaiting a meeting with the Icelandic ombudsman for children who, last year, sent out a declaration where the Icelandic government was urged to take better care in the treatment of cases of children applying for international protection in Iceland. The Ombudman's office feels that there are too many cases of the rights of children applying for children are ignored.