Politics and Society
|
Iceland Monitor
|
Thu 21 Jul 2016
|
19.54 GMT
|
Modified 22 Jul 2016 4.27
Westman Islands festival in uproar as bands pull out of line up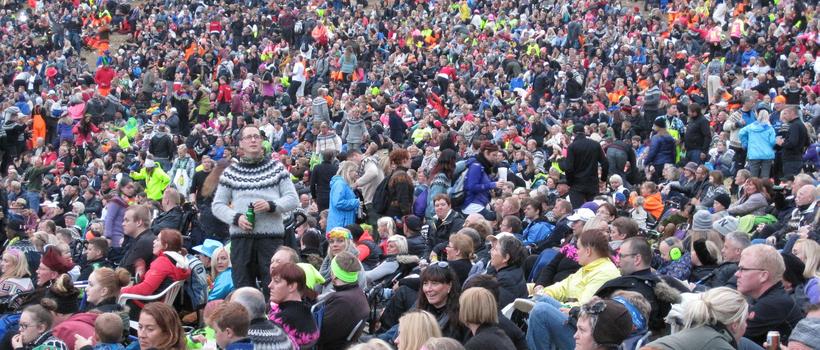 Over 15 thousand people attended the festival last year and eighteen sexual offences were reported. Photo/ Guðmundur Sveinn Hermannsson
Several big Icelandic bands have threatened to pull out of the popular Þjóðhátið festival in the Westman Islands which takes place on the bank holiday weekend at the end of July. The reason is a controversial statement by the local chief of police on sexual offences at the festival.
Chief of police in the Westman Islands, Páley Borgþórsdóttir repeated last year's view: to not report sexual offences which occur at the festival to the press and furthermore adding tha most rapes "occur between people who know each other in enclosed spaces."
The statement has received a lot of criticism in Iceland and has been called "silencing of the victims of rape." On top of that, the statements were issued only two days before the Reykjavik Slut Walk which takes place on Saturday which aims to put the blame where it belongs, on the perpetrators of sexual offences and not the victims.
The Þjóðhátið festival in the Westman Islands is an annual festival of music and partying on the bank holiday weekend. Rapes are reported every year at the festival and last year, five sexual offences were reported, three of them rapes and since 2004, nineteen rapes have been reported at the festival.
The Icelandic bands, who include Retro Stefson, Dikta, Úlfur Úlfur, Dikta and Emmsjé Gauti have released statements saying that they will be pulling out of the line-up unless the local authorities of the Westman Islands change their policies and work according to the rape response units of Landspitalinn National University Hospital and Stígamót, the women's shelter in Reykjavik.
Several other bands are also contemplating to pull out of the line-up, including Icelandic rap superstars Quarashi. Notably, not a single female artist is performing at the festival.
Organisers of the festival are currently having a crisis meeting given the circumstances.