Politics and Society
|
Iceland Monitor
|
Wed 30 Mar 2016
|
11.00 GMT
|
Modified 26 Apr 2016 16.18
Iceland government ministers on tax haven list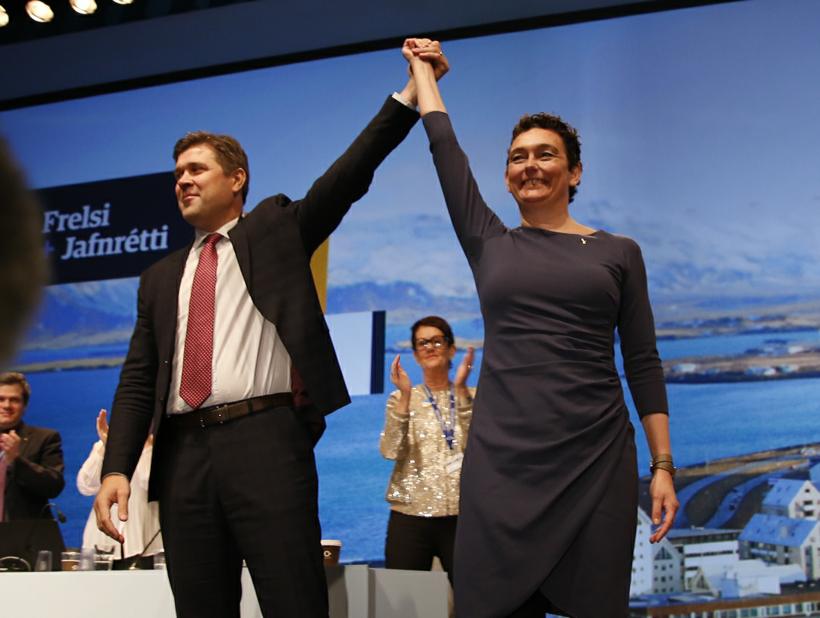 Finance Minister Bjarni Benediktsson (left) and Home Affairs Minister Ólöf Nordal (right). Photo: mbl.is/Árni Sæberg
Two senior government ministers have come forward and spoken out about companies located in overseas tax havens to which their names have been connected.
Iceland's Finance Minister and Home Affairs Minister are on a list of Icelanders with assets in tax havens around the world, as well as the Prime Minister's wife. The PM is facing a vote of no confidence over the controversy.
According to national broadcaster RÚV (link in Icelandic), the list is to be exposed on Icelandic television later this week.
A special edition of Iceland's Kastljós current affairs discussion programme is reported to be disclosing previously unreported information on assets held by Icelandic politicians in tax havens.
The programme is being made in cooperation with Reykjavik Media, the ICIJ (International Consortium of Investigative Journalists) and German daily Süddeutsche Zeit­ung.
The issue is at present topical in Icelandic current affairs following revelations that one of the companies claiming millions from Iceland's crashed banks is owned by none other than Anna Sigurlaug Pálsdóttir, wife of the Prime Minister.
Pálsdóttir's company Wintris Inc. is based in the British Virgin Islands and reportedly lost heavily during Iceland's financial crash in 2008.
The PM, Sigmundur Davíð Gunnlaugsson, has been criticised for not declaring his wife's stake in the bankrupt estates of the crashed banks.
His major involvement – as PM – in striking a deal with the claimants of the banks' assets while at the same time being closely related to one of them is seen by some as an unacceptable conflict of interest. He faces an imminent vote of no confidence and an online petition calling for his resignation has been set up.
Gunnlaugsson has reiterated that he was under no obligation under Icelandic law to declare his spouse's assets and that everything his wife owns in the British Virgin Islands has been declared in Iceland and the relevant taxes paid.
As well the Prime Minister, it now emerges that Iceland's Finance Minister and Home Affairs Minister are also on the list being used for the Kastljós programme.
Both have immediately reacted, indicating that they were unaware the companies connected to their names were based in tax havens until they were contacted by investigative journalists.
Home Affairs Minister Ólöf Nordal sent an e-mail to fellow Independence Party MPs yesterday expressing her "utter surprise" at recent developments.
"As far as we were aware, everything was in Luxembourg," Nordal writes, in reference to a fledgling overseas company she and her husband were advised to set up for the purposes of her husband's stock option grant back in 2006.
The couple never actually took control of the company, which Nordal assures party MPs now belongs to Icelandic bank Landsbankinn in Luxembourg. Her name remains linked with the company only because she was granted power of attorney for the company in the preparation stage.
Finance Minister Bjarni Benediktsson claims to be in a similar situation.
Benediktsson has issued a statement saying that he believed Falson & Co. – in which he held a one-third share – was based in Luxembourg, rather than in the Seychelles as has now emerged.
According to the Finance Minister's version of events, the company was wound up in 2009 "with no debts, no outstanding loans, and no assets". He reportedly took the decision to withdraw from business activities when he put himself forward as leader of the Independence Party, a position he still holds today.
As Finance Minister, Benediktsson has been vocal on the issue of personal finance and tax.
"Everybody must make their contribution to the joint running of society," he writes. "I shall leave no stone unturned in catching those who try and get around laws and rules in the hope of getting a free ride on the back of their fellow citizens."