News
|
Iceland Monitor
|
Fri 30 Aug 2019
|
12.41 GMT
|
Modified at 13.05
Secret Service Arrives in Iceland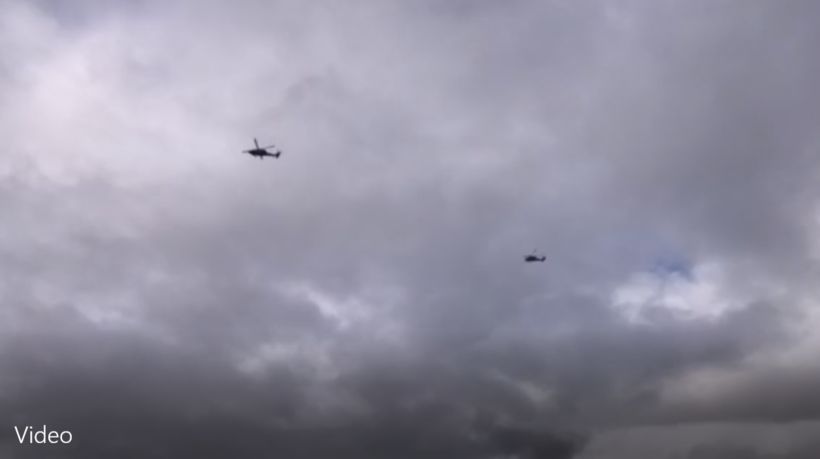 American transport helicopters, hovering over Mosfellsbær yesterday. Screenshot from video/Baldur Björnsson
Representatives from the US Secret Service have arrived in Iceland in preparation for the September 4 arrival of US Vice President Mike Pence. According to mbl.is, it is a team of a few dozen people.
Two US transport helicopters were seen hovering over Mosfellsbær, just east of Reykjavík, yesterday afternoon. They are believed to be here due to the vice president's visit. A video of them, taken by Baldur Björnsson, was posted on the Flugblogg Facebook page yesterday. You can view the video here:

Pence has accepted an invitation from Guðni Th. Jóhannesson, president of Iceland, to a lunch meeting at Bessastaðir, the presidential residence.
It is not clear whether Pence will meet with Prime Minister Katrín Jakobsdóttir, who will be in Sweden the day he arrives, addressing the Council of Nordic Trade Unions. She has expressed interest in meeting with him, should he be able to extend his stay by a day.
The US Secret Service is working closely with the National Commissioner of the Icelandic Police, the Ministry for Foreign Affairs and the US Embassy in Iceland, getting ready for Pence's arrival. No details on the preparations have been revealed.
Wednesday, a B-2 bomber landed in Iceland for the first time. Finally, F-16 fighter jets from the US Air Force have been conducting air policing in Iceland in recent weeks. Thus, it is safe to say that US military activities in Iceland have increased considerably in recent months.
Related news: