News
|
Iceland Monitor
|
Wed 28 Jun 2017
|
15.12 GMT
|
Modified at 18.14
Chokehold the cause of death in Mosfellsdalur attack
Six people were arrested, suspected of having a part in the brutal attack and murder of Arnar Jónsson Aspar in Mosfellsdalur, Iceland, a few weeks ago. Four of them were released out of custody a few days later. The other two, Jón Trausti Lúthersson and Sveinn Gestur Tryggvason were kept incarcerated.
Yesterday the Icelandic High Court pronounced that the police should release Lúthersson. The verdict states it hasn't been demonstrated that he killed the victim. Tryggvasson is still in custody.
One choked the victim while the other cheered him on
The evidence and statements of the case show that Tryggvason and Lúthersson arrived at the victim's home on June 7th with four others. The victim threw a broom into one of the cars they arrived in, and fetched an iron bar. Tryggvason and Lúthersson stepped out of the car and walked up to him. Lúthersson took the bar from the victim and he fell on the ground. Tryggvason grabbed him in a chokehold for several minutes while beating him in the face.
Preliminary results of the autopsy show that the position the victim was forced into resulted in minimal respiration capacity, which lead to him suffocating.
According to witness statements Lúthersson stood by and encouraged Tryggvason on while he was suffocating the victim. One of the witnesses states she called out and asked them to stop, but they didn't respond and kept on beating the victim.
Witnesses also told the police the two attackers used their phones after the attack, and that they tried CPR.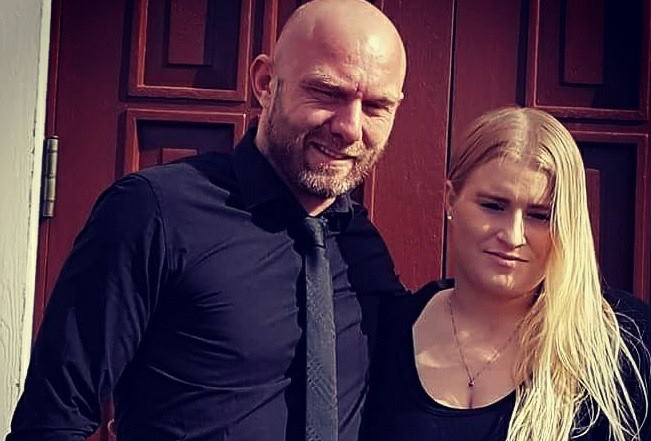 Arnar Jónsson Aspar and Heiðdís Helga Aðalsteinsdóttir. Their daughter was sleeping inside the house while the attack took place. Photo: From a family collection, published with the family's consent
Attackers took Snapchats videos of the victim after the attack
Phone calls to the emergency phone line are a part of the evidence in the case. Two of them were made by the attackers. In Tryggvason's phone call he asked for an ambulance, put away the phone without hanging up, and then could be heard abusing the victim verbally.
The attackers also took Snapchat videos with their phones of the victim lying motionless, blue and bloody. In the videos they belittle the victim and Lúthersson can be heard saying this is what happens to those who attack him.
Lúthersson and Tryggvasson both deny they were a part of the violence witnesses describe. They say they came to the house to fetch garden tools the victim had borrowed from Tryggvason, and the victim had attacked them without any apparent cause. They say they were forced to stop him, and when it resulted in him losing consciousness they called the police and tried CPR until the police arrived.