News
|
mbl
|
Sun 21 May 2017
|
9.15 GMT
|
Modified at 13.35
Vilborg Arna becomes Iceland's first woman to summit Mt. Everest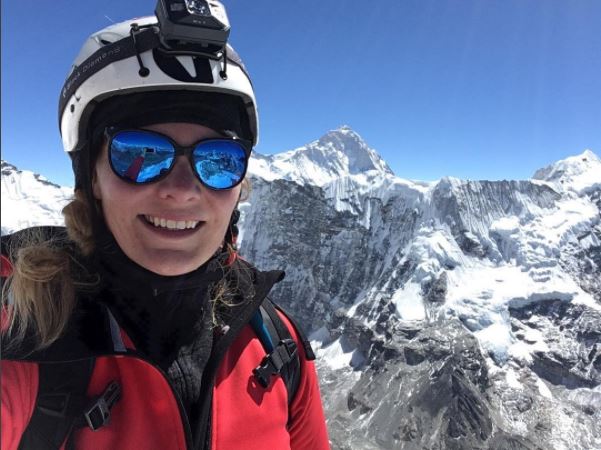 Vilborg Arna Gissurardóttir became the first Icelandic woman to reach the Mt. Everest summit on May 21, 2017. Ljósmynd/Vilborg Arna Gissurardóttir/Instagram
Icelandic mountaineer and explorer Vilborg Arna Gissurardóttir summited Mt. Everest early this morning and became the first Icelandic woman, and the seventh Icelander, to reach the top of the world.
Today, May 21, marks the twentieth year anniversary since the first Icelanders reached the top of Mt. Everest, the world's tallest mountain.
Vilborg Arna and Tenji Sherpa left Camp Four last night at 21:15 local time. The ascent to the summit took about eleven hours and they reached the summit at 3:15 AM Icelandic time/GMT, or 9:00 AM Nepal time/NPT.
"They made it! They just reached the summit," Tómasz Þór Veruson, Vilborg Arna's boyfriend, told mbl.is early this morning. "She's feeling great and the ascent went unbelievably well". According to Veruson, conditions on the mountain were windy with heavy traffic, but around 30-40 people were attempting to summit the mountain last night.
Vilborg Arna and Tenji Sherpa spent a few minutes at the summit to take in the view before heading back down. It should take them about six hours to make it back to Camp Four, and then it will take them about two days to reach the Everest base camp.
Vilborg Arna has made two previous attempts at conquering the mountain with her 2014 and 2015 attempts abrubtly halted due to the two largest natural disasters ever to take place there - an earthquake and an avalanche.
Related:
Climbs Everest a second time
Vilborg Arna makes third Mount Everest attempt
Vilborg Arna heads for Everest's peak tonight
The first Icelanders to reach the summit in 1997 were Björn Ólafsson, Einar K. Stefánsson, and Hallgrímur Magnússon. They were followed by Haraldur Örn Ólafsson (2002) and Ingólfur Geir Gissurarson and Leifur Örn Svavarsson (2013).