News
|
Iceland Monitor
|
Thu 23 Jun 2016
|
14.33 GMT
Is this Iceland's most eligible bachelor?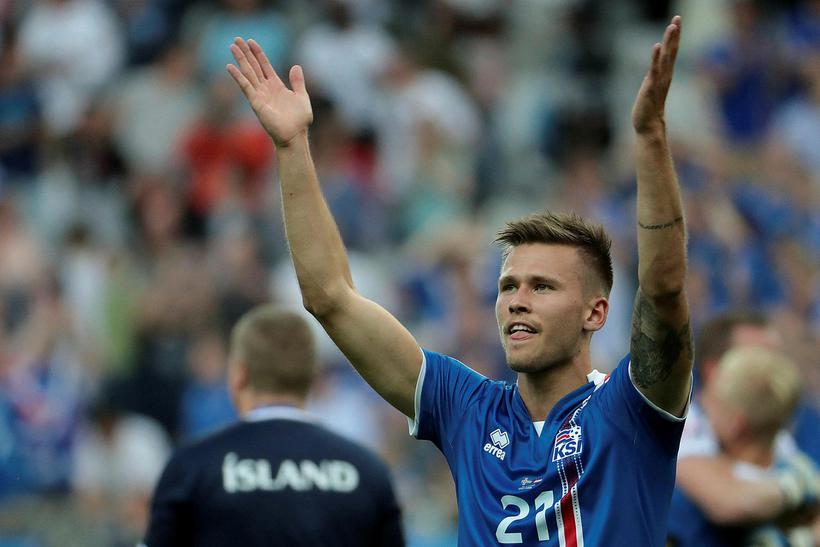 Twenty-three year old midfielder Arnór Ingvi Traustason became a national hero in Iceland last night. Photo: AFP
Midfielder Arnór Ingvi Traustason is the only member of Iceland's national football team who is single. His incredible winning goal last night against Austria has catapulted him into worldwide fame. But who is he?
Traustason is a 23-year-old Icelander from Njarðvík, on the Reykjanes peninsula. After enjoying succcess with the Keflavík team he joined Norrkoping, and after the tournament he will be joining Rapid Vienna.

In his first income into the field last night he was knocked out after crashing into an Austrian and needed medical attention. But the incident seemed to only reinforce this young man who scored a breakaway goal right at the end of the match, causing Icelandic supporters at the Stade de France to completely lose it, as well as seemingly most of the entire Icelandic nation who were glued to the screen.
Traustason's family were in France watching the matches against Portugal and Hungary but left before yesterday's match, as his kid brother had a football tournament to attend to in the Westman Islands.
Watch his incredible goal here below.
16 LIÐA ÚRSLIT! 2-1!!

ÞVÍLÍKUR ÁRANGUR!#ISL #ISL #ISL #ISL #ISL https://t.co/qnc1XGbz1p

— Síminn (@siminn) June 22, 2016