News
|
mbl
|
Tue 26 Apr 2016
|
20.00 GMT
|
Modified 25 Aug 2016 12.00
Icelandic impossible? Nonsense!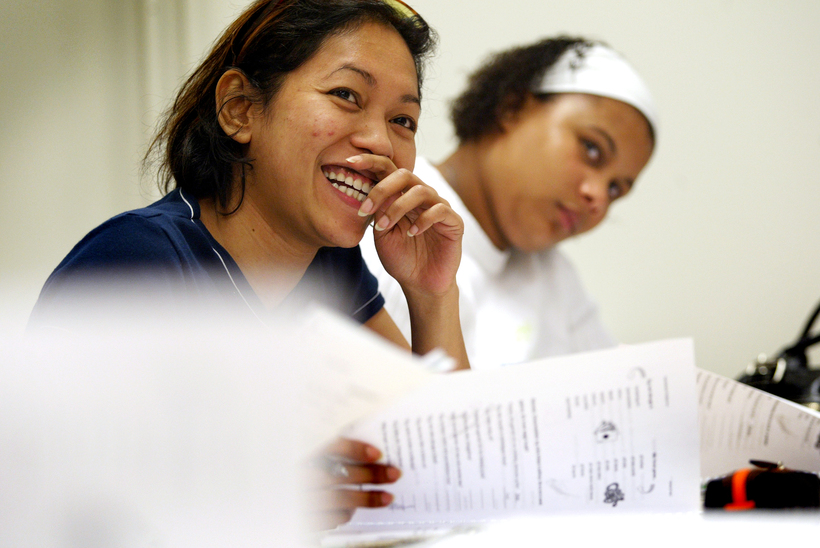 Many immigrants to Iceland and students abroad learn Icelandic very successfully. Photo: Brynjar Gauti
Icelandic – the national language of Iceland – is spoken as a native language by around 330,000 people. It has a reputation for being complex and many – particularly Icelanders, for some reason – describe learning it as "impossible".
This is, of course, nonsense as many speakers of other languages – both in Iceland and abroad – have very successfully learnt to speak, understand, read and write Icelandic.
Icelandic is part of the Germanic language family, which means it is a relatively easy language to learn for native speakers of English, German, Dutch and the Scandinavian languages.
While Icelandic may be "relatively easy", it is of course – like any foreign language – not a walk in the park.
Luckily, these days, there is a wealth of resources to see you on your way.
As well as the traditional range of teach-yourself courses and grammar and vocabulary books, the internet is a treasure trove for learners of Icelandic.
Highly recommended is the Icelandic Online course developed by the University of Iceland.
Online material ranges from 'survival' to 'advanced', with plenty of authentic texts, sound files and grammar exercises to build up knowledge. There is even an option to link up with a real Icelandic Online tutor for extra guidance.
There is also a wealth of Icelandic language learning apps available for mobile devices, many free, some of which are listed here:
Those wishing to learn more about phonetics and pronunciation would do well to visit the news website of Iceland's national broadcaster RÚV.
News items are equipped with a 'Listen' button ('Hlusta'), which enables readers to hear an audio recording of the text in clear, unrushed Icelandic. A moving cursor marks out exactly where in the text the reading voice is.
The more experimental amongst you may like to invest in a 'sleep learning' course in Icelandic. This website confidently claims that you can learn to "speak Icelandic within 30 days – no pens, no paper, no homework, no memorising".
Iceland Monitor has not tested this dubious method, but would be happy to have feedback from anybody that has!
Whichever method or methods you choose, giving in to the "impossible" hype is the worst thing you could do. If you ever get down, take a look at this clever chap who managed to cobble together a speaking knowledge of the language in just one week!
While the rest of us have more modest expectations, it certainly is good to know that Icelandic can – and will – be learnt.

See: Five tips for learning Icelandic
Answers
blóð - blood
bók - book
brauð - bread
bróðir - brother
epli - apple
faðir - father
fingur - finger
hár - hair
hús - house
móðir - mother
nótt - night
orð - word
rós - rose
steinn - stone
systir - sister