Nature and Travel
|
Iceland Monitor
|
Thu 22 Aug 2019
|
13.23 GMT
|
Modified at 13.48
Moving Mountain
Tuesday's landslide on Reynisfjara beach, South Iceland, is the area's third in a decade to pose a threat to tourists. Its estimated volume is 25,000 m3 (880,000 cubic ft), according to the Icelandic Met Office. The previous day, the South Iceland Police had closed off this easternmost part of the beach, after falling rocks from Reynisfjall mountain had injured three tourists, one of whom suffered a broken skull. The falling rocks turned out have been a portent of the imminent landslide. Thankfully, no one was on the beach when it hit.
It is not known what triggered the event. Seismic activity or major preciptation are known to bring about landslides.
Initial observations by specialists from the landslide watch of the Icelandic Met Office suggest that the landslide, or at least part of it, occurred between the hours of 7:00 and 7:30 Tuesday morning. Thankfully, no one was on the beach at the time.
A police officer who monitored the area at 7:30 am noticed a haze and brown-colored waves near the site, indicating that the landslide had just occurred. It may have happened in several phases overnight.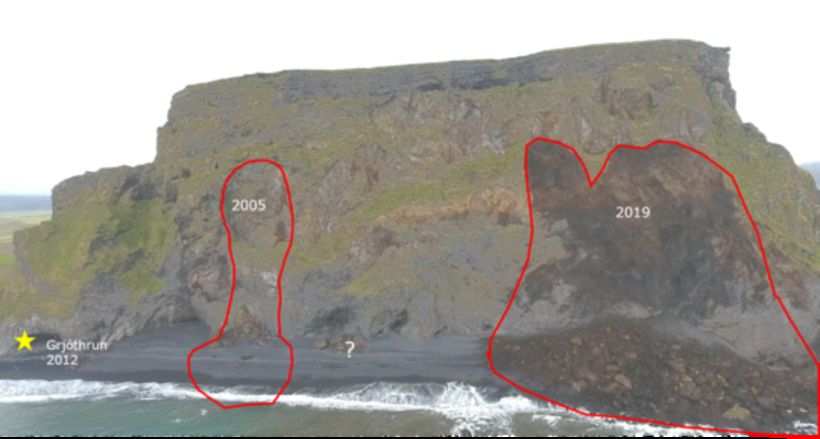 Red lines, drawn on a picture taken by a drone, show the location of the 2015 landslide and the one on Tuesday. The yellow star shows where rocks have previously fallen. The Icelandic Met Office
It appears that most of the material in the landslide was palagonite from an elevation of 60-100 m from Reynisfjall mountain. The landslide is 100-m (328-ft) wide and reaches 50 m (164 ft) out from the base of Reynisfjall mountain. The largest rocks are up to 3 m (10 ft) in diameter. The landslide covers an area of about 5,200 m2 (56,000 sq ft).
Material kept falling from the wound in the mountain into Tuesday night. That is expected to continue for the coming days. The Department of Civil Protection and Emergency Management has decided to keep access to the eastermost part of Reynisfjara beach closed into tomorrow, when the situation will be reassessed.
Elsewhere in Reynisfjall, to the south and east, there are signs of earlier landslides here and there – mainly in the eastern part of the mountain. In 2005, a large landslide occurred, west of the most recent one, just east of Hálsanefshellir cave. In 2012-13, part of the roof of the cave collapsed, without anyone being injured. Besides, single rocks have fallen from the mountain periodically, creating accident risk.