Nature and Travel
|
Iceland Monitor
|
Tue 16 Jul 2019
|
13.39 GMT
|
Modified at 14.15
One Cove: Six Tons of Trash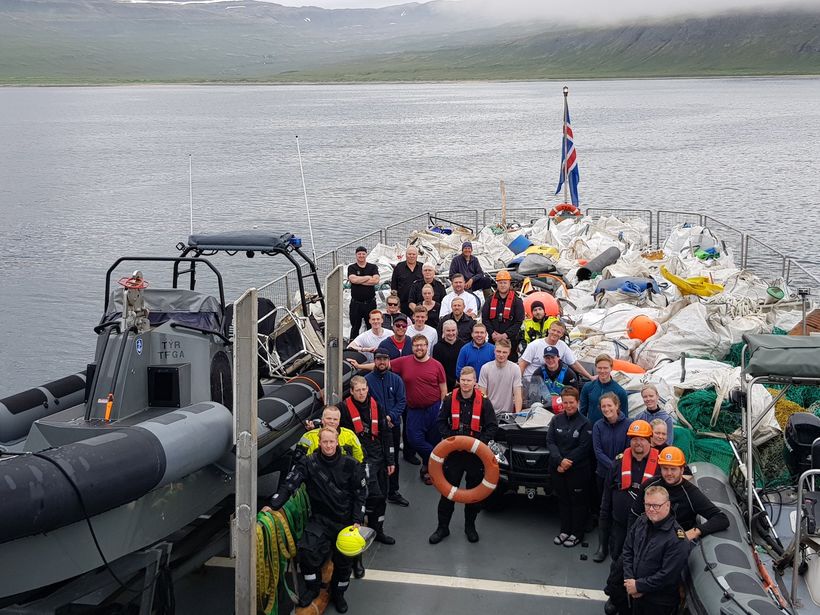 Volunteers and the crew of the Icelandic Coast Guard ship, leaving Barðsvík. Photo/Hreinni Hornstrandir
On Sunday, volunteers from Hreinni Hornstrandir (Cleaner Hornstrandir) transported 6.3 tons of trash – mainly plastic – from the cove Barðsvík in the Hornstrandir nature reserve, the West Fjords, mbl.is reports.
The trash, which had drifted ashore, was brought on board an Icelandic Coast Guard ship, which transported it to Ísafjörður on Sunday.
"The weather was wonderful and so were the people, so this exceeded our expectations. This was our second trip here; we collected all this during our trip June 14-16, and now we came on board the coast guard ship and ferried the trash in rubber rafts [Sunday] to the ship," states Gauti Geirsson, resident of Ísafjörður.
He is one of the people behind the organized cleaning of beaches in Hornstrandir - cove by cove - which started in 2014. Since then, 35 tons of trash have been collected from seven coves. Only two coves remain to be cleaned, and that will be done next summer.
Gauti states that cleaning Barðsvík cove was hard work, for the trash had to be carried a long distance. The beach extends almost 4 km (2.5 mi), meaning that on average, there were 1.6 tons of trash per km. "That alone is scary," Gauti remarks.
He regrets that only a small part of the plastic can be recycled, because plastic which has drifted from the ocean and is full of sand is not suitable for recylcling.
"The only current option available for getting rid of this is putting it in a landfill in Borgarfjörður [West Iceland]. It's pretty sad that we dig this up from the ground only so that someone else can bury it again.
Much of the trash is fishing nets and other waste from Icelandic fisheries, but the group also comes across a great deal of plastic from Iceland and abroad, which has landed in the ocean and ends up on a remote beach in the West Fjords.
Dozens of volunteers took part in the two trips this summer. Once the two remaining coves, Smiðjuvík and Bjarnanes, have been cleaned of trash, the group plans to start anew in their cleaning effort in Hornstrandir.
Related news: