Nature and Travel
|
Iceland Monitor
|
Sun 7 Jul 2019
|
8.21 GMT
Majestic Iceberg West of West Fjords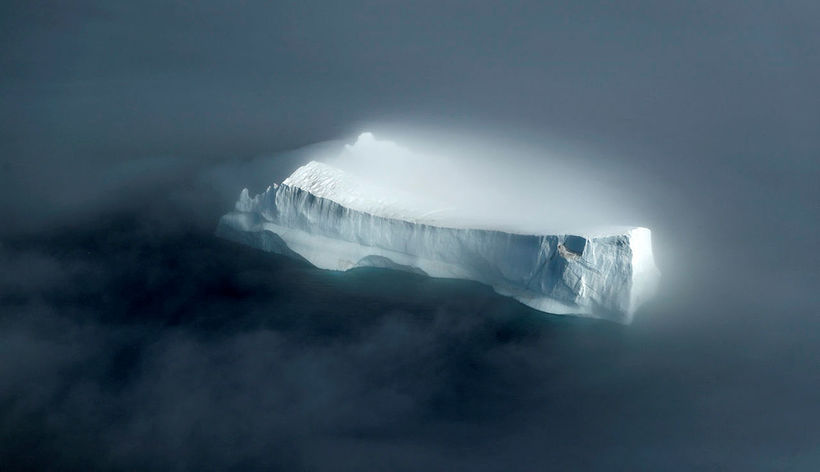 The majestic iceberg, looking mysterious in the fog. It is estimated that only one fifth to one-seventh of it is above sea level. mbl.is/Eggert Jóhannesson
There was surprise in store for Morgunblaðið photographer Eggert Jóhannesson and journalist Skúli Halldórsson when they were offered to accompany the crew of TF-SIF, the Icelandic Coast Guard airplane, on a flight to monitor pack ice northwest of the West Fjords several days ago.
A short while into the flight, an unidentified object was detected by the crew, with the help of radar, west of the southern part of the West Fjords. Captain Garðar Árnason quickly changed direction to west-northwest toward the object, marked red on the radar.
Ten minutes later, the aircraft flew lower. Then they identified the object. It turned out to be an iceberg, about 300-m (330-yd) long, muddy and relatively flat. They flew along it and then headed north again. The farther they flew, the more pack ice appeared, like silvery dots in the ocean. Countless pieces of ice formed the pack – some resembling tiny ice cubes, although each one of them is likely the size of a passenger car.
Fog moved in, and as it got denser, the crew decided to leave the area, heading east. Within a few minutes, it happened. "An iceberg ahead," one of the crewmembers called out. At first, nothing but fog could be seen. But suddenly, a large iceberg emerged, high, wide and strikingly white – 500-m (550-yd) wide and 50-70-m (160-230–ft) high – undeniably majestic and impressive. As suddenly, though, as it had appeared, was it gone again, hidden by fog.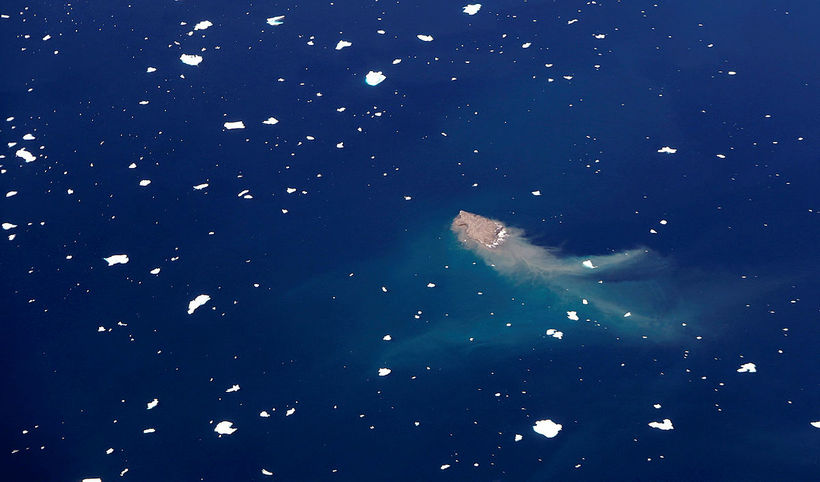 Icebergs with sediments, such as this one, give scientists clues in their research of climate in the past. Photo: Eggert Jóhannesson