Nature and Travel
|
Iceland Monitor
|
Mon 6 May 2019
|
9.59 GMT
|
Modified at 12.38
Area of Glaciers Decreases by 215 km2
Presently, the largest single land form change in Iceland is due to retreating glaciers, according to the National Land Survey of Iceland, Morgunblaðið reports. The area of Icelandic glaciers decreased by 215 km2 (83 sq mi) from 2012 to 2018. Since 2000, their area has decreased by 647 km2 (250 sq mi), or on average by 36 km2 (14 sq mi) a year. This constitutes a 5.8 percent shrinkage in 18 years.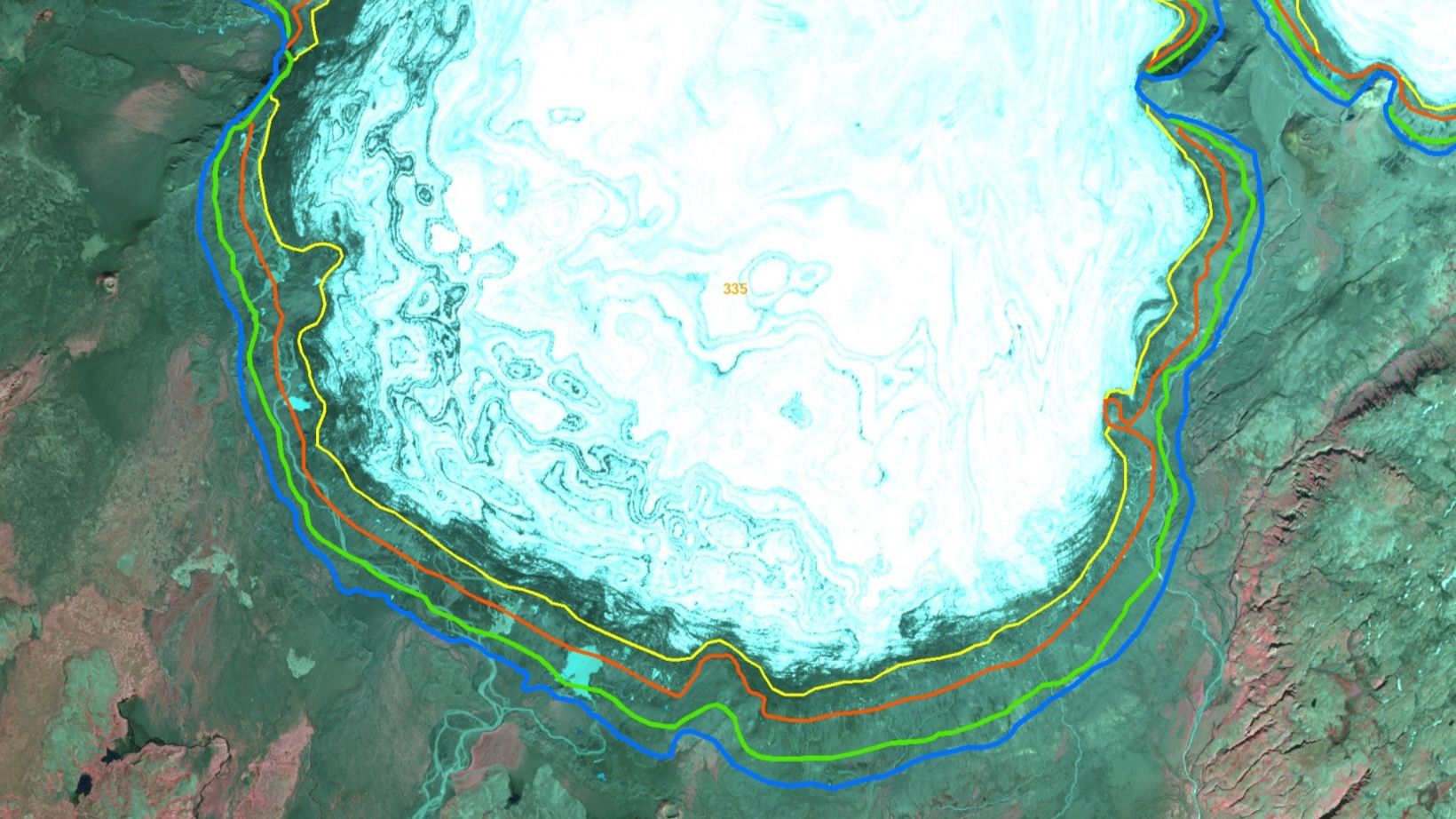 A map, showing how Síðujökull has retreated. The blue line shows its edge in 2000, the yellow one in 2018. Map/Landmælingar Íslands
The figure above shows how Síðujökull, a glacier tongue on the west side of Vatnajökull glacier, has gradually retreated. During those 18 years, it has retreated 1,200-1,300 m, or 70 m a year on average.
A similar development has taken place on Snæfellsjökull glacier, as we recently reported.
These figures are the result of the CORINE land cover project, the first detailed land use/land cover classification to be completed that includes the whole country. Thirty-nine European nations participate in this project.
Satellite pictures are used to map land forms, according to a certain categorization system. Changes in land forms are mapped every six years. The CORINE classification was first done in Iceland in 2000 and has since been updated three times: in 2006, 2012 and 2018.
According to the latest CORINE mapping, completed in 2018, the area of all land form changes in Iceland since 2012 encompassed about 770 km2.
Category 332, bare lava and rocks, grew by 266.5 km2 (103 sq mi), mainly as land emerged as the result of a receding glacier, but was reduced by 112.7 km2 (43.5 sq mi) as the result of soil reclamation or natural increase in ground cover. Thus, the total increase in this category was 153.8 km2 (59 sq mi).
A positive development has occurred at Hólasandur sand in North Iceland, where a rocky surface developed into semi-vegetated land, mostly lupine-covered, in an area of 41.6 km2 (16 sq mi), and semi-vegetated land changed to fully vegetated in an area of 7.8 km2 (3 sq mi).