Nature and Travel
|
mbl
|
Sun 1 Jul 2018
|
10.24 GMT
20 things to see and do in Akureyri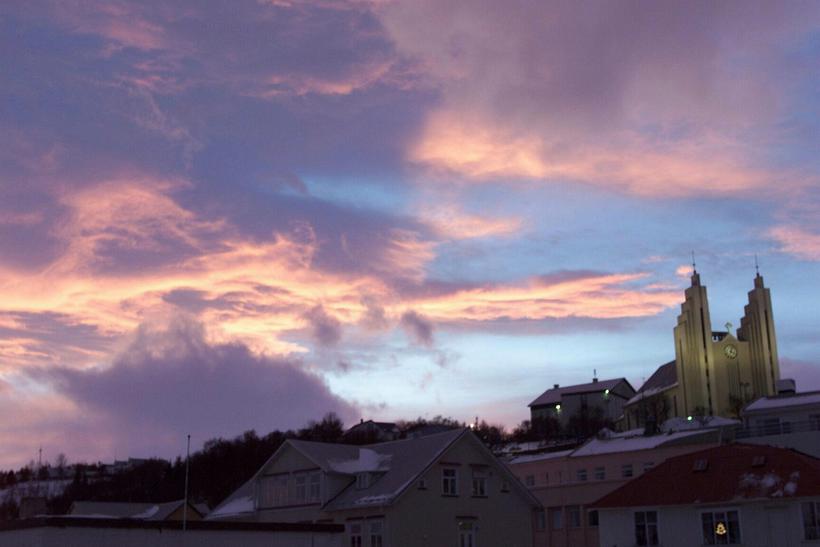 Akureyrarkirkja Church is one if Akureyri's most distinct landmarks. Photo: Iceland Monitor/Kristján Kristjánsson
Akureyri is often named the capital of North Iceland. It's by far the biggest town outside of the capital area, and there is plenty to see and do there.
Here's a list of our top 20 things to see and do in Akureyri.
1. Jólagarðurinn
The Christmas Garden, Jólagarðurinn, is a bright red house with Christmas and candy decorations. It's something absolutely absurd about visiting the place in summer, surrounded by green grass, but it's also sort of amazing to walk into a wonderland of Christmas with the sun shining outside. The Christmas Garden is about a 10 minute drive from Akureyri centre, and it's a place most Icelanders have been to at one time or another.
2. Kjarnaskógur
Kjarnaskógur forest is a beautiful forest with a lot of short hiking trails and great playgrounds. A brilliant visit for a family day. Or longer, as there is a camping place there as well.
3. Brynjuís
Brynjuís is one of the most famous ice cream shops in Iceland and has been voted the best numerous times. The ice cream is their own blend, milkier and somehow colder than anywhere else.
4. Sundlaug Akureyrar
Akureyri Swimming Pool is only a few minute walk from the town's centre. It's pretty big, there are water slides, paddling pool, toys and just about anything you can ask for on a sunny day. Or just any day, as Icelanders don't mind a little snow when they go for a swim.
5. Hlíðarfjall
Akureyri's ski slopes, Híðarfjall, is located in the mountain above town. It is immensely popular and common for Icelanders all over the country to go there during winter holidays. It is also where winter sport festivals Iceland Winter Games and AK Extreme are held.
6. Jaðar Golf Course
How about a hole in one in the middle of the night? Jaðar Golf Course is the northernmost 18-hole golf course in the world. There is a tournament there each summer which takes place in the night, under the midnight sun.
7. Akureyri Botanic Garden
Lystigarður Akureyrar Akureyrar, Akureyri Botanic Garden is one of the wonders of Akureyri. With stunning array of plants and flowers compared to how far north it's located, there is something calming about taking a walk there surrounded by stunning vegetation.
8. Festivals
There are plenty of festivals in Akureyri all year around. Aside from the winter sports festivals stated earlier, there is a folk art festival each summer called Vaka. In the middle of June the biggest motor festival in Iceland, Akureyri Motor Events, is evident on streets of Akureyri. During the first weekend of August there is a large family oriented festival called Akureyrarvaka. Iceland Summer Games are dedicated to extreme sports in summer, also held in August.
9. Museums
There are so many museums in Akureyri and the surrounding area you could spend days exploring them. Many of which are very specific and others a bit whimsical. To name a few: Akureyri Museum of Industry, The Old Toy Display, The Motorcycle Museum, The Aviation Museum and just outside of Akureyri, The Icelandic Folk and Outsider Museum.
10. Akureyri Art Museum
Akureyri has a flourishing art scene and one of the most diverse and interesting art museum in Iceland, so it deserves a special mention. Located in the heart of town, it's definitely something worth taking a look at.
11. Junk food
The people of Akureyri have the strangest relationship with junk food, and feel a need to put their own spin on it. These are people that put pickled red cabbage and Icelandic coctailsauce (basically mayonese and ketchup) on their hot dogs. But not if you get it deep fried, then there you get it on top of French fires, on top of a bun, covered in cheese. A burger with French fries in between is also common, in other places of the country referred to as Akureyringur, someone from Akureyri.
12. Skautahöll Akureyrar
The only ice hockey team outside of Reykjavik is in Akureyri. It's also one of the best teams in Iceland (of all of the four teams in the country). Catching a game at the skate rink is much fun. Skipping the game and go ice skating in the middle of summer to hide from the warm weather is not bad either (ok, there is not likely you'll need to escape the warmth, but still. It's fun).
13. Græni hatturinn
Græni hatturinn is a concert venue located in an ally just off Göngugatan. It doesn't look like much but this is one of the best concert venues in North Iceland. There are many concert a week, with just about any genre of music found in Iceland.
14. Akureyrarkirkja
Akureyrarkirkja Church is one of the most distinct landmarks of Akureyri and it was the grandest churches in Iceland when it was built, in 1940. Some of the beautiful church windows come from St. Michaels Church in Coventry, England. Story has it that the windows were the only thing left standing after Nazis bombed the church in the Second World War.
15. Göngugatan
Göngugatan is a pedestrian street, and the name literal translation is pedestrian street. On the streets there is a variety of interesting shops and cafés on Göngugatan. It's a lovely place to walk around and enjoy Akureyri.
16. Hiking
Súlur Mountain looms over Akureyri, and almost every local I know there has climbed it. The hike is 6-7 hours long, but only a short hike a part of the way offers a stunning view of Akureyri and over the fjord.
17. Hof Cultural Centre
Hof is Akureyri's rival to Harpa Concert and Conference Centre in Reykjavik. It looks a lot different, but is no less stunning. Like Harpa, it's a culture house with a great variety of concerts, play's (some in English) and other cultural events. There is also a top notch restaurant located in the house.
18. Dive
Silfra in Þingvellir national part is perhaps the most famous places to dive in Iceland, but Diving in Eyjafjörður is no less amazing, just in a completely different way. A dive down to Strýtur or Arnarnesstrýtur in the ocean by Akureyri will give you a chance to research Arnarnesstrýtur. They area hydrothermal chimneys where around 80°c warm water streams out of a cone, which is a product of thousands of years of mineral deposition.
This requers some diving skills, but day tours where you can dive in caves full of warm water around Lake Mývatn are also available and require less skills.
19. Pollurinn
South of the centre, just by the sea, there is a pond called Pollurinn. By this pond you'll find some of the oldest houses of Akureyri, making the scene very picturesque. There are many birds that thrive on the pond, most of them are ducks and swans. A great way to spend an easy day in Akureyri is to take a walk to the pond and feed the birds some bread.
20. Day trips
Akureyri is located in the heart of North Iceland, with many stunning places to visit close by. You can take a drive to Lake Mývatn and see all the wonders on the way like Dettifoss and Dimmuborgir. You can go for lunch at the picturesque town Siglufjörður, North of Akureyri, and stop in a beer spa along the way. For something a bit more extreme you can go river rafting in Skagafjörður, go heli skiing or snowmobiling, and so on.