Nature and Travel
|
Morgunblaðið
|
Thu 14 Dec 2017
|
20.08 GMT
VIDEO: Clear changes to Öræfajökull volcano
Renowned Morgunblaðið photographer Ragnar Axelsson has flown three times across Öræfajökull since the ice cauldron was first spotted in the caldera on November 17th. His photographs have been vital for scientists to make a 3D model of the glacier to help them see what IN earth is going on.
Axelsson's first flight was on November 19th, the second on November 18th and the third on December 11th.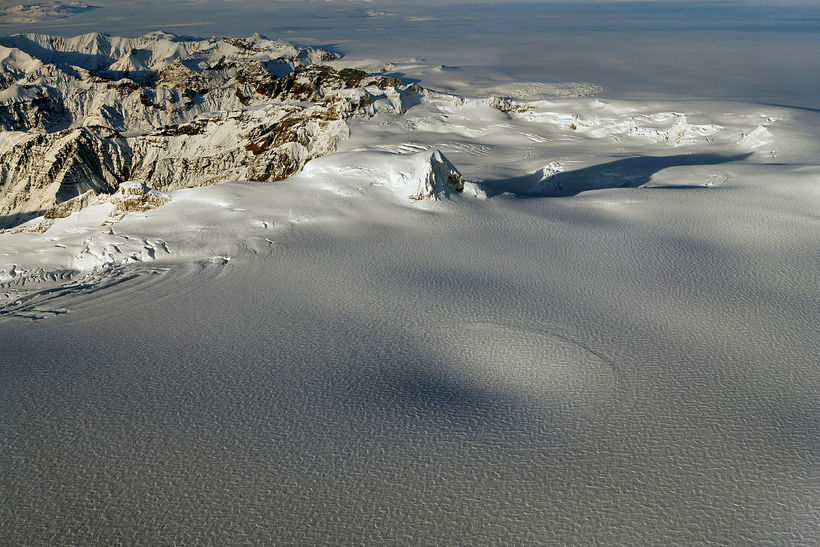 Photo taken on November 19th, 2017 at 13:11. Hvannadalshnjúkur, Iceland's highest peak is visible here in the middle. mbl.is/RAX
Ingibjörg Jónsdóttir, geologist at the University of Icelandis one of the scientists who has been using Axelsson's photographs to make the 3 D photographs and models. She sayst that the photos and the models show clear changes to the glacier, changes to the ice cauldron, a new and more complicated pattern of fissures and ledges between fissures.
Axelsson's photographs are incredibly acccurate, she says, despite difficult light conditions and a homogenous surface.
Ragnar Axelsson is Morgunblaðið's most experienced and renowned photographer and he has exhibited his nature photography in galleries all around the world.
"I've flown across Öræfajökull many times and know it quite well," he explains. "When I felw across it on November 19th I was accompanied by heart surgeoun Tómas Guðbjartsson (a well known mountaineer also), my brother Sölvi, and the pilot. We saw quite clearly that the ice cauldron had been formed. And we saw circular fissures both North East and East of its edges."
He adds that the white wastelands of the glacier can trick the eye which makes it more difficult to estimate distances. Well known TV presenter, film maker and environmentalsit Ómar Ragnarsson was however flyign a small plane across the glacier, which helped to estimate the size of the fissures.
The findings of the scientists using the 3D models will be published soon.