Nature and Travel
|
mbl
|
Sat 2 Dec 2017
|
14.27 GMT
|
Modified at 16.51
VIDEO: Dramatic Sea-Eagle rescue in Iceland
A frail Sea-Eagle was rescued in West-Iceland on Thursday by professional outdoorsman and Icelandic Snapchat star, Snorri Rafnsson. A video of the dramatic capture was posted on Mr. Rafnsson Snapchat account. This Snapchat name is "Vargurinn".
Mr. Rafnsson spotted the magnificent Sea-Eagle a few times over the past weeks and noticed an unusual behavior that led him to believe that the bird was unwell. The eagle seemed to be frail and disordered. Mr. Rafnsson had tried to approach the bird a few times, but it was not until Thursday that he was able to approach the bird and capture it with his bare hands. Prior to that, the eagle was more alert and flew off.
Mr. Rafnsson says the eagle was very weak and did not fight back when it was captured, but after resting and eating it is getting stronger. Photo/Snorri Rafnsson
The eagle is gaining strength
After capturing the eagle, Mr. Rafnsson contacted The Icelandic Institute of Natural History. After consulting with a specialist at the institute, he received instructions about how to care for the bird, but the outdoorsman has rescued and cared for frail animals before.
The institute agreed that Mr. Rafnsson would care for the bird for a few days while it gains strength. A local veterinarian will examine the eagle, but it is unclear why it is in declining health. After feeding the Sea-Eagle with seabird meat and resting overnight, the eagle seemed to have gained more strength, Mr. Rafnsson said.
According to Róbert Arnar Stefánsson, director of the West Iceland Nature Research Center, many people in the area had noticed the bird and reported that its ability to fly was limited. Stefánsson, who is one of Iceland's most prominent Sea-Eagle specialist, says the eagle was tagged last spring further north where it was born earlier this year.
Small, but rising population
Sea-Eagles are rare in Iceland and became almost extinct. The population has been well protected since the early 20th century, and is on the rise. The Sea-Eagle population consists of 75 adult pairs, a triple in population size since 1964. About 25-30 pairs are able to successfully raise offspring every year.
The Sea-Eagle, or White-tailed Eagle (haliaeetus albicilla), is the largest bird in Iceland. A full-grown bird has a wingspan of 2 to 2.5 meters, is 70 to 90 cm tall and weighs about 5 kg.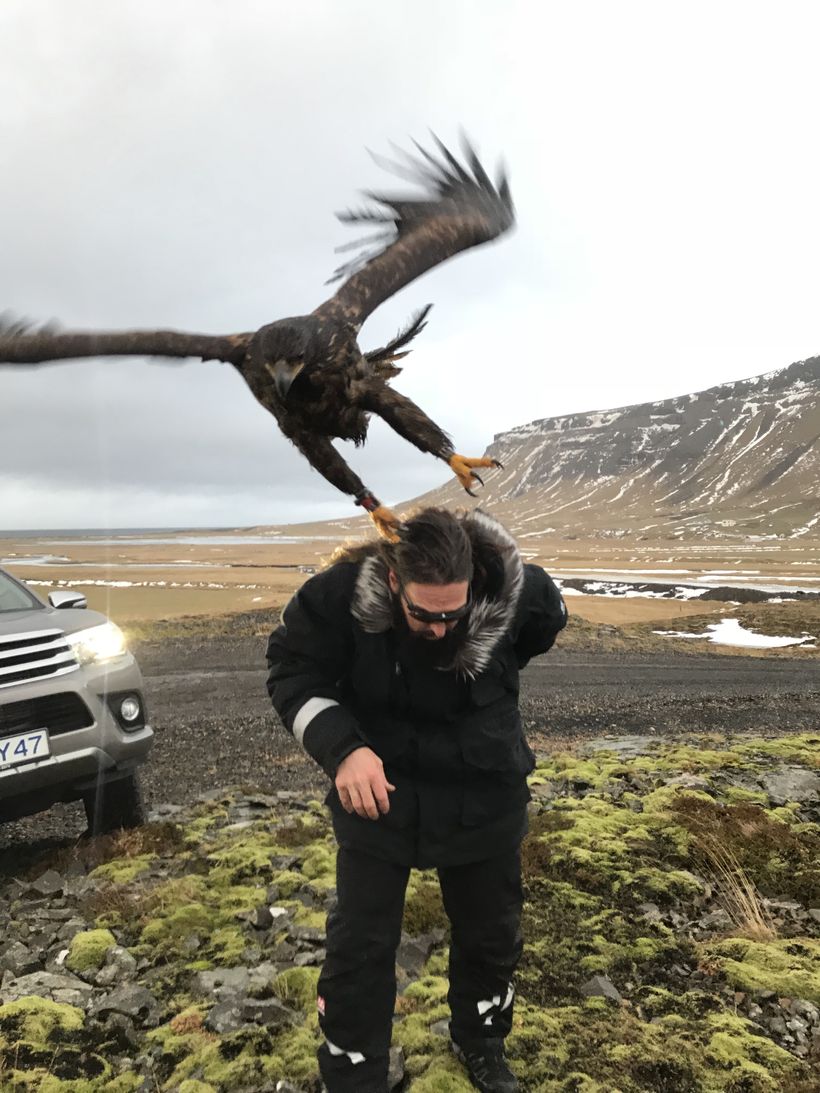 After posing on Mr. Rafnsson's shoulders for a quick photo shoot, the eagle locked its claws in his head. Althought it is a young bird, it is already very strong. Photo/Snorri Rafnsson
Snorri Rafnsson is a popular with local Snapchat followers in Iceland. His Snapchat name is "Vargurinn". He also maintains an Instagram account under the name "thewestviking".