Nature and Travel
|
mbl
|
Sat 13 May 2017
|
8.30 GMT
|
Modified 15 May 2017 15.45
Sleep in a Mongolian Yurt on a magical island in Iceland's largest glacial river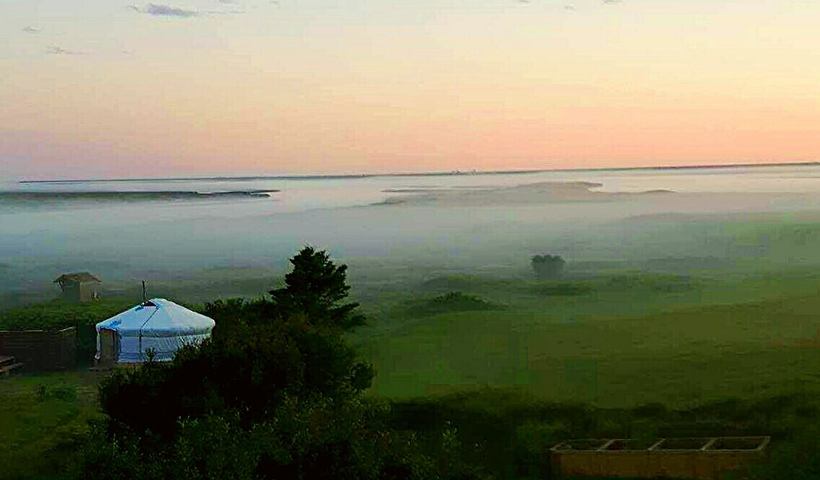 Immerse yourself in nature on a secluded island retreat where you hear nothing except the wind blowing through the grass. Photo/ Hákon Kjalar Hjördísarson
Anna Margrét Björnsson


Hákon Kjalar Hjördísarson decided to make a change to his life and move back to a place of enchanted childhood memories, a tiny island called Traustholtshólmi in the Þjórsá river in South Iceland. Now, he offers tours to the island with an overnight stay in a Mongolian Yurt and a delicious salmon dinner included.
"I spent the summers of my childhood on the island, and the magic of the place is something I wanted to go back to, "explains Hákon. The island is a narrow, grassy island that measures 23 hectars and it takes around 45 minutes to walk around it.
"Wanted to create a concept that I myself would go for"
"The idea of coming back to live here came to me ages ago, I've been running through that tall grass of the island since I was a kid. I love the place. My grandmother's sister and her husband bought the island in 1943 and built a house on it. They had no children so my mother inherited it, who then passed it to me."
Hákon spent years abroad, in Norway, where he worked as a carpenter. "I didn't get much of a chance to spend time on the island, and that's what I really wanted to do. So I got the idea to create some sort of business on the island in order to be able to live there. Seeing as it's also my home, it's not like I was going to just build a hotel there to cash in on. I wanted to something carefully, with a few guests at a time, doing the things that I enjoy doing. I wanted to create a concept that was this whole cool experience, something that I myself would go for."
Hákon's unique concept of eco-friendly sustainable tourism on this special little island gained him an award for Best Pitch at Iceland's StartUp in Tourism last year in Reykjavik. Last summer he brought the first tourists to the island for day trips to catch salmon in the river. This summer however, starting in June, he's offering a trip that includes meals and an overnight stay in a Mongolian Yurt.
A farmstead since the ninth century
He explains that the island has a pretty amazing history. "Archeologists believe it's the location of one of the first settlements in Iceland. Some excavation has been done and there will be a lot more excavation in the near future. It would have made an incredible location for a farm, you can see far in all directions, and the land is bountiful. The river is rich in salmon and there are eider ducks that nest here so down was pickde from the nests in harmony with the bird population who instead received protection from birds of prey from the farmers. Until the seventeenth century it was always one of the largest farmsteads in Iceland. But after a glacial river flood in 1676 it was suddenly transformed into an island."
Hákon explains that he's put nets out for the salmon and collected eider down in the island since he was a small boy. "There's only one house on the island and it's my home. I've been renovating it for a couple of years now and I don't let it out to tourists. I need my little personal space there. I got this Mongolian Yurt, which is a large beautiful tent, from a friend of mine who exchanged it with me for my pick up truck. So that was a guest accommodation option that came to me just by chance. I thought the idea was so great that I've now ordered three more Yurts from Mongolia which will be arriving at the end of this month. In the future I may build a second house on the island and my dream is to make an artists residency there. You know, to give something back. Get revenue from the tourism and put it towards art."
A unique island experience, complete with salmon and rhubarb pie
It took Hákon a while to figure out what he was going to offer tourists visiting the island. "Last year I could only offer day trips because I didn't have the accommodation. This year I have the Yurts so guests can stay overnight. So finally I decided to offer my guests a personal experience, basically to experience my life on the island."
The Traustholtshólmi experience starts when Hákon, accompanied by his sheep dog Skuggi, picks up guests on the river bank and transports them across to the island on his Zodiac, a journey that only takes a few minutes. "I then take the group to the tents, or what I call the Glamping site, show them around and help them get settled in their Yurts. After about an hour or so, I take them to check the nets for salmon to take in the catch of the day. I like to get people involved in that, and even in skinning and filleting the salmon if they want to. People are so used to getting their meat vacuum packed and labelled at the supermarket. On the island, everything is straight from nature, straight from the source."
After the salmon is caught, Hjördísarson makes what is to be the first course of the evening, salmon sashimi eaten of a rock right at the river bank. "I just dice the salmon and add a bit of salt and lemon. It's incredibly delicious and of course as fresh as you can get. And I find that eating food outside in nature somehow makes it taste even better."
Next on the tour agenda is a walk around the island where Hjördísarson tells guests about its history spanning from Iceland's first settlers in the ninth century. He then lights a bonfire and prepares wooden coals for the barbecue. He collects seasonal ingredients, such as new potatoes from the garden, and fresh herbs that include wild thyme, angelica and sorrel, and picks rhubarb for the dessert.
"Dinner is a simple Icelandic emal of barbecued salmon on an open fire with fresh herbs, new potatoes, and Icelandic butter. Dessert is rhubarb pie with cream. Basic farm food, and it's wonderful. I'm not a trained chef but with these kind of ingredients you just can't go wrong."
Northern Lights dancing on the river
Guests share stories by the fire, enjoy a glass of wine or a beer and then go for a walk to enjoy the magnificent sunset or to simply listen to the silence which is a mere whisper of the wind in the grass or the rustling river. For accommodation, three private Yurts are available
and each can sleep two adults and two children. The Yurts are fully made up with down duvets and offer an unusual experience, with breathtaking views of the river and the Eyjafjallajökull glacier. "When the nights start to get darker again, in autumn, the Northern Lights often come out over Traustholtshólmi and are simply mesmerizing due to the absence of artificial light. Guests can watch the lights as their reflection dances on the river."
Breakfast on the island is yet another salmon experience, but this time it's either smoked or cured salmon on Icelandic flatbread and yoghurt, accompanied by warming tea or coffee.
Hákon has to ferry drinking water from the shore but otherwise he uses river water for washing and for making tea. His aim is to be able to bring tourists to the island six months a year, from May until October, when the weather worsens. Also on the agenda are occasional yoga retreats on the island where guests have a programme of yoga classes, a Native American sweat lodge, river bathing and meditation.
Spends winters sailing in the Caribbean
During the winter months, when there's no tourism to his island, Hákon heads off to warmer shores. He owns a sailboat moored in Grenada in the Caribbean, and sails around the southern seas. "I'm very lucky to be living my dream, a life that's rather nomadic and filled with adventure."
But has he ever been stuck on the island, due to weather? "No, the weather is always good here on the island," he replies and chuckles. "Yes, I have gotten stuck because of bad weather. But that's not bad you know." And it never creepy? He laughs. "Well, only very occasionally when you're all alone, when the wind howls and the dog starts barking for no reason. But then I just shut myself in and watch something good on Netflix. If there are any ghosts here they're only good spirits."
Hákon is now taking bookings for the summer season. For more information visit his Traustholtshólmi webpage HERE.