Nature and Travel
|
Morgunblaðið
|
Wed 29 Mar 2017
|
10.17 GMT
Unique photo of Hekla eruption published for the first time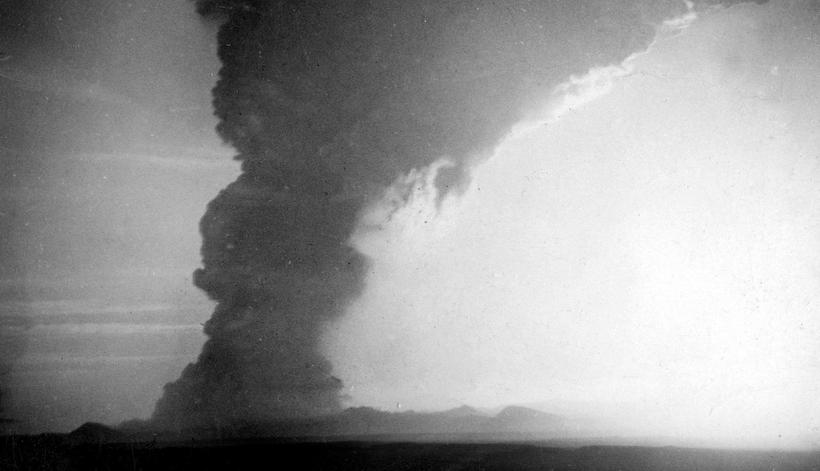 The photo was taken by farmer Þorsteinn Oddsson at Heiði in Rangárvellir. He died in 2008. The photo is taken at 7 am on March 29th in 1947 when the eruption had begun twenty minutes earlier. This unique and historic photograph has never been published before. Photo/Þorsteinn Oddsson
Today marks the seventieth anniversary of the biggest eruption in the famous Hekla volcano in latter age. The eruption began on March 29th, 1947 and lasted until April 1948.
It was at just before 7 am that day that people in South Iceland were woken up to a sharp earthquake. Only moments later, thick dark clouds were seen rising from the volcano. In a news story in Morgunblaðið it says, "Half an hour later Hekla was surrounded by thick volcanic cloud from its base up to the sky. Flashes of fire are seen regularly through the thick smoke, and on farms near Hekla people hear loud thundering noises and doors and windows in buildings are shaking."
And the eruption news continued on March 30th in Morgunblaðið: "Hekla has now become one huge ocean of fire with great craters on both shoulders of the mountain. It seems as if many craters have formed all across the mountain. The pillars of fire reach 800 metres into the sky. Huge boulders are thrown into the air with an incredible power and then fall back into the ocean of fire."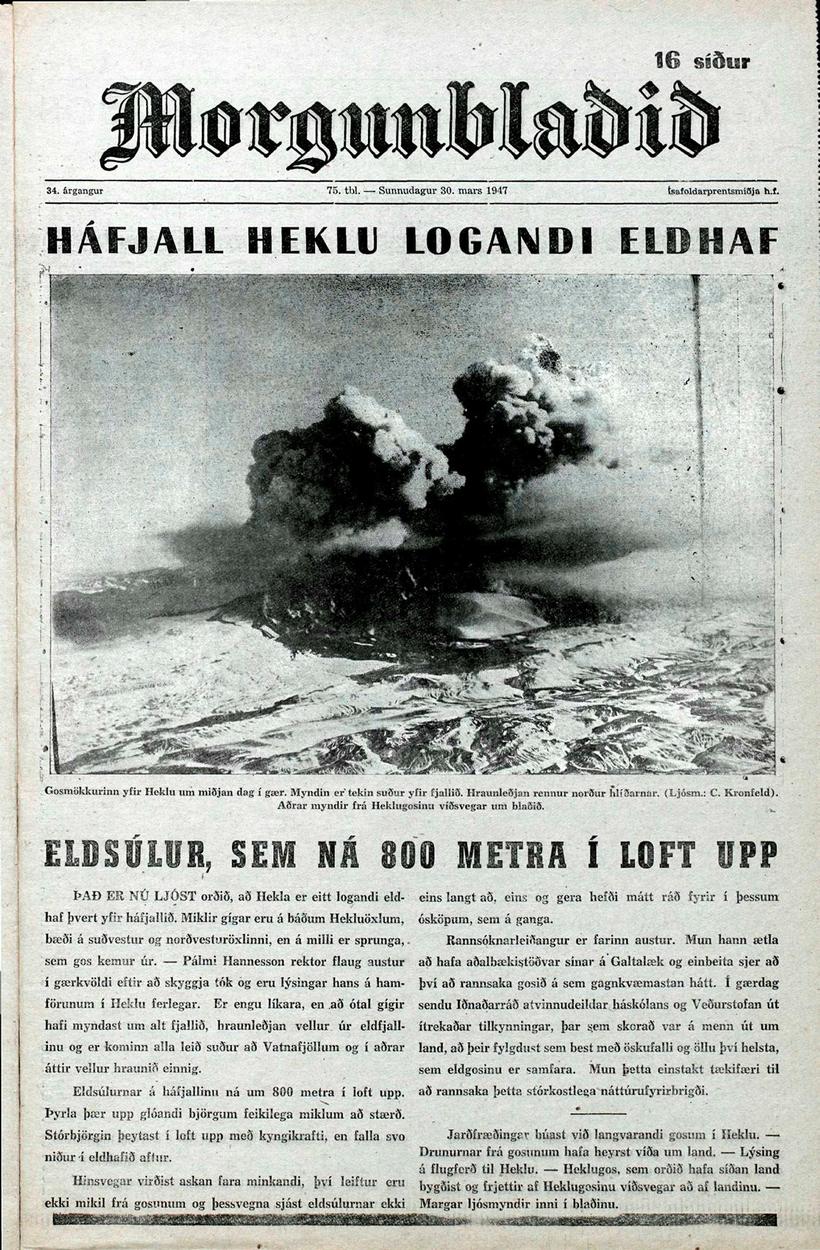 The front page of our sister publication Morgunblaðið on April 30th, 1947. It was to be one of the biggest headlines of the twentieth century in Iceland.
The long eruption caused two farms to become abandoned and ash was carried to the farms in Fljótshlíð and under the Eyjafjöll mountains. Ash was carried across the ocean all the way to Finland.
One man, a scientist called Steinþór Sigurðsson was killed in the eruption. He was studying the eruption and stood at the edge of the lavafield when a rock flew up and hit him, kiling him instantly.