Nature and Travel
|
Iceland Monitor
|
Sun 17 Jul 2016
|
9.45 GMT
Polar bear shot and killed in North Iceland
An adolescent female polar bear which had found its way to North Iceland and got within 500 metres of an inhabited farm was shot and killed late last night.
Locals spotted the animal around 10pm and informed police. As dictated by official Icelandic procedures for such cases, a marksman was dispatched to gun down the polar bear.
The bear was spotted by Egill Bjarnason, who was riding his horse close to his home farm of Hvalnes, some 40km from the North Iceland town of Sauðárkrókur. People in nearby farms were informed of the sighting and advised to remain indoors while the operation to kill the animal was under way.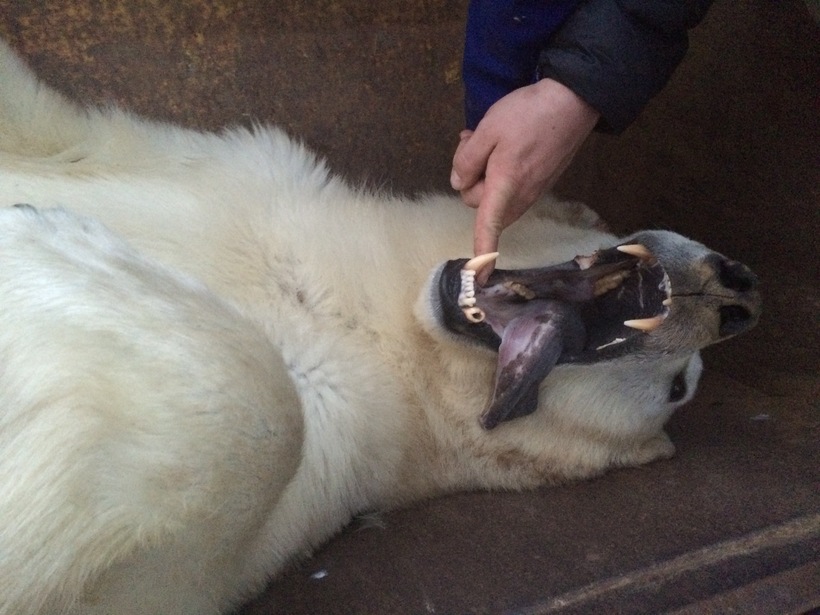 One of the animal's canine teeth is broken, which suggests it was several years old. Photo: Iceland Monitor/Björn Jóhann
Egill and his father Bjarni were joined by experienced marksman Jón Sigurjónsson, who delivered a fatal shot straight into the animal's heart from an estimated distance of 130 metres, some two hours after the first sighting.
The carcass was taken by tractor to the farm, where locals gathered to catch a glimpse of the dead polar bear.
This is the third confirmed sighting of a polar bear in this part of Iceland, the previous two being in 2008. Sea currents are reportedly strong in this area and it is difficult to tell when the animal reached land.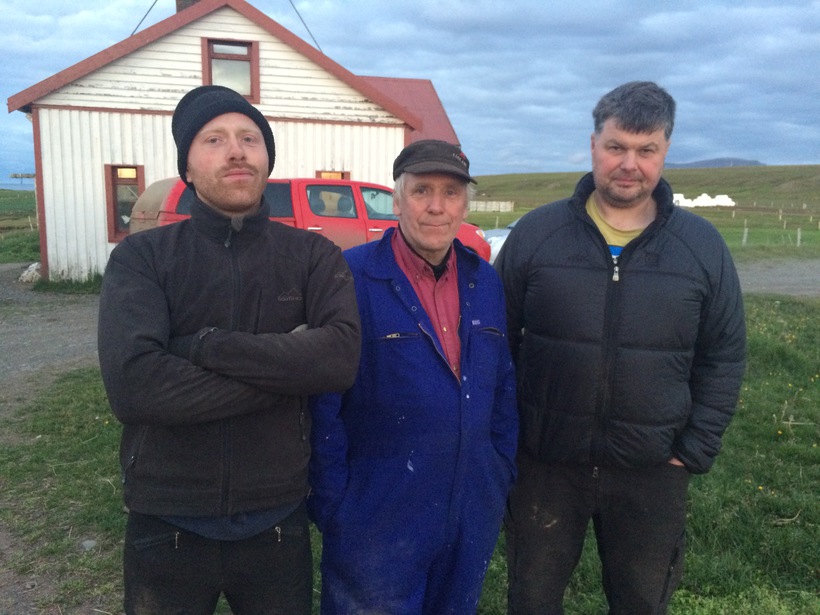 Egill Bjarnason (left), Bjarni Egilsson (centre) and Jón Sigurjónsson (right). Photo: Iceland Monitor/Björn Jóhann
According to Egill, as soon as he saw the bear, he was in no doubt that it need to be killed immediately, given how close it was to the farm of Hvalnes where children had been playing. It was also important not to allow the bear to get back to the sea, where it would be difficult to locate it again.
The carcass – that of a large adolescent female polar bear – will now be examined by staff from the Icelandic Institute of Natural History and the Environment Agency of Iceland.
Locals say the bear will probably be stuffed and displayed in a museum.