Nature and Travel
|
mbl
|
Mon 25 Apr 2016
|
21.00 GMT
|
Modified 3 May 2016 12.43
"Always creating my own adventures"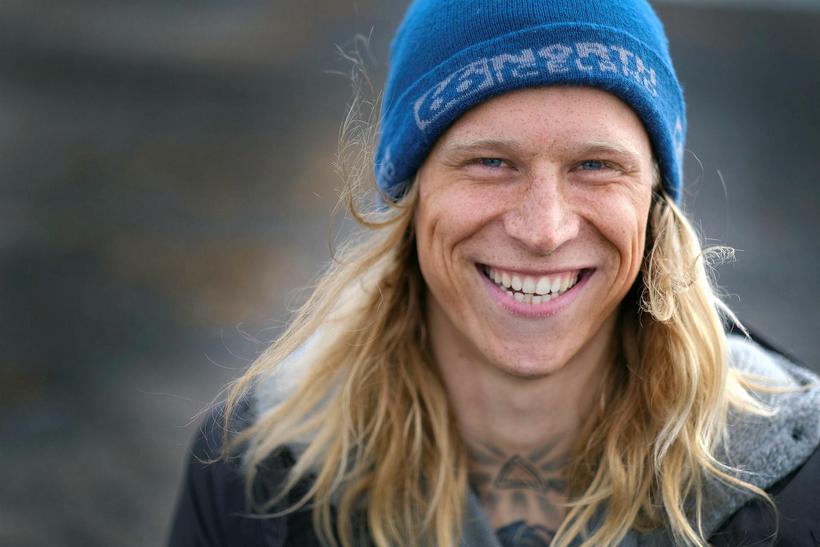 Heiðar Logi Elíasson is Iceland's first pro-surfer. Describing himself as "out of control" as a child, he says that surfing changed his life. Iceland Monitor/ Kjartan Þorbjörnsson
Anna Margrét Björnsson


"My interest in adventure began when I was a little kid," Heiðar Logi tells me with an infectious grin at the hip Kex Hostel in downtown Reykjavik. The place suits him. He looks like he stepped right out of West Coast waves, with beachy blonde hair, tan and effortless style.
But this is no California hipster. Heiðar Logi was born in the tiny village of Sandgerði on the Reykjanes peninsula in Iceland, and as a baby he moved with his family to Denmark for a couple of years. "In Denmark we had woods near our home and I was always going there to explore new and exciting places. I was always creating my own adventures."
"I was out of control"
He tells me that he was an extremely difficult child and that his mother had no means of controlling him. He even spent a while at a children's psychiatric ward. "I was diagnosed with ADHD and other behavioural disorders and was put on ritalin when I was six. I just ran all over the place, I was out of control and couldn't focus on anything. I could never play anywhere by myself and was constantly getting into trouble. My sister was a very calm child, it was obvious to everyone that I had a serious problem. When I started on the medication there was a notable difference in my behaviour, I'm told. My mum tells me that I would come up and say to her that things had gone quiet. That there wasn't such disorder around me."
But over time, Heiðar Logi developed more resistance to the drugs and as a consequence, the dose was increased. "We moved from Denmark back home to Iceland, to Hafnarfjörður where my real roots are, the place where I made my best friends. I discovered snowboarding at an early age and started heading into the mountains every day during the winter. Things started changing for me then. I became two different boys, during summer, and during winter."
He spent every day after school snowboarding in wintertime and soon felt an improvement to his mental health. "But my group of friends were trouble-makers," he explains and smiles. "They're good people and they're all stiill good friends of mine. But we started drinking early. We were only 13 or 14 years old. A phase of heavy boozing and partying began." And drugs? "No, no drugs. I've never even tried drugs."
The first surfboard was a graduation present from mum
During the summers, when Heiðar Logi couldn't go snowboarding, he got into trouble instead. "I was either in trouble with my parents, or the police. My friends and I were banned from seeing each other but we didn't listen to anyone. I suppose that I'm an adrenaline junkie, related to my disorder and that getting into trouble was a part of that."
One day, while snowboarding in the mountains, Heiðar Logi met a kid who owned a surf board. "He lent me another board, I found an old wet-suit and tried surfing for the first time. This was on the south coast, it was freezing cold, I felt like I was almost dying from the cold. I couldn't feel my arms or legs. But I was so stubborn that I stayed in the water for nearly an hour. It was just the most incredible thing I'd ever done. Something inside me changed forever in that moment."
To encourage him to get good grades for his secondary school exams at age 15, his mother promised to buy him a surfboard as a graduation present. "I made a real effort, got good grades, and got my first surfboard. That's how it all started."
But another difficult period lay ahead. "I made a decision to stop taking my meds when I was sixteen, when I was in my second term of high school. My dose had kept increasing because I was growing, and needed more to keep the symptoms down. At that time I felt like my whole personality had been obliterated. I wasn't myself anymore. I started to experience social anxiety and couldn't be around people. The ritalin had just put out all my inner fire, my own character. I've always been really outgoing but it felt like someone had just hit the "off" switch. Then my mum pleaded with me to concentrate better on school but in a fit of defiance I just quit school."
Alcoholism runs in the family
"So that's how it happened, in my first term at high school I was on meds and felt awful but got good grades, and in my second term I stopped taking my medication and screwed up totally at school. I stopped turning up and lost all interest. And on top of that, I had to get to know myself again after quitting the meds." He tells me that it was like a new person had appeared in his place and that it took a while to find balance again. "When I quit school I was just surfing and having fun, and driving my mum crazy," he says grinning but then hits a more serious note.
These surroundings are surreal. Big blocks of ice that in some cases are over a thousand years old have broken off the glacier and washed up on shore. One of the most beautiful places around.. 📸 @chriskerksieck @66north @mypakage @stancesocks_uk @solirjoga @hafid_fiskverslun #Iceland #Winter #66North

A photo posted by Heiðar Logi (@heidarlogi) on Mar 14, 2016 at 2:23pm PDT
"Alcoholism runs in my family. My dad and my sister are both recovering alcoholics. Alcohol had a strong effect on me and that could have happened to me too. I was dependent on alcohol. I couldn't stop. In my group of friends, everything revolved around alcohol, going to parties, drinking. I'd often thought about quitting drinking but I could never resist the tempation."
Mixing drinking with sports was a bad idea. "Sometimes I was too hung over to surf. Drinking was starting to ruin my surfing. I felt like I had to make a decision, to progress as a surfer I had to either quit drinking or keep letting the drinking ruin everything for me."
After a bad period of binge drinking, he made a pact with an ex- girlfriend to quit drinking. "I'd made the decision, I was sitting at the dinner table with a glass of red wine in front of me. I thought to myself, why stop tomorrow if I can stop now and I just started drinking right then and there. So I never went to rehab, but quitting drinking was disgustingly hard. I was drenched with sweat for a few days, it was one of the hardest things I've done. But after I made that decision, good things started to happen in my life."
He explains that his life had been defined by partying so it took some time figuring out what to do instead. "I turned inwards, reflected on my life and what I was going to do with it."
A complete change of lifestyle
Further big decisions soon followed. Heiðar Logi decided to clean up his diet and stop using mouth tobacco. "I decided to just eat food that grows," he explains and laughs. "That means that I don't eat sugar, no processed food, no flour, just clean food. "It was a direct continuation of my new lifestyle. I just wanted to go healthy all the way. No more junk food four times a week. Now I eat a mostly "paleo" diet, mostly vegetables and fish. "I'm lucky in that I have a deal with Hafið, a local fishmongers so I eat great fish several times a week, especially salmon which contains vitamins and oils necessary for good health."
Despite having quit drinking, Heiðar Logi worked for years as a bartender. "It suited me, because then I could take a few days between shifts to go surfing. But working around drunk people was tiring, and it wore me out. After managing a bar in central Reykjavik for a year I kind of burned out. I quit and headed to Indonesia with my girlfriend. Before leaving, I had met with Icelandic outdoor clothing company 66° North. My idea was to collaborate with them on marketing. I wanted to work with them because they're an old, traditional, established company doing great things, which I thought fitted my lifestyle, and that what I was doing fitted their image. They ended up becoming my sponsors and we have a great working relationship which works both ways." He adds that their collaboration is going incredibly well and that he's extremely grateful for that.
"I am thankful that I can pursue my passion in my work. It's not like I make a lot of money from surfing, I meam I just break even, but I live from surfing, which is great." He adds that in the near future, a lot of exciting plans are coming up with 66°North, plans to be revealed this summer and autumn.
So how does the collaboration work exactly? "They provide me with warm clothing which I need both for travelling around Iceland in winter and for when I get out of the freezing cold ocean. I travel around Iceland with a team of professional photographers and cameramen and produce material for 66°North which they can then use for marketing purposes."
He tells me he hasn't travelled abroad since this collaboration began. "Icelandic winter is hard, because of all the darkness. I used to escape the darkness by heading overseas three months per year, to the US or to Asia."
But in May 2015 he decided to stop going abroad in winter and spend his time surfing the coast of Iceland. "I began to discover how many amazing places there are in Iceland. I think I get even more excited about the places I've visited here than the tourists. I'm always discovering new things. And there's nothing that beats being on my surfboard in the ocean, with snow-covered mountains all around me or even with snow falling all around. I spend most of my time travelling around Iceland, creating memories here."
In addition, he works with a lot of international surf champions, he's worked on a couple of surf documentaries in Iceland and participated in projects such as when Marie Claire did an article on girl surfers in Iceland.
Learning the ways of the ocean
Asked whether surfing is growing as a sport in Iceland he says it's definitely grown in recent years with international surfers discovering Iceland as a surf destination. "But I can see that this goes in waves. There are fewer foreign surfers coming now than for example, four years ago. Surfing in Iceland simply isn't for everyone, it's too cold. Personally, the cold doesn't bother me, you just brave it out." And how does he look for new places to surf? "You just have to drive around and look for places where the waves break." Obviously, I have to ask whether this isn't a highly dangerous sport in Iceland's treacherous waters. "Well, that depends on the size of the wave, where it breaks. You have to learn the ways of the ocean and respect it, and get to know conditions in each place. If you get caught by a wave in the wrong spot then there's nothing you can do." So, what's the most dangerous thing that ever happened to him?
"Once I went surfing, alone, which is never a good idea, not in the slightest. I almost drowned. I was held under by endless waves and was only just able to emerge to breathe in between. I was stuck next to a rock and kept being washed to and from it. My board was completely smashed. There was nothing I could do. I only just managed to crawl onto the rock before I passed out. It's the worst thing that ever happened to me, and I was alone so I knew noone could have saved me. And I suppose that even if someone had been there, they couldn't have done anything."
I ask him whether surfing has changed his attitude towards nature. "Of course it has. You form this incredibly strong bond wth nature and it's changed the way I think about the forces of nature. I used to be afraid of the ocean when I was a child, now I know its ways and I learned to face the dangers."
On his travels around Iceland, Heiðar Logi says that he just puts the surfboard on the roof of the car and heads off into nowhere, finding interesting places to visit, bathing in warm natural pools, camping out in the snow or motorcrossing. "Surfing is not the only thing, it's about the adventure, the lifestyle, the new discoveries."
Asked about his favourite spots in Iceland he mentions Þakgil in South Iceland. "An incredibly beautiful place. And I discovered a secret valley, Sæból, in the West Fjords last autumn. A lady called Betty lives there. You have to drive over this mountain to get there and during the winter the road is impassable due to snow. Her kid goes to school in Ísafjörður and lives there during the winter, but she has to tend to her animals so she lives alone with them during the winter and gets all her supplies via deliveries on snowcat. She's a tough cookie. It's a magical places. " But where, in the big wide world does he dream of surfing? "I want to go to Namibia, and to Scotland and Ireland to surf. But until now I think surfing in Iceland is just the best in the world."
A healthier alternative for kids with ADHD
Next up for Heiðar Logi is participating in the filming of two surf films and ongoing projects with 66° North. "I've also started working as a yoga teacher at Sólir, at Grandi in Reykjavik. I've practiced yoga for a few years and it just fitted in so well with my lifestyle. I don't like going to the gym, yoga was the thing for me. It has such a good influence on physical and mental wellbeing. It's also helped a lot with my ADHD, it gives me more inner peace."
Heiðar Logi says he often thinks about kids who are going through what he did in his childhood and teenage years. "I really want to get my point across to those kids, and to their parents, that personally, I've found that I feel so much better when I do sports. There are so many examples of kids with ADHD doing and feeling well in various sports. The wellbeing and the energy outlet that exercise brings is invaluable. In my experience, diet counts for more than half of my wellbeing, and exercise for the rest. I think what you put inside your body is vital. So much has changed for me after my diet changed. If you put garbage into your body, whether it be alcohol, drugs or unhealthy food, you just get garbage back. If you put good things into your body, you get good stuff in your life." So does he think that exercise and healthy eating is a better solution than putting children with ADHD on medication? "Absolutely, from my experience, yes. I'm perfectly happy with my life now."
You can follow Heiðar Logi's adventures on Instagram HERE.
Throwback to last November while filming for #periloussea. Great times with a great crew. @loganlandry @cohenscorner @noahwaggy @mikebromley @anreaal @swayzar and 📷 @ryan_meichtry

A photo posted by Heiðar Logi (@heidarlogi) on Jul 20, 2015 at 12:45pm PDT