Nature and Travel
|
Iceland Monitor
|
Mon 15 Feb 2016
|
15.56 GMT
|
Modified 18 Apr 2016 9.30
"Totally irresponsible" tourists go iceberg-hopping with their kids at Iceland's Jökulsárlón lagoon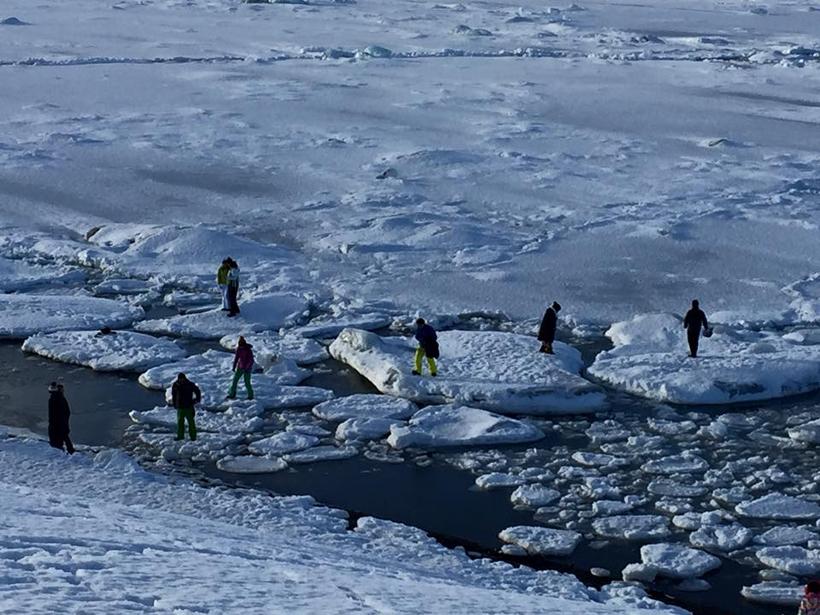 This photo has caused quite a stir in Iceland today. It was taken on Sunday and shows adults and children walking between icebergs at Jökulsárlón lagoon. Photo: Gylfi Blöndal
A great number of tourists ventured out onto the icebergs at Jökulsárlón lagoon, East Iceland, on Sunday. The incident is not unique according to tour guide Gylfi Blöndal at Icelimo Luxury Travel who took the photograph and published it on travel site Bak­land Ferðaþjón­ust­unn­ar.
The photo shows a group of adults and children walking onto icebergs floating on the lagoon.
"I regularly see this kind of totally irresponsible behaviour in my job, in places such as Jökulsárlón, Reynisfjara beach, Gullfoss and other places and I'm afraid that no signs, fences, security or information will prevent it. This is how humans behave, sometimes they get themselves into situations that don't work out." He adds that it was obvious that with increased tourism to Iceland, accidents would also increase.
Blöndal also sent Iceland Monitor a photograph of tourists climbing over an iron chain with several warning signs at the Gullfoss waterfall this weekend.
No warning signs are, however, visible at the Jökulsárlón lagoon with Icelanders possibly assuming that noone would think of an idea such as going iceberg-hopping with their children there.
"We had to hang up a piece of paper which we printed ourselves with the words:
Warn­ing: Do not go out on the ice,"
says Helga Guðnadóttir who works in the Jökulsárlón café, the only place open at the lagoon during the winter. "During the summer period we're out on the lagoon and can pull people out of the water if they full in. Now I feel really guilty that I'm not waching over them or warning them."
Guðnadóttir was told by her coworkers and the landowners that people were doing this at their own risk and that it wasn't the responsibility of the staff working at the café. "But it's hard to do nothing. I tell people to get off the ice immediately, that it's really dangerous. But I can't do anything more than that. She adds that the tourists who go onto the ice are always the ones travelling independently, and not on a guided tour.