Nature and Travel
|
Iceland Monitor
|
Tue 5 May 2015
|
9.56 GMT
|
Modified 31 May 2016 14.16
Arctic surfers: Braving the waves in Iceland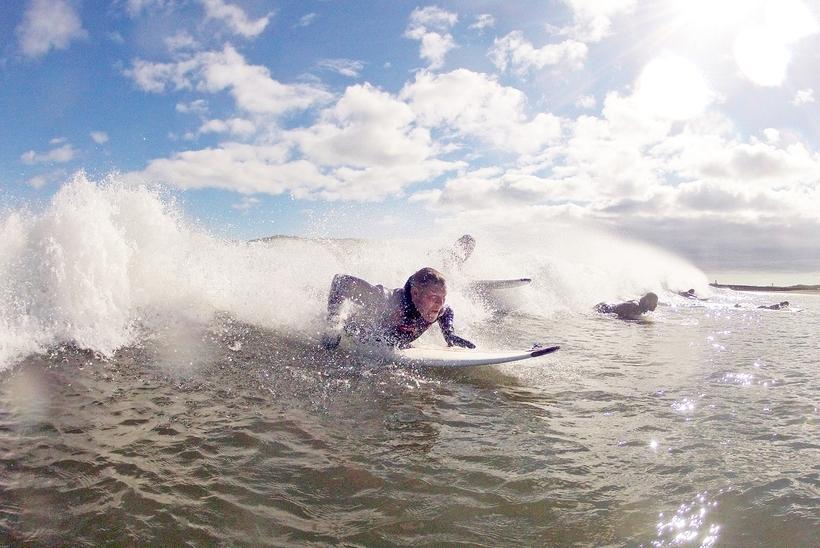 "There's no limit to the time one can spend in the ocean. Surfing is hard work so you don't feel the cold, we get too hot if anything," explains surfing champion Bjarki Þorláksson at surf.is. Surfing is becoming increasingly popular in Iceland and the sight of a car driving in the vicinity of Iceland's beaches with a surfboard strapped to the roof is becoming a common sight.
Bjarki believes that there are around 50 regular surfers in Iceland and that the number is steadily increasing.
Þorláksson and his surf team run a surfing school, the only one in Iceland, and around 100 people attend courses each year. "We receive a lot of enquiries but obviously as we're situated in Iceland the weather conditions have to be ok. Last summer wasn't particularly good. The surfing course costs 16,900 ISK and everything is included. You don't have to own any equipment, just bring your high spirits," he explains and adds that surfing is not a very expensive sport.
The most popular spot for surfing in Iceland is the beach at Þorlákshöfn, a small fishing town on the south coast, but you can surf in a number of other places. International surfers praise the Icelandic waves and the stunning backdrops. And surfing in Iceland is not only for sunny, warm days, surfers brave the freezing cold during winter, too.
"You're only cold when you put on your suit and when you take it off. Once you're n the sea, you don't get cold, explains Þorláksson.

Iceland is becoming rather well known as a surfing spot and after a little bit of Googling it's obvious that various well known international surfing champions have been to Iceland to surf. " A guy called Ian Battrick has surfed in Iceland for a few years and he's sent lots of photographs to large surfing magazines around the world. Iceland is fast becoming well known as a surfing country with excellent conditions."

Alcohol company Jä­ger­meister may have put Iceland on the world surfing map. The company made an ad which was shown in the UK but was banned a short while later. It shows a team of surfers in the midst of the Icelandic winter braving the arctic conditions followed by a shot of Jä­ger­meister.
It was then posted on YouTube to great popularity. The Daily Mail featured the story and published a number of photographs of the surfing adventures of Oli Adams, Owain Dav­is, Richie Fitz­ger­ald, Dav­id Blount and Ben Skinner who is a surfing professional.
See the advert here below.
If you're interested in surfing in Iceland, visit surf.is for further information.