Eat and Drink
|
Morgunblaðið
|
Mon 8 Oct 2018
|
20.18 GMT
Launch of Icelandic blueberry beer and crowberry wine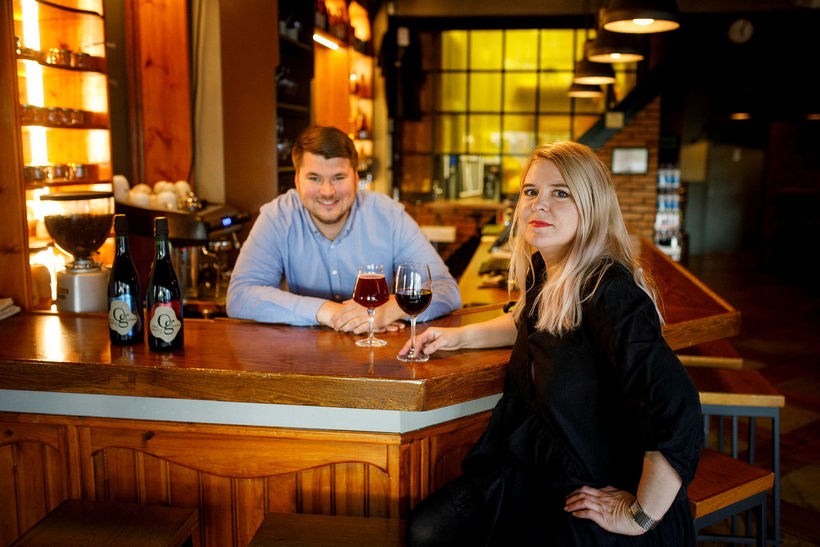 Ragnheiður Axel and Liljar Már who have formed brewery Og natura. Here they are at Skúli Craft bar during the presentation of their products, a blueberry beer and a crowberry wine. Iceland Monitor/ Hari
Ragnheiður Axel Eyjólfsdóttir and Liljar Már Þorbjörnsson have founded an Icelandic brewery whose aim is to make use of underutilized Icelandic ingredients such as crowberries and blueberries. Their first two products, a blueberry beer and a crowberry wine were presented last Thursday at Skúli Craft Bar.
"We like the idea of the crowberry wine for autumn. We're using the summer's harvest and the wine goes well with game and mushrooms. It will be interesting to taste the wine this spring to see how it has aged," says Eyjólfsdóttir, who also forms half of the Lady Brewery beer company.
The new brewery, Og Natura, makes wine and beer using wild Icelandic ingredients through a natural process without the use of chemicals or preservatives.
The crowberry wine, called Axel, is the only wine being produced in Iceland at the moment and it was developed by Eyjólfsdóttir. "I think crowberries are underutlized. They're interesting for wine making because they contain tannin and oils which you can't find in other Icelandic berries," she explains and likes to describe the wine as a nature wine although by strict standards it's not exactly a nature wine because it contains sweetness from dates and apples.
"We picked wild crowberries and used a wine press to obtain raw juice. It was placed in large plastic barrels for fermantation, we add apple juice for sweetness and then we let it stand and ferment for some time before we bottle it. It's a completely natural wine, we use no chemicals. Only pure, natural products." The wine will be available at first in restaurants and in the ÁTVR state alcohol shops by Christmas.
Þorbjörnsson, on the other hand, has developed a blueberry beer called Liljar, made from hand picked blueberries. "The beer has a deep berry tone and is perfect with game," he explains.
The new brewery aim to increase their product line and production in the near future. "Og natura is a collaborative brewery, we want talented people to join us in developing beer and more drinks," says Þorbjörnsson.
"We feel there's a niche in the market for this. People are more open to trying new things. Natural products are popular and they are allowed to have a lot of flavour," says Eyjólfsdóttir.
For further information, check out the Og Natura website HERE.