Eat and Drink
|
Iceland Monitor
|
Sun 4 Jun 2017
|
9.00 GMT
New French foodstore opens in Reykjavik City Centre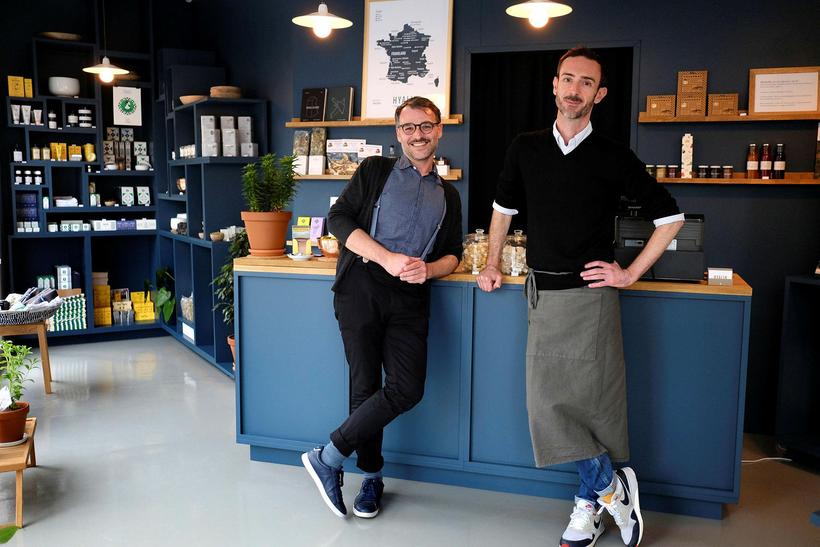 Owners Arnaud-Pierre Fourtané and Didier Fitan at the new Hyalin store. Golli / Kjartan Þorbjörnsson
Frenchmen Arnaud-Pierre Fourtané and Didier Fitan have opened a gorgeous French foodstore on Hverfisgata 35 in Reykjavik's city centre. The little shop is called Hyalin and sells speciality French products that are mostly straight from the farm.
Both men are gourmands. Fitan worked for a French food magazine and grew up eating vegetables from his grandmother's garden. "At the magazine I learned to appreciate gourmet foods even more and got to know the small food producers and farmers."
Fourtané has a background in fashion and marketing and has a burning passion for cheese, wine and foods straight from the farm. They decided to move to Iceland two years ago. "We had visited Iceland often, we love the culture, the literature and the music so we decided to open a French foodstore here. It's probably the northernmost French foodstore in the world!"
At Hyalin you'll be able to find condiments, cheese, foie gras, chocolates and perfumed candles to name a few of the things on offer. More cheeses will be arriving soon according to the owners, as well as handmade tableware straight from France.