Culture and Living
|
mbl
|
Thu 12 Oct 2017
|
18.19 GMT
Two people per month turn to transgender programme at Iceland's National University Hospital
On average, two people turn to the transgender programme at the National University Hospital in Reykjavik per month. This number has been increasing over the past 3-4 years according to psychologist Elsa Bára Traustadóttir. A majority want to undergone hormone treatment but few undergo corrective surgery.
"There's been an increase throughout the world," she explains to mbl.is. "We have been observing this increase in both Europe and the US."
She adds that the increase is particularly with transgender men, i.e, individuals born biologically as women. "When public discussion of the matter began the ration was one biological women against four biological males, but the percentage is more even now."
She believes one of the reasons that transgender men have been more reluctant to come forward is that it's easier to be inobtrusive within society as a masculine woman than a feminine man. "Men wearing skirts was just thought to be funny. But women wearing truosers and being strong and unusual was more accceptable."
The transgender team at the hospital consists of a psychiatrist, a psychologist, a social worker, two endocrine glands specialists and two cosmetic surgeons.
"It's a sensitive field and people need to feel that they are meeting with people who are sincerely interested."
Part of the work of the transgender unit is to ensure a previous analysis by specialists, that the person is mentally sound, and not delusional. They are under observation for at least six months to see how they fare in a normal environment in their new role, before hormonal treatment is accepted.
Following a year on hormonal treatment, some people decide to have surgery. Almost all transgender men have mastectomies.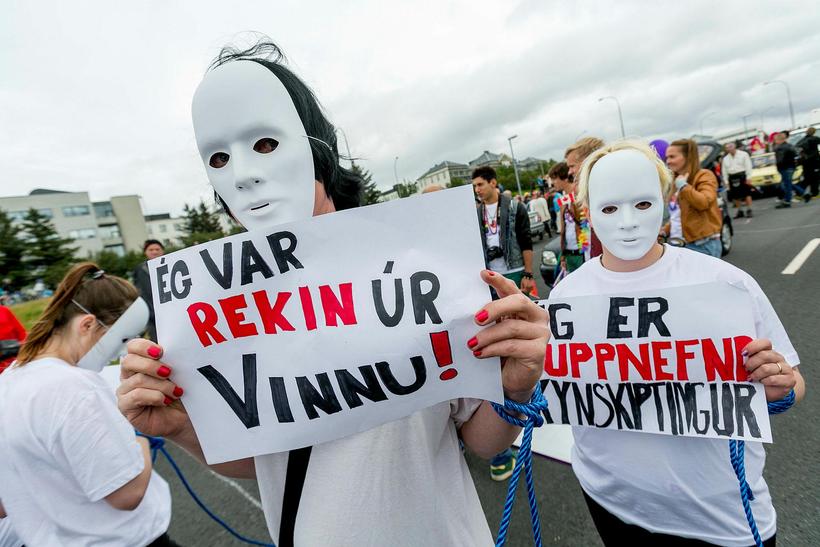 Transgender people taking part in Reykjavik Pride. Many of them have experienced prejudice throughout the years. mbl.is/Ómar Óskarsson